Wolverhampton Listed Buildings

46 Queen Street
---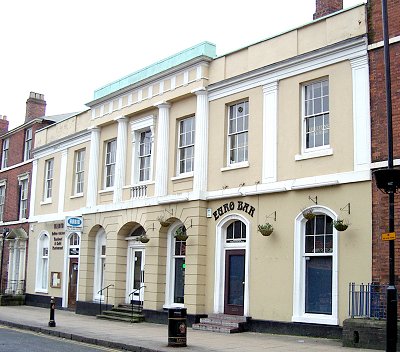 Listing: Dispensary, Post Office from c1849. 1826 by Hollins of Birmingham; alterations by E. Banks, c.1849. Greek Revival style. A purpose built dispensary, the first in Wolverhampton, which was superseded by the Royal Hospital in Cleveland Road in 1849.
Literature:
John S. Roper, Historic Buildings of Wolverhampton, 1957, pp.47-51
Frank Mason, A Book of Wolverhampton, 1980, p.90
F. L. Steward, A History of the Royal Wolverhampton School, 1950, pp.1-4
Chris Upton, A History of Wolverhampton, 1998, p.112 (note: Upton seems to have elided the original Queen Street house of 1820 and this building of 1926)
Comment: Roper thought that a local surgeon, John Freer Proud, was probably instrumental in setting up the first dispensary in Wolverhampton in 1820, in a house in Queen Street. There were often nearly 100 patients per week on its book. A committee was formed to raise funds to build a purpose-built dispensary and this building was the result in 1826. As the Dispensary was operative throughout this time it must have been in some other house in Queen Street, not one on this site. There is an oral tradition that it was the house next door, No.47. The name of the architect does not appear in the local newspapers or other records and Roper only thought it was "just a possibility" that it was by Hollins, a suggestion he advanced purely on stylistic grounds. The premises were extended backwards towards Castle Street in or about 1833.
In 1849 the Royal Hospital was opened and the Dispensary was moved there. The vacant building was taken over by John Lees for use as an orphanage and school. It was probably then that Banks did some alterations, though Roper does not mention them. It was so successful that in 1854 it moved to large new premises on Goldthorn Hill, where it still is as the Royal School. If it then became, as the listing says, a Post Office, it must have been in or about 1854.
When Roper wrote the whole of the ground floor to the left of the entrance (in the photo above) was a shop belonging to A. D. Foulkes Ltd. The rest was occupied by the National Coal Board. At some point since then the shop front has been removed and that part of the frontage reinstated to its original design. This might have been done when the Indian restaurant was set up.
Further information can be found in the health section on this website.