---
Motor Buses & Trolley Buses
Sunbeam was born when John Marston, a manufacturer of tinplate and Japanware produced the first Sunbeam bicycle in 1887, later followed by cars and motorcycles. In March 1905 the Sunbeam Motor Car Company Limited was formed with a starting capital of £40,000. The company's cars were made at Moorfield Works, Upper Villiers Street, Wolverhampton. The first directors were John Marston (Chairman), Dr. Edward Deansley (Marston's son-in-law), Sam Bayliss (Bayliss, Jones & Bayliss), Thomas Cureton, Henry Bath (the company's consulting engineer), and Herbert Dignasse.
Sunbeam became very successful and produced not only cars, but aircraft, and aero engines. During the First World War at total of 647 aircraft were built at Moorfield Works, including Short 827 seaplanes, Short 310 seaplanes, Short bombers, and Avro 504 trainers.
After the war, Sunbeam suffered from financial problems, partly due to a slump in the motor industry, and partly from non-payment of some of the war contract work. As a result the company amalgamated with Darracq and Talbot in 1920 to form the S.T.D. group (Sunbeam, Talbot, Darracq).
Sunbeam became a household name thanks to its many successes on the racing track, its land speed records, and its high quality cars. By the late 1920s car sales were declining and so the company turned its attention to the growing market for buses.
Sunbeam's first bus chassis, a 6-wheeled design, for a double-decker, capable of carrying between 60 and 70 passengers was launched in December 1928.

Known as the 'Sikh' chassis, it had a 7.98 litre, Sunbeam
6-cylinder engine, capable of delivering 142 b.h.p.

The design may have been influenced by the extremely successful 6-wheeled Guy and Karrier models.

It was priced at £1,550, or £1,575 with an electric starter.

A side view of a completed chassis.

A 6-wheeled chassis fitted with a Dodson body. It carried 67 passengers.
In August 1929 a smaller model, the 4-wheeled 'Pathan' appeared. It was built to the same high standard as the 'Sikh', and intended for use as a 26-seater, single-deck bus or luxury coach. It had a 6.597 litre, Sunbeam 6-cylinder engine, capable of delivering 110 b.h.p., and brakes on both front and rear wheels. It seems that very few 'Sikh' and 'Pathan' chassis were built.

A 4-wheeled 'Pathan' chassis, with a 26 seater de luxe Short Brothers coach body.
A 'Pathan' chassis fitted with a Sunbeam bus body. It was purchased by Wolverhampton Corporation and used on the Bridgnorth route.

Courtesy of the late Jim Boulton.
Trolley Buses

The early 1930s were a difficult time because of the depression, which lasted for several years. In 1926 Guy Motors produced the world's first 6-wheeled trolley buses, some of which were used on Wolverhampton Corporation's growing trolleybus network. Possibly because of this, Sunbeam decided to manufacture trolley buses, and in 1931 formed Sunbeam Commercial Vehicles. The standard 6-wheeled chassis was modified for use as a trolley bus, which became an immediate success. Large numbers were produced, and Sunbeam eventually became one of the world's leading bus chassis manufacturers.
| | | |
| --- | --- | --- |
| A 6-wheeled trolley bus chassis outside the factory. | | An advert from 1935. |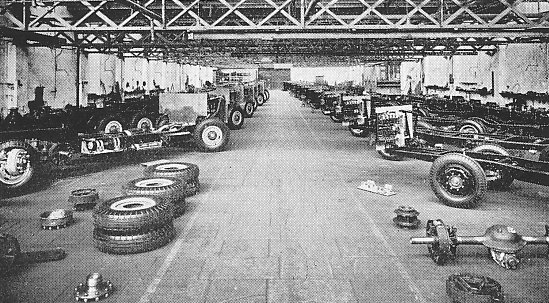 Assembling 4-wheeled chassis at Moorfield Works.
| | |
| --- | --- |
| Another view of chassis production at Moorfield Works. | |
By 1934 the Sunbeam group as a whole was in financial difficulties, people no longer wanted expensive, slightly old-fashioned cars. The solution was to be the Sunbeam 'Dawn', but it was slow to sell, and there were initial problems with the design. £3½ million had been spent on development and tooling costs for the new car, but it wasn't recovered. At one point, money was so short that wheels and tyres from half-completed cars had to be removed to meet the weekly wages bill. On November 17th, 1934 Sunbeam Commercial Vehicles became a limited company.

Things didn't improve, and Sunbeam soon went into liquidation. In July 1935 S.T.D. and Sunbeam Commercial Vehicles Limited was purchased by Rootes Securities, who had no interest in high quality cars, only volume production. Rootes kept the Sunbeam name and quickly closed the car building part of the factory. Little interest was shown in trolley buses, but the bus-building part of Karrier, also owned by Rootes, was moved from Huddersfield to Moorfields. For a time it looked as if Sunbeam buses had a secure future.

In December 1935, bus manufacturer AEC (Associated Equipment Company Limited) became interested in Sunbeam Commercial Vehicles Limited. AEC's managing director C. W. Reeve, and AEC's chairman J. T. C. Moore-Brabazon joined the board. This resulted in the production of a Sunbeam bus built on an AEC chassis, and powered by a Gardner diesel engine. The project seems to have been a failure because few were sold. At this time the company also produced battery-powered vehicles such as milk floats, crankcases for AEC, and stampings for Ford.

Much of the Moorfields site, where the cars were built, was soon sold off. By 1944 AEC had lost interest in Sunbeam Commercial Vehicles Limited. It was sold to the Brockhouse Group in 1946, after becoming an important source of machine tools for the group. In 1948 Brockhouse changed the name to the Sunbeam Trolleybus Company, and in January 1949 it was acquired by Guy Motors. From then-on all Guy trolleybuses carried the Sunbeam name.
| | | |
| --- | --- | --- |
| An advert from 1946. | | An MS3 chassis with Metro-Cammell bodywork. |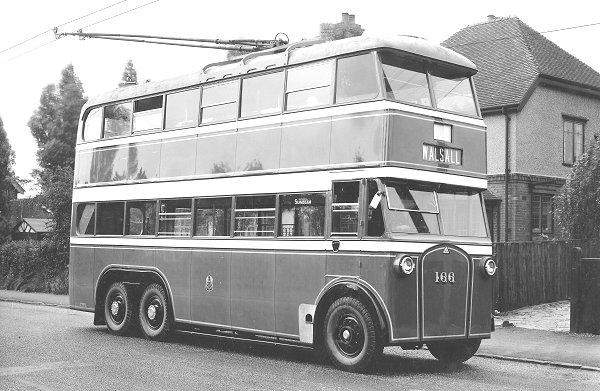 A Sunbeam MS2 chassis with a Weymann body, used by Walsall Corporation.
A Sunbeam W4 chassis fitted with a Park Royal body. Courtesy of Eardley Lewis.

Trolleybus production continued at Moorfield Works until 1953 when it was moved to the Guy factory in Park Lane, were an extension had been built to the machine shop.

It was a sad end for Sunbeam, especially as so much had been achieved during the glorious half a century at Moorfields.
A W4 Sunbeam chassis fitted with a Park Royal body. It entered service with Wolverhampton Corporation Transport in 1946 and was withdrawn in 1967.

It is seen here in Stafford Street, Wolverhampton. Courtesy of Eardley Lewis.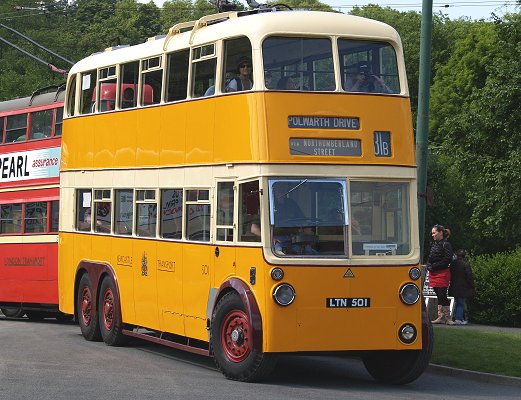 A 6-wheeled Sunbeam trolleybus that was operated by Newcastle Transport, and is now owned by Beamish Museum.
---
---
Sunbeam Buses in the Wolverhampton Corporation Bus Fleet
| | | | | |
| --- | --- | --- | --- | --- |
| Fleet No. | Chassis | Body | Introduced | Withdrawn |
| 87 | Pathan | Rushton & Wilson | 1930 | 1938 |
| 88 to 90 | Pathan | Taylor | 1930 | 1938 |
| 319 | DF2 | Brush | 1936 | 1948 |
Sunbeam Trolleybuses in the Wolverhampton Corporation Bus Fleet
| | | | | |
| --- | --- | --- | --- | --- |
| Fleet No. | Chassis | Body | Introduced | Withdrawn |
| 92 and 93 | MS2 | Weymann | 1933 | 1948 |
| 94 | MS2 | Weymann | 1933 | 1947 |
| 95 | MS2 | Weymann | 1933 | 1948 |
| 96 | MS3 | Metro-Cammell | 1934 | 1948 |
| 97 | MS3 | Metro-Cammell | 1934 | 1947 |
| 98 | MS3 | Metro-Cammell | 1934 | 1946 |
| 204 | MS3 | Metro-Cammell | 1934 | 1945 |
| 205 | MS3 | Metro-Cammell | 1934 | 1947 |
| 206 | MF1 | Park Royal | 1934 | 1945 |
| 207-209 | MF1 | Park Royal | 1934 | 1949 |
| 214-217 | MS3 | Beadle | 1934 | 1948 |
| 222 | MS2 | Metro-Cammell | 1934 | 1949 |
| 223-226 | MS2 | Park Royal | 1935 | 1949 |
| 231 | MF1 | Park Royal | 1936 | 1944 |
| 232-233 | MF1 | Park Royal | 1936 | 1949 |
| 239-244 | MF2 | Park Royal | 1936 | 1949 |
| 245 | MS1 | Park Royal | 1936 | 1949 |
| 246-251 | MF2 | Beadle | 1937 | 1949 |
| 264-265 | MF2 | Park Royal | 1938 | 1949 |
| 266 | MF2 | Park Royal | 1938 | 1950 |
| 267-268 | MF2 | Park Royal | 1938 | 1949 |
| 269 | MF2 | Park Royal | 1938 | 1950 |
| 270 | MF2 | Park Royal | 1938 | 1949 |
| 271 | MF2 | Park Royal | 1938 | 1950 |
| 272 | MF2 | Park Royal | 1938 | 1949 |
| 273 | MF2 | Park Royal | 1938 | 1950 |
| 274 | MF2 | Park Royal | 1938 | 1949 |
| 275 | MF2 | Park Royal | 1938 | 1950 |
| 282 | MF2 | Park Royal | 1940 | 1952 |
| 283 | MF2 | Park Royal | 1940 | 1950 |
| 284-285 | MF2 | Roe | 1940 | 1950 |
| 286-290 | MF2 | Park Royal | 1942 | 1952 |
| 291-295 | MF2 | Roe | 1942 | 1952 |
| 296-299 | W4 | Weymann | 1943 | 1953 |
| 400-401 | W4 | Weymann | 1943 | 1953 |
| 402 | W4 | Park Royal | 1944 | 1963 |
| 403 | W4 | Park Royal | 1944 | 1965 |
| 404 | W4 | Park Royal | 1944 | 1963 |
| 405 | W4 | Park Royal | 1944 | 1964 |
| 406 | W4 | Park Royal | 1944 | 1965 |
| 407 | W4 | Park Royal | 1944 | 1964 |
| 408 | W4 | Weymann | 1945 | 1965 |
| 409-411 | W4 | Park Royal | 1945 | 1965 |
| 412 | W4 | Park Royal | 1945 | 1963 |
| 413 | W4 | Park Royal | 1945 | 1965 |
| 414 | W4 | Park Royal | 1945 | 1963 |
| 415-418 | W4 | Park Royal | 1945 | 1965 |
| 419 | W4 | Park Royal | 1946 | 1964 |
| 420-423 | W4 | Park Royal | 1946 | 1965 |
| 424-427 | W4 | Park Royal | 1946 | 1967 |
| 428 | W4 | Park Royal | 1946 | 1965 |
| 429 | W4 | Park Royal | 1946 | 1967 |
| 430-431 | W4 | Park Royal | 1946 | 1966 |
| 432-433 | W4 | Park Royal | 1946 | 1967 |
| 434-444 | W4 | Park Royal | 1948 | 1967 |
| 445 | W4 | Park Royal | 1948 | 1965 |
| 446-449 | W4 | Park Royal | 1948 | 1967 |
| 450 | W4 | Park Royal | 1948 | 1964 |
| 451-455 | W4 | Park Royal | 1948 | 1967 |
| 456 | F4 | Park Royal | 1948 | 1963 |
| 457 | F4 | Park Royal | 1948 | 1965 |
| 458-459 | F4 | Park Royal | 1948 | 1961 |
| 460 | F4 | Park Royal | 1948 | 1963 |
| 461 | F4 | Park Royal | 1948 | 1965 |
| 462 | F4 | Park Royal | 1948 | 1964 |
| 463 | F4 | Park Royal | 1948 | 1963 |
| 464 | F4 | Park Royal | 1948 | 1964 |
| 465-466 | F4 | Park Royal | 1948 | 1965 |
| 467 | F4 | Park Royal | 1948 | 1963 |
| 468 | F4 | Park Royal | 1948 | 1965 |
| 469-470 | F4 | Park Royal | 1948 | 1963 |
| 471 | F4 | Park Royal | 1948 | 1964 |
| 472 | F4 | Park Royal | 1948 | 1963 |
| 473 | F4 | Park Royal | 1948 | 1965 |
| 474-477 | F4 | Park Royal | 1948 | 1964 |
| 478 | F4 | Park Royal | 1948 | 1965 |
| 479 | F4 | Park Royal | 1948 | 1964 |
| 480-481 | F4 | Park Royal | 1948 | 1963 |
| 608 | F4 | Park Royal | 1949 | 1963 |
| 609 | F4 | Park Royal | 1949 | 1962 |
| 610-620 | F4 | Park Royal | 1949 | 1963 |
| 621 | F4 | Park Royal | 1949 | 1964 |
| 622 | F4 | Park Royal | 1949 | 1963 |
| 623 | F4 | Park Royal | 1950 | 1962 |
| 624 | F4 | Park Royal | 1950 | 1963 |
| 625-626 | F4 | Park Royal | 1950 | 1965 |
| 627 | F4 | Park Royal | 1950 | 1964 |
| 628-629 | F4 | Park Royal | 1950 | 1962 |
| 630 | F4 | Park Royal | 1950 | 1964 |
Sunbeam Trolleybuses on loan to Wolverhampton from Bournemouth Corporation
| | | | | |
| --- | --- | --- | --- | --- |
| Fleet No. | Chassis | Body | Loaned | Returned |
| 76 | MS2 | Park Royal | 1940 | 1948 |
| 84 | MS2 | Park Royal | 1940 | 1946 |
| 105 | MS2 | Park Royal | 1940 | 1946 |
| 107 | MS2 | Park Royal | 1940 | 1946 |
| 129-130 | MS2 | Park Royal | 1940 | 1948 |
| 131 | MS2 | Park Royal | 1940 | 1946 |
| 132 | MS2 | Park Royal | 1940 | 1948 |
| 137 | MS2 | Park Royal | 1940 | 1948 |
| 156 | MS2 | Park Royal | 1940 | 1946 |
| 161 | MS2 | Park Royal | 1940 | 1946 |
| 168 | MS2 | Park Royal | 1940 | 1948 |
---