---
The Later Years
In the early 1960s Villiers were taken over by Manganese Bronze Holdings and became Norton Villiers. DMW purchased the remaining stock of Villiers spares and some of the tooling to become the main source for Villiers spares and reconditioning. DMW also took over the servicing of the 11E engines that were used in invalid cars. This was very important to both Villiers and the Ministry, who wanted to ensure that the existing engines would be looked after. DMW also purchased the production rights to the 37A 250c.c. engine.

Ian Jones on his DMW.

In 1956, Ian Jones, a 24 year old industrial chemist from Melbourne, returned home after a 2 year stay in England.

He purchased a DMW motorcycle for the journey home and was taught to ride by Harold Nock. He also spent 3 days at the Villiers Service School to learn about the engine.

Exactly 4 weeks after buying the machine and doing about 1,000 miles in England, he rode the machine home to Australia.

His journey included travelling through Europe, Greece, Yugoslavia, Turkey, Syria, Lebanon, Jordan, Iran, Iraq, Pakistan, India, Malaya, Singapore, and then by boat to Darwin. He finished the journey by travelling down the eastern coast of Australia to Melbourne.
The Foyer at Valley Road.

Courtesy of
Jo Skidmore.

The stuffed polar bear that became a prominent feature in the works' foyer. It was purchased from Trentham Gardens by Harold Nock. A male and female were for sale and he intended to buy the pair. When he arrived the female had already been sold and so he ended up with just the male.
Courtesy of Jo Skidmore.

In 1975 Harold Nock sold the company to engineer, Graham Beddall, who ran the Kingswinford Jig and Tool Co. Ltd., and Ivan Dyke. Harold Nock was a wealthy enthusiast who ran the business as a hobby, producing small numbers of expensive, high quality machines and parts. When Graham and Ivan took the business over their main priority was to make the business profitable. Ivan, an accountant by trade, joined Metal Profiles as company accountant in 1965.

In the late 1960s, Graham, Ivan and Tony Hodges became company directors and managed the business, as Harold Nock was nearing retirement. When Harold retired to the Isle of Man in 1971, they continued to run the company and purchased it four years later.

They both realised that the future lay in capitalising on the company's existing facilities. There was a tool room for manufacturing all of their own jigs, tools and fixtures, for precision engineering work, and so they concentrated on this side of the business, which paid off.

When they purchased the company, it had seven employees and this soon grew to 35. There was a wide product range including brass door locks for Warrior and Saxon tanks, aluminium flywheels for feeding British Telecom's fibre optic cable, angle iron cutters, parts for fork lift trucks, lorries and conveyors, and much more.

Although the motorcycle work continued, it played a smaller but important role in the business. The company continued to supply many Villiers spares from stock and also manufactured batches of many parts including chaincases, crankcases, gears, gearshafts and the Metal Profiles forks.
The Valley Road works entrance.


Courtesy of
Jo Skidmore.
The Valley Road works offices.


Courtesy of
Jo Skidmore.
The Valley Road works.


Courtesy of
Jo Skidmore.

Part of Metal Profiles Office. The gentleman in the picture is Gordon, the estimator.
Courtesy of Jo Skidmore.
A reconditioning service was also on offer for Villiers engines and Metal Profiles forks. Much of this was carried out by Paul Foreman, who also ran the spares counter.

A lot of the business was done by mail order with May Rodway in charge of the stores. She was an acknowledged expert on Villiers engines and was consulted by enthusiasts from all over the world, until her retirement in 1989.

The company continued to build small numbers of racing machines, and Mike Parkes, the works development rider was ACU Midland Centre Group Trials Champion on a 250c.c. DMW in 1976 and 1977. This was the first British bike in years to have won any major event in the trials world.

The racing machines were built from modified Villiers components and everything was made at Valley Road, including the frame, forks, engine and gearbox.

Because of this, when Mike picked up his first award he was greeted with an enthusiastic chorus of 'Rule Britannia'!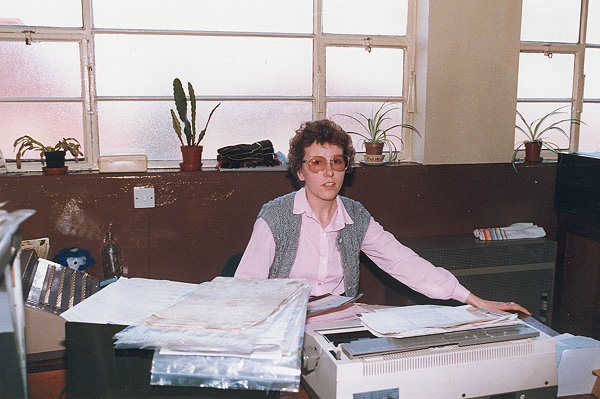 Metal Profiles secretary. We can't find her name. If anyone recognises her, please contact the
webmaster. Courtesy of Jo Skidmore.
DMW also produced a range of engines which were a development of former Villiers designs. Engines were supplied to a number of manufacturers including Cotton.

Motorcycle enthusiast, Ken Pinches of Worcester, purchased what is thought to be the last DMW machine, built in 1978.

It is powered by DMW's own version of the Villiers Starmaker single, with a 4 speed gearbox. The cylinder head and barrel are DMW pattern. The machine is fitted with Metal Profiles forks and 7inch drum brakes.

Graham and Ivan retired in 1995 and sold Metal Profiles, the forks and Villiers spares. They retained ownership of the 'DMW Motorcycles Wolverhampton Ltd.' name until 2001, when it was finally relinquished.

The company was the last motorcycle manufacturer in the area. Its passing marked the end of an important era. In its heyday DMW produced about 50 machines per week, and produced about 15,000 machines during its lifetime.


A final view of the office. Courtesy of Jo Skidmore.

The last machine to leave the factory. It was purchased by Ken Pinches. Courtesy of Jo Skidmore.

Valley Road works, awaiting demolition.
Metal Profiles was sold to a Bilston engineering company, but only lasted about two years before going into liquidation. The forks part of the business was sold to Competition Classics of Cheshire. They used the DMW name, brought the spares, and sold and made forks. The Valley Road works was demolished in late June 2002, to make way for houses, but the company will not be forgotten thanks to the many surviving machines that are in the hands of enthusiasts, and will continue to appear at racing events and rallies.
One of the company's machines, a 'Hornet' from 1965 could be seen in action at the 2017 Brighton National Speed Trials.

The 246 cc. machine, ridden by John Holt finished in 7th place in the Vintage & Classic (up to 1972) Consistency Class. He achieved a speed of 89.1mph.

He is seen here at the start.

Courtesy of Brian Shaw.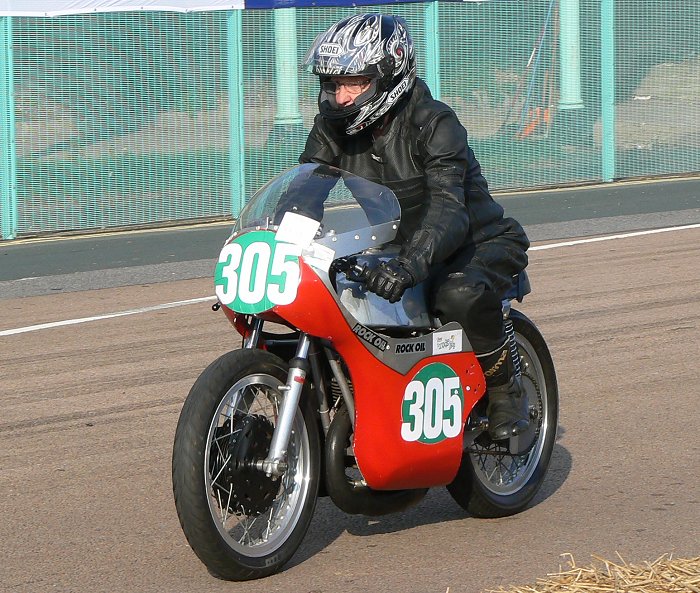 John Holt and his DMW 'Hornet' running back at the 2017 Brighton National Speed Trials. Courtesy of Brian Shaw.
---