---
More Machines

The mid 1960s was a time when the British motorbike industry was in decline due to competition from the abundance of high quality foreign machines. Many schemes were hatched to build a world-beating racing machine to put British machines back in the forefront. In August 1965 DMW came up with such a machine called the 'Typhoon'.

The DMW 'Typhoon'

It was basically a pair of 250c.c. engines mounted in a modified 'Hornet' frame, with 'Hornet' parts used wherever possible.

Two machines were built, one using Villiers 'Starmaker' barrels and heads, the other using Royal Enfield barrels and heads.

The two engines had coupled crankshafts via an idler gear.

This drove a jackshaft to the clutch, which required the engine to run backwards.
Specification:
Machine 1:
Engine:
494c.c. 2 stroke, Villiers 'Starmaker' barrels and heads. 68mm bore x 68mm stroke
Carburettors:
38mm Amal MkII

Gearbox:

Albion 5 speed

Transmission:
Longitudinal drive gear chain to the clutch
Clutch:
DMW
Forks:
DMW with external damper

Chassis:

Modified 250c.c. 'Hornet' frame, square section swinging arm
Brakes:
Front– Yamaha TD2 4LS Rear– Yamaha TD2 1LS
Machine 2:
Engine:
494c.c. 2 stroke, Royal Enfield GP barrels and heads. 66mm bore x 72mm stroke
Carburettors:
1.5inch GPs
Gearbox:
Albion 5 speed
Transmission:
Longitudinal drive gear chain to the clutch
Clutch:
DMW
Forks:
DMW with external damper
Chassis:

Modified 250c.c. 'Hornet' frame, square section swinging arm

Brakes:
Front – 8.5inch Oldani Rear – 6inch DMW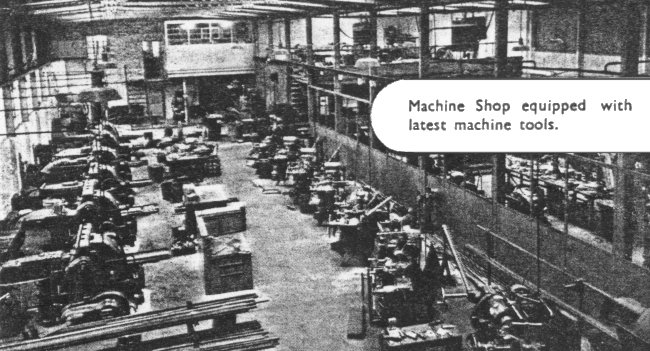 The Machine Shop from the 1952 catalogue. Courtesy of Jo Skidmore.
The machines were capable of at least 60b.h.p. at 6,000r.p.m. and could reach speeds of 130m.p.h. at 8,000r.p.m. in 4th gear. They were nicely finished off with a fibreglass seat and tank by Bill Jakeman. DMW was hailed in the press as a saviour of national pride and as the expected output power was 70b.h.p. from a machine weighing only 287lb, it would be a winner from the start. Harold Nock however said that the machine would only be raced when it was thoroughly tested and proven. Testing was carried out by Bill Smith and Jack Findley at Silverstone. Only the 'Starmaker' version was tested. Unfortunately the machine vibrated badly and the brakes were not effective. Oil leaking from the central drive caused ignition problems because it ran onto the points.
Although the problems could easily have been rectified, the project was shelved, even though the machines had a lot of potential.

The second machine was only used for display at shows.

The 'Starmaker' machine was sold to Roy Martin in 1985 and has since raced on many occasions.

The other machine was presented to the National Motorcycle Museum by Metal Profiles later owners; Ivan Dyke and Graham Beddall.


The Moto-Cross Mark 5 which was powered by a Villiers 200c.c. 7E engine.
The original 'Hornet', which first appeared in 1954 was extensively redesigned to produce a new version. The prototype was running in early 1963 and went on sale in 1964. The machine, powered by a Villiers 'Starmaker' 247c.c. two stroke engine, first appeared in 1962 and was later redesigned to increase the power output from 25b.h.p. at 7,000r.p.m. to 32b.h.p. at 7,400r.p.m. It ran very smoothly with little vibration.

Gemma Toon's 1964 'Hornet'.

The new 'Hornet' had three powerful brakes, two at the front, on each side of the hub, and one at the back. Other features included a Girling gas and hydraulic steering damper, and a Villiers 4 speed gearbox.

The frame was a duplex-tube cradle type with a taper-roller bearing steering head. The machine was nicely finished with a Jakeman racing fairing, and sold for £365.

In 1964 Bill Smith rode the works machine in the Isle of Man Southern 100, and finished in first place.

The 'Hornet' Mk2 appeared in 1966, powered by a hybrid engine consisting of an Alpha crankshaft, DMW crankcase, and Royal Enfield cylinder.

It was very successful in trials and came in third place in the Isle of Man Southern 100, ridden by Brian Duffy.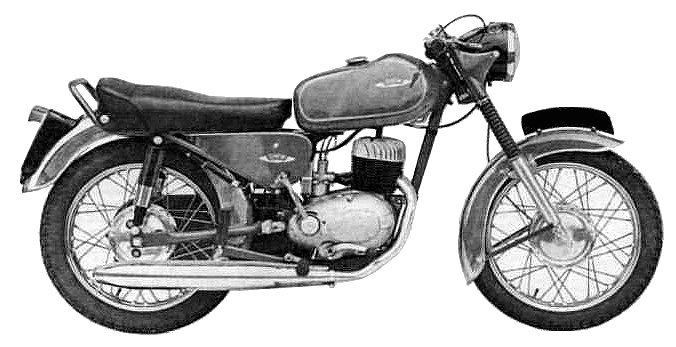 The 249c.c. 'Sports Twin from 1965.
The 'Dolomite' Mk2 appeared in 1962, powered by a 250cc Villiers engine, and was soon renamed the DMW 'Sports Twin'. The engine, the 249c.c. two-stroke Villiers Mark 4T had cast iron cylinder barrels, with a crankshaft supported in one ball, and two roller big end bearings. It was fitted with a Villiers S25 carburettor, a Villiers 6 pole flywheel generator with remote ignition coils, a 4 speed Villiers gear box with multi-plate clutch, and 6inch diameter DMW-Girling brakes at the front and rear. The machine also had Metal Profiles telescopic front forks, pivoted rear forks, and Girling spring and hydraulic rear suspension units. There was a 7inch Lucas headlamp, a 52inch wheelbase, and a ground clearance of 5.25 inches. The machine weighed 307lb with approximately half a gallon of fuel.

The fuel consumption was 102m.p.g. at 30m.p.h. and a top speed of 69m.p.h. It was smartly finished in Italian red, with a gold-lined fuel tank, polished light-alloy fork legs, and chromium-plated mudguards. It sold for £222.15s.0d.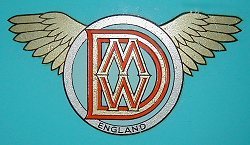 DMW 250 cc Mark 10 Trials Model.

DMW 250 cc Mark 10 Competition Model.

DMW 125 cc Model 125.

DMW 125 cc Model 200 Competition version.

DMW 125 cc Model 200 De Luxe.

DMW 225 cc Cortina.
---