---
SAUNDERS AND HADDON, STRINGERS LANE, WILLENHALL
Manufacturers of motor slam locks, railway carriage and budget locks, rim, dead, mortice and ship lock makers.

Founded about 1885, they continued to make the same kind of locks and latches as made by R. Saunders, Doctors Piece, Willenhall.

Existing in 1948 when the proprietor was Robert Saunders, but not in 1970. Nothing else known.

SYDNEY FRANK SANDERS, 77 FIELD ROAD, BLOXWICH
Lock and bag frame manufacturer. Established prior to 1819. Sydney Frank Sanders (1904-1991) was the last member of the family to run the business. (LMNL No 13)

JOHN SAWBRIDGE AND SON LTD. 127 BLOXWICH ROAD, WILLENHALL

An advert from 1954.

They were in existence in 1909 manufacturing mortice, rim, case, asylum, mortice gate, park gate, South American, Portuguese and ship locks. At that time they had been granted Royal Letters Patent.

Still in existence 1974, when they had a reduced range that also included padlocks.


SECUREFAST LTD. MEADOWDALE WORKS, DIMMINGSDALE, WILLENHALL
| | |
| --- | --- |
| | Jack Appleton was a freelance salesman from Blackburn who at various time represented the Erebus Manufacturing company and Arthur Hough and Sons. In the late 1950s he set up manufacturing mortice locks with Stan Davenport, the proprietor of H Davenport and Sons of Victoria Road, Wednesfield, in Davenport's premises. |
This did not last long before, in 1960, Jack formed his own company, Key Cutters Ltd., in Haley Street, Lane Head, where he made a range of mortice locks. During this time he set up a factoring company selling locks, keys and lock furniture, run from the same premises. It was named M. D. Appleton. This was using his wife's name, who at this time ran both businesses while Jack was out on the road looking for business. As the business grew, they outstripped their Haley Street premises and moved into larger works in Croft Yard in Willenhall. In about 1970 both companies moved into larger premises in Dimmingsdale and shortly after the factoring business was closed down. Between 1972 and 1974 they changed the name to Jack Appleton (Willenhall) Ltd. and started to sell under the SECUREFAST brand name.
Following the death of Jack Appleton in November 1987, the company was purchased by Honing Equipment of Cheltenham and in March 1990 they changed the name to Securefast. They later purchased Enoch Pinson (q.v.), the padlock makers who were in premises next door, and now run the works as one unit, although still selling under both names. The firm is run by Paul Crenshaw, who is a relation of Jack Appleton's second wife, and who joined the company in 1983.
Security Engineers plc was formed to run both companies when they were bought from the group, with Mr David Sebire from Gloucester as major shareholder, together with Mr A Reid and J Morrall as Company secretary.
In March 1998 they took over the padlock business of Willenhall Engineering (Stockwell Industries) i.e. Old English type, to add to their Pinson range.
In March 1998 they employed 55 people and sales were £2,195,045 for the year. And the works covered an area of 22,000 sq. ft.
Paul Crenshaw left the company in April 1999 and was replaced as MD by Duncan Crawley.
In 1999 the company launched ControlSoft. This is a joint venture with a South African company, ControlSoft, which will distribute leading edge network access control systems.
SECURITY LOCK AND SAFE CO. LTD. HALEDANE, HALESFIELD, TELFORD
In existence in 1972 and 1976. Safe makers who also made their own locks. Part of the Mather & Platt group.
SERVICE ENGINEERING, 68 LICHFIELD ROAD, NEW INVENTION
Set up by Arthur Birch, Eric Hayward and Mr Green, a tool maker, after the 2nd World War in premises that had previously been a cowshed used by farmer Abe Tarbuck, in New Invention, opposite the Co-op. They made padlocks with a flat key and combination padlocks. The padlocks were sold to Willen Key Co Ltd at Willenhall, which at that time was being managed by W H (Billy) Deering (Padlock Harry).
They did not last very long. (Harold Fletcher). In existence in 1953 Kelly's Directory. Not in existence in 1970. Nothing else known.
ARTHUR SHAW AND CO. LTD. DENVER WORKS, WILLENHALL
Established in 1809. They manufactured mortice and cylinder locks at premises in Gypsy Lane Willenhall.

They also owned Shaw Foundry Co., who produced such items as brass and iron castings of all descriptions, including casement stays and fasteners, bed fittings and mattresses etc..

In 1935 they employed between 700 and 800 people. About 1968 they ceased production as their equipment and methods became outdated.
They then became more of a factoring company, specialising in the supply of security and safety fitting for windows and doors in 1996.

They re-organised under the name of Arthur Shaw Manufacturing Ltd and moved to premises at No 1 Rose Hill Willenhall, the site of their former foundry.

The Gypsy Lane premises were sold to Josiah Parkes Ltd, who moved one of their manufacturing units to the site and named it Tame Works. Parkes moved out c1990 and in 1992 Workspace Ltd converted the works into offices and workshops for rent.


An advert from 1950.
| | |
| --- | --- |
| | An advert from 1912, kindly provided by Trevor Dowson. |
This letter head, provided by Trevor Dowson, is dated 1954. The letter itself is about a price increase in Builder's Ironmongery.

Many lock making companies also made door furniture and the like. Arthur Shaw was only different in that it ran the two operations as separate companies.


An invoice from the 1950s.
| | |
| --- | --- |
| | From the lock above. |
| | |
| --- | --- |
| | An advert from the 1958 edition of 'Benn's Encyclopaedia of Hardware'. |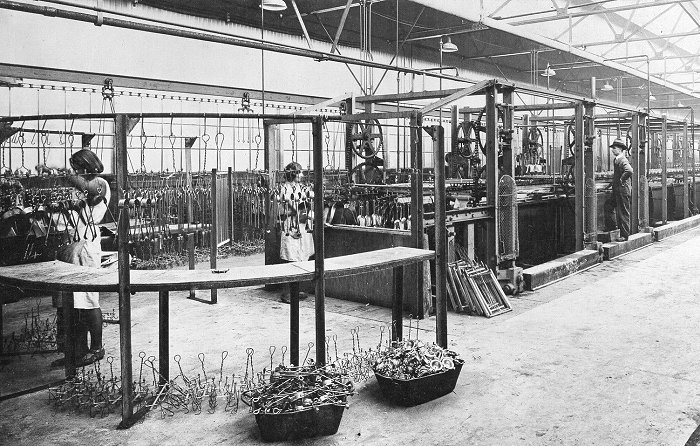 The automated plating plant in the factory.

JOHN SHAW & SONS LTD., WOLVERHAMPTON
John Shaw & Sons was a large company which acted as wholesalers of a wide range of tools, some of which they manufactured themselves but many of which they bought in from other makers. (For further information about the company, click here).

They are not known to have been the actual manufacturers of any locks.
The lock shown above is an iron plate lock on oak. It carries the two labels shown to the right.

The top one is for John Shaw & Sons. The lower one is for John B. Banks, ironmongers, of Cockermouth, Cumbria.
| | |
| --- | --- |
| But neither Shaws nor Banks were the makers of the lock. Shaws would have bought in the lock, probably from a Wolverhampton or Willenhall maker, and have added their own badge and then another for Banks, the retailers. | |
The premises of J. B. Banks Ltd. in Cockermouth are shown in the photo (left).

The company was founded in 1836 and, although locksmiths, they were not lock makers. The shop is a modern ironmonger's shop but retains a traditional facade and interior.

The current Mr. Banks (to whom we are indebted for information and permission to take these photos) has a large collection of old locks.

Shaws are included in this Gazetteer as an interesting example of the problems in identifying the maker of a particular lock.


STEPHEN SHELDON, SEDGLEY.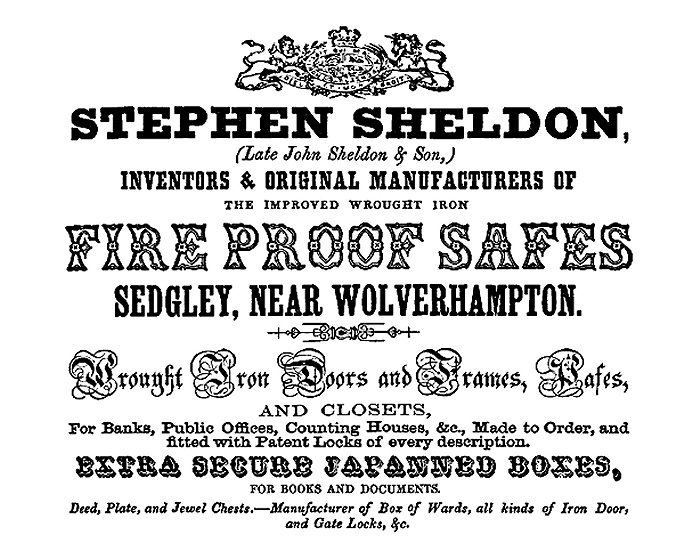 From Melville & Company's 1851 Wolverhampton Directory. Nothing else is known about the firm.
FRED SHEPHERD, HEATH WORKS, CLOTHIER STREET, WILLENHALL
Advert (undated) from Trevor Dowson.

Manufactures of brass and iron padlocks. Fred Shepherd was born in 1906 and, like his father, George (died 1945), started in the lock trade as he left school.

He worked at Lowe and Fletcher Ltd. and later joined his father at Clifford Bros. in Villiers Street.

In 1930 they decided to "have a go on their own" and manufacture brass and iron padlocks, under the name of "Shepherd", in a shed at their home in Regent Street.

Business was good and the family moved to live at 163 Clothier Street in 1933.
Again they used a shed as their workshop. The house next door had been used by a doctor and had had a surgery built on to it. This became vacant in 1937. This provided the opportunity to move to better premises and later in the same year F. Shepherd Brass and Iron padlocks moved out of the shed and into the "surgery". It was simply moving next door. Work expanded to fill the new premises and this became known as Heath Works.
Fred Shepherd retired in 1971 and Heath Works closed. He died in 1999. (LMNL No 14)
K. W. "BOB" SIDBOTHAM AND BILL SIDBOTHAM
see entry under W.B.S. Locks Ltd.

SIDLOCK LIMITED, FARNHAM TRADING ESTATE, FARNHAM, SURREY
Originally Sidleen Ltd, who manufactured a cylinder lock. By 1991 they had moved to Horsham, West Sussex, where they manufactured cam locks, switch locks and filing cabinet locks.

There were also locks they had made in the Far East to supplement their range.

JESSE SIMMONDS AND SONS, 93 NEW HALL STREET, WILLENHALL
Maker of all types of locks. In existence in 1914 and 1953 but not in 1970. Nothing else known.
G. H. SKIDMORE, 4 SALISBURY STREET, WOLVERHAMPTON
An entry in the Wolverhampton Official Handbook, 1953, says that Mr. Skidmore started business in partnership in 1938, making gun locks and springs.

The partnership was dissolved in 1943 but Skidmore carried on on his own. Since 1946 Skidmore had been making 1 in. signal pistols.

In May 1950 he acquired the business and goodwill of George Hunt "an old established lock manufacturer of Wilenhall. "More recently" he acquired a major interest in Resilience Lock & Manufacturing Co. Ltd.

At the time it was hoped to move both of these firms to Salisbury Street.
The advert (above) which accompanied this entry refers to gun locks, gun springs, iron, steel and brass case locks; and gives the trade name "Resilience", which presumably came from the Resilience Lock company.
THOMAS SKIDMORE, STAFFORDSHIRE SAFE WORKS, STEWART STREET, WOLVERHAMPTON
The company was originally named Skidmore and Langham, the two partners being brothers in law.

This advert, from the catalogue of the Wolverhampton Arts and Industrial Exhibition of 1884 seems to show a well established company operating at the heavier end of the security market.

The advert mentions "Royal Letters Patent", which refers to the patents the company held. But they were also "by Royal Appointment", though when, to whom and for what is not known.

The firm also supplied safes to Pearl Assurance.
| | |
| --- | --- |
| | An advert from 1892. |
| | |
| --- | --- |
| An advert from 1897. | |
| | |
| --- | --- |
| | An advert from 1908. |
| | |
| --- | --- |
| An advert from 1914. | |
This plate from a safe in the Locksmith's House claims that the company was established in 1850.

The company continued to make safes up until the 1920s when it was decided that the new equipment needed to make bent steel safes was not worth investing in.

Thereafter the company continued to do repairs and other work on their safes and to sell safes, with their name on them, but they were all made by other firms: firstly, S.Withers of West Bromwich, then Stephen Cox of Sedgley, then the Dudley Safe Co.

This continued until about 1990 when all work ceased.


An advert from 1902.
A small safe by Thomas Skidmore. Note the coat of arms, denoting a Royal Warrant.

Photo courtesy of Steve Cannon.
(Thanks to the late Dick Rhodes, sometime partner in the Wolverhampton firm of Skidmore, Auctioneers and Estate Agents, which was established by the same Skidmore family).

ABRAHAM SMITH, 71 ESSINGTON ROAD, NEW INVENTION
Key maker. Not in existence in 1921 or 1970. Existing in 1953.
Thomas Smith started the business in the Lichfield Road, New Invention, in the houses by the Post Office.
Thomas' children were Abraham and Thomas, who joined him in the business; Peter, Leonard, Dora and Florence. Peter was a locksmith who became the manager of Bloxwich Lock and Stamping Co.. He married Lavinia Smith (nee Whitehouse). They had seven children of whom two, Reginald and Peter, worked at Bloxwich Lock and Stamping.
Abraham Thomas married Caroline. Their children were William, Percy [Ivy and Leonard's father], Thomas, Leonard, Dora, Irene and Carry. Ivy remembers that Caroline used to polish the keys on the kitchen table with a oily rage and then wrap them in brown paper.
Abraham eventually took the business over when his father died. He later moved to 72 Essington Road and built a wooden workshop behind the house. This was next door to his sister Dora, whose husband, Mr Cook, ran a shop. They were the parents of Bill Cook.
Thomas, who continued the business after his father died in 1941, joined Abraham. Thomas continued with the business for some years, while his wife, May, ran a drapery shop by the Gate Inn. During the war May use to deliver keys on her bike to Bloxwich Lock and Stamping.
(Information from Ivy Ridgway 12/5/2000; and from Paul K Smith, the grandson of Peter Smith, 26/04/2003)
ARTHUR E. SMITH, 37 POWLETT STREET, WOLVERHAMPTON
Established in 1860 as makers of safe, cabinet deed box, pad and rim locks. They also made brass furniture and fittings for the metal box and safe trade. Existing in 1921 and 1953. Not in existence in 1970. Nothing else known.
DAVID L. SMITH, 24 STRINGERS LANE, WILLENHALL
Key maker. Not in existence in 1921 or 1970. Existing in 1953. Nothing else known.
JAMES H. SMITH, MERRIDALE STREET, WOLVERHAMPTON (1895-1976)
James H Smith[2] founded his lock making firm in 1896 (Stubbs Directory 1970) at No 2 Merridale Street Wolverhampton, when he split from his father's cabinet lock making company of Jeremiah Smith[1] who had works in Sweetman Street, Wolverhampton. The two firms continued for three quarters of a century making the same products in the same town and competing for the same customers.
By 1921 Jeremiah Smith and Sons Ltd are listed in Kelly's Directory as being at No 9 Newbridge Street, Whitmore Reans, Wolverhampton. James had premises in Retreat Street. Both Jeremiah[1] and James[2] were Methodist local preachers in the Wolverhampton area. The business was taken over by James son[3]. By 1953 the company were at No 2 Merridale Street West, manufacturing cabinet and brass ships locks. The business then passed into the hand of his son David[4]. In 1973, for sentimental reasons David purchased the goodwill of Jeremiah Smith and Sons Ltd from Ernest Smith[2], who by this time had virtually finished making locks. In 1976 David merged his business with Thomas Benton and Co. Ltd to form Benton Smith (Locks) Ltd. (Information from David Smith)
JEREMIAH SMITH AND SON LTD. 9 NEWBRIDGE STREET, WOLVERHAMPTON
Brass cabinet lock makers. In 1880 (Kelly's) Jeremiah Smith had an address in Sweetman Street, Wolverhampton. By 1921(Kelly's) he is listed as being 9 Newbridge Street, Whitmore Reans, Wolverhampton. There is a possibility that the works were always at Newbridge Street and that Jeremiah lived in Sweetman Street, where he may have had an office. The firm specialised in the manufacture of brass cabinet locks, they made their own brass casings and by the 1890s were employing over 100 people. In the 1920s the business was being run by Jeremiah William Jones (possibly Jeremiah Smith's son in law) and Fred and Ernest Smith, Jeremiah's sons. They then employed about 30 people. It remained in the family until 1973, when Ernest Smith, who by that time had virtually finished making locks, sold the goodwill of the business to David Smith of James H Smith .
A. V. J. (Tony) Whitehouse, a great grandson of Jeremiah William Jones, remembers the works in the late 1920s and early 1930s.
JOSEPH SMITH AND SONS, 7 GOUGH STREET, WILLENHALL
Key maker. In existence in 1913 and 1953, but not 1970. Nothing else known.

SYDNEY SMITH, MOUNT PLEASANT PLACE, WILLENHALL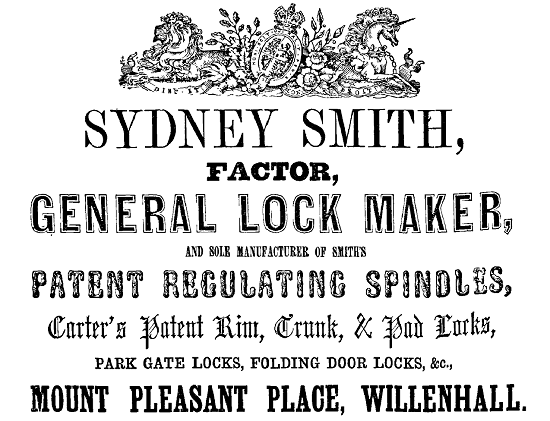 An advert from 1851.
SMITH, DERITEND BRIDGE WORKS, BIRMINGHAM
(Was this Smith Wallis?) Makers of heavy mortice locks. Mrs Davis wrote to Maurice Hartland saying that her husband worked there and, when they were married in 1930, his wages were £3-7-6 per week. The factory was very run down and often rats kept the locksmiths company. When it was closed the business was transferred to Marley Brothers and then sold to Tonks, who eventually amalgamated with William Newman to form Newman Tonks.
In 1940 there was a Charles Smith and Co at Franchise Street Birmingham 22. Was there any connection?
In 1940 Tonks (Birmingham) Ltd, making coin-feed locks, were at 201 Moseley Road, Birmingham 12.
In 2001 Smith Wallis were members of the Basta Parsons Group
GEORGE SPENCER, ST ANN'S ROAD, WILLENHALL
In 1917 the firm was making rim and night latches at 51 Union Street. They started to manufacture cylinder night latches, possibly under the APEX & ALTUS brands.

In May 1931 the CLMA reported that J. Waine and Sons, Britannia Works, Lower Lichfield Street, Willenhall were selling a Britannia latch which was produced by George Spencer of Union Street, Willenhall. Both companies were invited to join the association but declined.

By 1953 the firm had moved to new premises in St Ann's Road, Willenhall.

Not in existence in 1970. Nothing else known.


An advert from 1954.

A & E SQUIRE, LITTLE LANE, SHORT HEATH, WILLENHALL
Brass cabinet lock makers. The Squire family have been making locks in Willenhall for over 300 years but it was not until March 1927 that A & E Squire Ltd was originally founded as a partnership by two brothers, Alzo & Elroy Squire.
They began part-time working in a brick outbuilding at the back of their parent's house at 1 Little Lane, Short Heath, Willenhall, Staffordshire. Like many of their neighbours the brothers were outworkers, working in the early morning and in the evening when they had finished working in the lock factories of Willenhall.
Elroy, who was the younger of the two brothers, worked at Hargrave & Fox, Willenhall, where he became one of their best locksmiths. When he was 20 he asked for a rise as befitted his ability. When this was not forthcoming Elroy decided to leave and start his own business.
Whilst running his business, and being less than 21 years old, he was unable by law to sign cheques in his own right. Therefore his father (Arthur Squire) signed on his behalf. When Elroy became 21 he told his father he would sign himself but Arthur insisted he would still sign. This continued until one day Charles Pinson of Josiah Parkes asked Elroy: "Who's the gaffer at your place? It's him who signs the cheques is the gaffer?" At this time Elroy asked Alzo to join him in the business.

An advert from 1954.

To this end they obtained a mandate from the bank, which they signed, and in effect took complete control of the business from their father. A short time later Arthur asked why he hadn't had any cheques to sign lately? This was the beginning of A & E Squire.

At first Alzo continued to work as a foreman at Vaughan Bros in Willenhall in order to bring in a steady wage until their business was on a firm footing. He enjoyed going to sales where he purchased various items for tooling their workshop. These he then donated as his contribution to the assets of the partnership.

Their father, Arthur, who was working as foreman in the lock shop at Thomas Tuckleys, Willenhall, was dismissed when it became known that his sons had started a business in opposition to them. Following this he was employed full time by A & E Squire.

As time went on and space became at a premium, the brothers bought their neighbours' workshops and covered yards to create more space for more machines and employees. Eventually most of the surrounding houses and buildings in Little Lane and Bloxwich Road North were acquired and bigger and newer shops were built.
In the early days, Alzo and Elroy's mother Sarah, and their wives to be, Barbara and Olive, helped to wrap the locks and pack them into boxes on a Friday evening ready for Elroy to deliver to Willenhall on the back of his bike. Elroy insisted on being paid in cash there and then, so that when he returned back to work he would be able to pay the waiting employees their wages.
During the Second World War A & E Squire worked for the Government making ammunition cases.
The business was incorporated as a limited company in 1960. They are still on the same site today as we were in 1927 and the original workshop at the rear of 1, Little Lane is still in use as part of the finishing department. The house was demolished many years ago and they no longer have an entrance in Little Lane.
Throughout the years many of the Squire family have worked in the family business. As well as the parents and wives of the founders already mentioned, their brother Lionel and sister Iris, children and grandchildren have all been employed at the company.
Elroy's son Derek, and Alzo's son Keith, joined the firm in 1951 & 1953 and now the firm is managed by the third successive generation of the family. Alzo died in 1974 and Elroy died in 1980, leaving Derek and Keith to continue their good work. In more recent times Derek's children have sustained the tradition of joining the family business (Diane 1976, Martin 1977 and Craig 1986). Unfortunately the Managing Director Derek died in 1996. This left the following members of the family running the business: Martin Squire - Sales Director; Craig Squire - Financial Director; Keith Squire - Technical Director Diane Sims - Company Secretary.
(Information from A & E Squire web site 31/1/2001)
HENRY SQUIRE AND SONS, NEW INVENTION, WILLENHALL
The firm was established in 1780 by William Squire, who started to make padlocks in a building on the site of the present factory. The company has been owned and run by his descendants ever since.

Thomas took over the firm in 1820 and in 1848 another Squire, whose first name is not recorded, took over.

Then in 1870 came Henry, born in 1824 in Willenhall. It was he who gave the company the title of Henry Squire and Sons.

He was running the company in 1881 when he employed 12 men and 6 boys and it was his son, also James, who took over in 1900.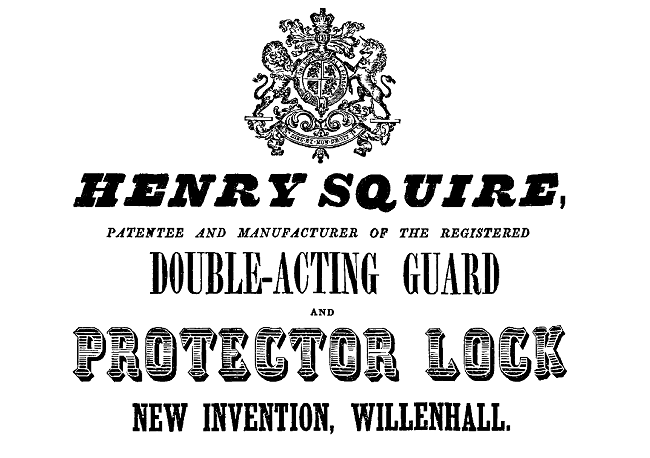 From Melville & Company's 1851 Wolverhampton Directory.
The series of letterheads below gives some indication of the company's activities in the 1920s:
This letterhead is on a letter dated 1922.

The company describe themselves not only as general lock makers but also as brass founders and stampers.
| | |
| --- | --- |
| This heading is on a letter dated 1924. The view of the works indicates that some building and rebuilding work has been going on. | |
| | |
| --- | --- |
| | This letterhead is not dated but seems to be somewhat later than the previous two. |
| | |
| --- | --- |
| The letterheads show the company's trade mark telescope. | |
| | |
| --- | --- |
| | An advert from 1920. It probably shows only a few of their complete range of locks. |
| | |
| --- | --- |
| The advert (left) is from a trade directory of 1924, again probably showing a small part of the their range but also showing hinges. | |
Percival Squire, the fifth descendent of William took over in 1940, and recalls the days his father worked with a labour force of 12 in the old premises. His son Gordon then took over the running of the company in 1960, with John Squire taking over the managing director's role in 2002. (Express and Star 8/1/2002)
Two pages of adverts from the catalogue of the British Industries Fair, 1950.

The one on the right illustrates the company's later specialisation in padlocks.

The one on the left shows the blue blades can opener and a vegetable peeler.
In October 1930, while under the control of James, the company suffered a setback when the works were completely gutted by fire, resulting in about 80 people being put out of work.

The estimated damage was £18000. They recovered from the fire and continued making a selection of locks, being particularly strong in furniture locks, from the 19th. century until the 1930s. But competition from Germany, the changes induced in furniture, induced a change in specification in padlocks.

During the war production was switched to the manufacture of precision gauge tools and submarine nuts.

The firm then developed into one of the leading manufactures of padlocks, including accessories such as the patented Squire Clamp and Miniclamp range of hasps and staples, and a range of locks designed for the cycle and motor cycle trade.
In 1974 the company was making a full range of padlocks and padlock accessories, the Squire 1200 hand drill for D.I.Y. enthusiasts, and a range of kitchen hand tools.

The padlocks included the 'Old English', the 'Treble S', and the 'Stronglock' ranges, the last two of which had warded spring and tumbler mechanisms. The 'Old English' and 'Stronglock' ranges were available in brass.

The firm also introduced the Squire Key Service which provided cut keys and key blanks for every Squire padlock.

The firm's products were distributed through ironmongers and hardware dealers, and sold directly to government departments and public bodies.

There was an export department that dealt with a large number of exports, particularly to North America and commonwealth countries.

Henry Squire was the first hardware manufacturer to sell products in blister packs, for which the firm won a 'Starpack' award in 1968, and a Merit Award from the Packing Institute of America in 1969.


An advert from 1951.
| | |
| --- | --- |
| The range of kitchen tools was based on the patented Blue Blade can opener, and included stainless steel peelers, corers, and a can puncher. | |
| | | |
| --- | --- | --- |
| This item is made of wood, screen printed, and seems to date from about the 1950s. It appears to be a point of sale item. | | An advert from The Ironmonger Guide, 1950. |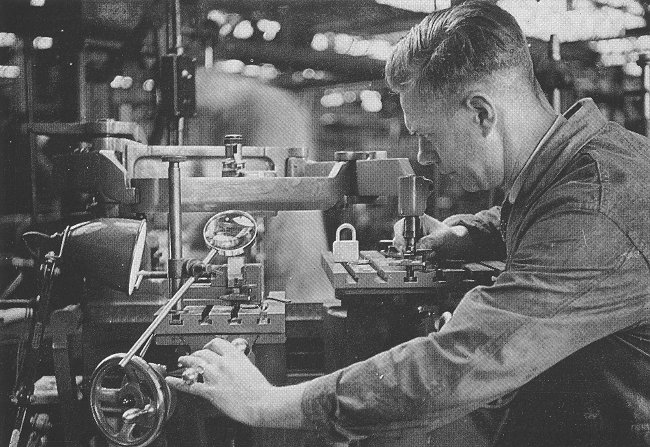 A die sinker at work in Henry Squire & Sons' factory.
In 1985 the company had a work force of 310 and exported to over 100 countries throughout the world. Times were getting difficult with cheap padlocks being imported from the Far East so that by 1998 the workforce was down to 140. (Brian Lavender 19/8/98)

In March 2005 it was reported in the Express and Star that the company was proposing to sell off the site it had occupied since the eighteenth century for housing. They are reported to have produced plans for housing, but not to have decided where to relocate, though they indicated they were looking for premises in either Walsall or Wolverhampton.

The firm finally moved to Hilton Cross Business Park, Featherstone, Wolverhampton, where they continue to produce high quality locks and accessories.

CHARLES STARKEY AND SONS, 15 UPPER LICHFIELD STREET, WILLENHALL
Established in 1808.

Manufacturers of hand made brass mortice, rim, case and sash locks, and all types of brass locks for ships' use.

In 1881 was run by David Starkey (b 1842. In the 1960s was run by Ryland Starkey, who took the business over from his father.

In 1980s their tools and orders were acquired by Guardian Lock (q.v.).

Mr. Ryland Starkey died January 1996.
H & J STARKEY AND CO. ROTARY WORKS, TEMPLE BAR, WILLENHALL
Pad lock manufacturers. Existing in 1921 and 1953, but not 1914 or 1970. Nothing else known.


JOHN STARKEY, NEW ROAD, WILLENHALL

An advert from 1851.

PHILIP STARKEY, GREEVES STREET, BLOXWICH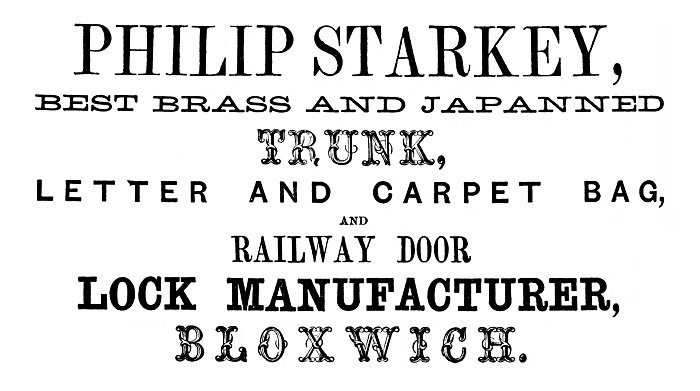 An advert from 1861.

STREBOR (LOCKS) LTD. WOLSLEY STREET, RADCLIFFE, LANCS
Cylinder locks and locking devices for the motor trade. Basically a die casting company who used their technique to make locks for the motor trade under the STREBOR and STRONIS trade names.
WALTER SUMMERFIELD, UNION STREET, WILLENHALL
| | |
| --- | --- |
| | Walter Summerfield was born in 1813 and established the business in 1845 as rim, mortice, gate dead lock and latch manufacturers. In 1863 there was a W Summerfield in Froysell Street, Willenhall; in 1881 he was at 3 Union Street, employing 3 men and 1 boy. |

THOMAS SUTTON & SONS, ABLOW STREET, WOLVERHAMPTON
| | |
| --- | --- |
| | This advert, from 1920, is the only evidence of this firm. |