---
BENNET TARBUCK, 118 BLOXWICH ROAD, WILLENHALL
Cupboard, chest, till, press and padlock makers. In 1881 there was a Bennet Tarbuck, aged 43, living at 28 Little London, who was a cabinet lock maker. He had a son, also Bennet, who was born in 1874. They were in existence in 1914 and 1953, but not 1970.
TARBUCK AND SQUIRE, 24 NEW RAILWAY STREET, WILLENHALL
| | |
| --- | --- |
| | Key makers. Existing in 1914. In 1949 they purchased keys from A Hough and Sons, when the proprietor was B Squire. Existing in 1953 but not 1970. Nothing else known. |
JOB TARBUCK, LEVESON STREET, WILLENHALL (1885-c1960)
Manufacturers of brass and iron cabinet locks, latches and keys. Founded in 1885.

George Austin and three of his sons: Jack, George and Arthur, set up the workshop and the machinery for lock making. At that time there were only six employees - Courtesy of David Parsons.

Mr. Job Tarbuck was one of the last traditional key makers to work in Willenhall, until he died c1960.

Nothing else is known.



An advert from 1954.

JOS TAYLOR, SPRING COTTAGE, WOLVERHAMPTON

An advert from 1851.

TAYLOR LOCK CO. LTD. CONNAUGHT ROAD, BOURNEMOUTH
Set up in the 1960s by Mr Jack Taylor, an ex Yale employee, to specialise in the design and manufacture of high security locks. In 1999 changed their name to Telco Security Lock Ltd. and added the design and production of electronic locks and access controls to their range.
ABRAHAM THOMPSON, 28 TEMPLE BAR, WILLENHALL

An advert from 1851.

Tony Beck writes: This firm was established in 1831 for the manufacture of all kinds of padlocks and night latches for home and export.

Thompson seems to have sold his locks to the United States, as a number appear for sale there. From 1851 to 1861 they were located at 28 Temple Bar, Willenhall.

They remained there until 1912 when they merged with Jonah Banks & Sons, padlock manufacturers, of Clothier Street, Willenhall. Banks went into receivership on 5th January 1993 and their factory closed shortly after.
An advert from 1861.
| | |
| --- | --- |
| | A double bitted key padlock, with a ward plate inside (which requires the key to be quarter-turned to get inside to the mechanism). |
| | |
| --- | --- |
| A padlock of about 1850 with "Mickey Mouse" ears, with Thompson's name on the brass plate. | |
| | |
| --- | --- |
| | A screw padlock, bearing Thompson's name on the rather worn brass plate. The kite Registered Design Mark dates it as 1843. |
E. J. TONKS & CO.

An advert from 1861.
EDWIN JAMES TONKS. NEW ROAD, WILLENHALL
Edwin James Tonks, born in 1833 was a lock manufacturer based at 92 New Road Willenhall. He is listed in the 1881 census as employing five men, one woman, and four boys.
A fine Tonks padlock.

Courtesy of
Jo Barreiro.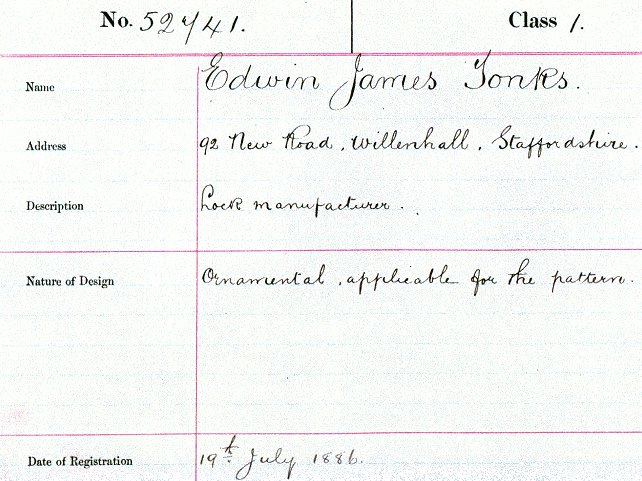 Details of the registered design for the above padlock. Courtesy of Jo Barreiro.
Edwin was at one time in partnership with Josiah and William Parkes, trading as E. J. Tonks & Company, as can be seen from the dissolution notice below:
From the Birmingham Journal, 4th April, 1863.

Courtesy of
Jo Barreiro.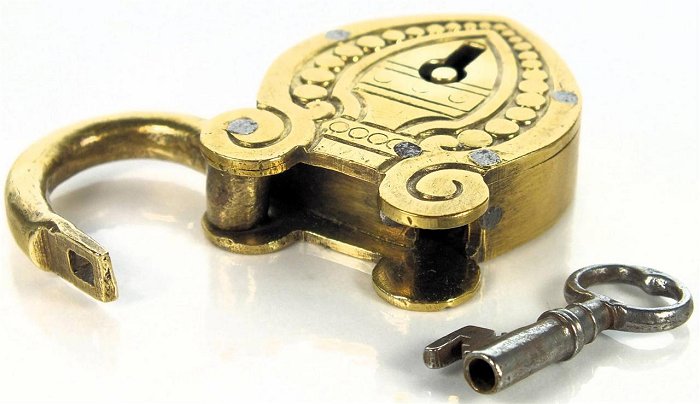 A fine example of Edwin's craftsmanship. Courtesy of Jo Barreiro.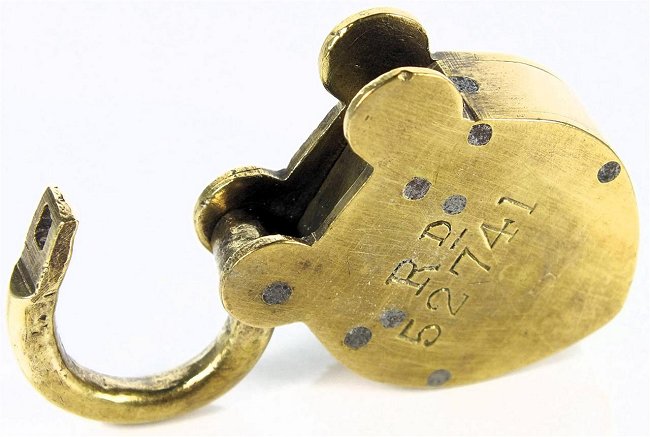 The back of the above padlock. Courtesy of Jo Barreiro.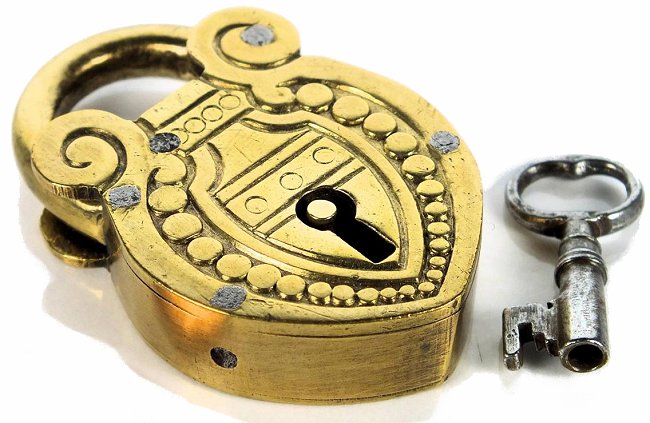 A final view of the padlock. Courtesy of Jo Barreiro.
Edwin married Ann, a year younger than him, they had a son, Arthur, born around 1872, and a domestic servant, Fanny Burrows. In the 1881 census, a visitor, B. Fowler is listed. He was an agent for a company of East Indian merchants, so Edwin possibly exported locks to that part of the world. Edwin died in 1906.
I must thank Jo Barreiro for most of the information and the images used in this section.

ENOCH TONKS & SONS LTD. TEMPLE WORKS, TEMPLE BAR, WILLENHALL
| | |
| --- | --- |
| | Read the story of Enoch Tonks (ETAS) |
| | |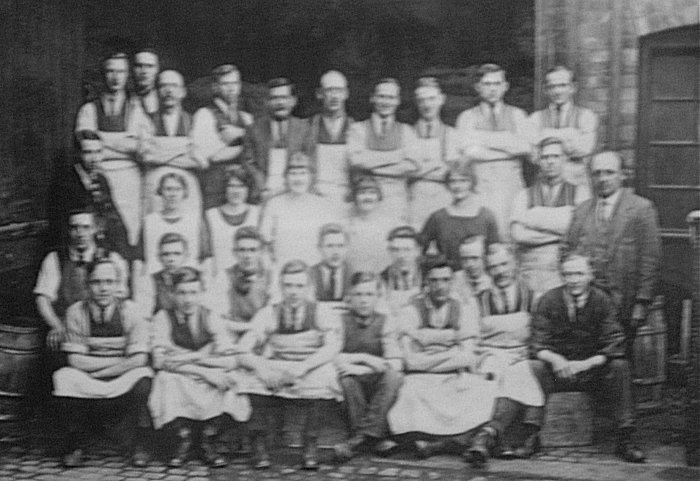 A group of workers at Enoch Tonks, date unknown. Back row, 4th from the right is George Austin, front row, 2nd from the left is George Edwin Austin. Courtesy of David Parsons.

Temple Works, Temple Bar. Courtesy of David Parsons.

TRIO LOCK CO. NORTH STREET, WEDNESFIELD
THOMAS TUCKLEY, HALEY STREET, LANE HEAD, WILLENHALL
ALBERT TURNER, LISTER STREET, WILLENHALL
Key Maker. Existing in 1936 and 1953. Not existing in 1921 or 1970. Nothing else known.
THOMAS TURNER AND CO. PHOENIX WORKS, GREAT BRICKKILN STREET, WOLVERHAMPTON
This firm was originally listed here by Jim Evans as: "Cabinet lock makers. Existing in 1936 and 1974. Nothing else known." But there is now solid evidence that they were in existence well before 1880 and possibly further back than 1840. It is also known that they made safes and a variety of locks. Perhaps later in their existence they specialised in the cabinet locks Jim refers to.
The 1914 Wolverhampton Red Book lists the company at
1 Great Brickkiln Street and their listing continues until 1960.

The town centre end of Great Brickkiln Street was renamed as Pitt Street after the ring road was built. Their premises are the blue building shown in the photo.
Steve Cannon has provided this photo of his miniature safe (note the size of the WD40 can).

The safe is "The Premier Safe" by Thomas Turner.
Tony Beck (the Editor of the Lock Collectors Newsletter) has also written to say that Thomas Turner "made some fine locks" and that he understands that they made locks for Milners' before they set up making their own locks.
Tony adds that they made what might be called a poor man's Chubb see-saw detector lock, circa 1840.

His photo (right) shows the interior of such a lock in his collection. The brass front plate has Turner's name and a "V.R." mark.
| | |
| --- | --- |
| | They also made a fine bottle lock. This one, also from Tony's collection, gives the date of Burns's patent as January 1881. |
Mr. L. Davies also has such a lock. It seems to be identical except that the words "Dated Jny 1881" do not appear on the top.

Here it shown in use - it was like a tantalus for a single bottle and stopped the servants getting at the drink.
---