| | | |
| --- | --- | --- |
| | | |
---
Introduction
John Neave is one of the last letterpress printers in the area. He has been in business since 1949 and celebrated his 57th year as a printer in 2006. He has many memories of long-gone printing companies, including suppliers to the trade. What follows is the story of one of his best suppliers, Mr. William A. Parkes of Wolverhampton. This is based on John's memories of Mr. Parkes' business, which was just around the corner from John's workshop. As a young lad John would often cycle there to buy type and various consumables for his business.
Background
Until the latter part of the 20th century there were many letterpress printing companies using the traditional printer's type. There were both large and small printers, which produced much of the printed material that was used locally. Everything was produced from table place names, business cards, letterheads, forms, advertising literature, and posters, through to books, which were printed by the larger companies. We must also remember that much of the printing ink was produced in Wolverhampton by Manders.

An advert for Mander's printing inks.

A look in the old Red Books reveals a long list of local printers such as Barford & Newitt, G.E. Lee, W. Gibbons, Alfred Hinde, J. Mulliner, Paulton Bros., Steens Ltd., Whitehead Bros., and many, many more. Printing was an important industry, there were large numbers of local printers, and like any other industry it required raw materials and consumables.

A good stock of type was essential for any printer. But there were times when an urgent job would require an unusual font, an extra large font size, or little used symbols, and so access to a good reliable local type supplier could make the difference between finishing the order on time, or being late.

There were several local suppliers in Wolverhampton and the surrounding area who cast their own type, such as Midland Creative Designs at 20 Queen Street, Wolverhampton and Reliance Type Setting in Walsall, who cast "Qualitype".
One of the best type founders was William A. Parkes, of 56 Sutherland Place, Wolverhampton. Unlike most of the others, he not only cast his own type but also stocked an extensive range of type and all of the local printer's consumables, except paper.
Beginnings
56 Sutherland Place was the Parkes' family home, opposite where the back of the Royal Hospital is today, about half-way along the modern car park. Until the end of the First World War, William Parkes worked as a book keeper at the Chillington Tool Company. Around the end of the war in 1918 he had a win on the football pools and decided to set himself up in business.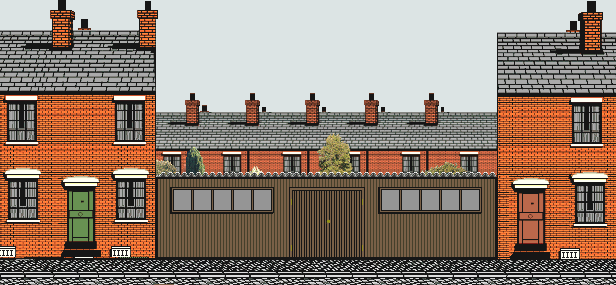 An impression of how Mr. Parkes' building might have looked when it was first built. The houses in the background are in Portland Place, which disappeared in the 1930s as the Royal Hospital expanded.
He purchased a large single storey wooden building with a corrugated steel roof, and it was erected diagonally opposite the family's house in Sutherland Place.

The building was between 40 and 50 feet wide, with two large double doors on the front, and two rows of windows. It occupied a site that had previously been used as a coal yard. The interior was divided into two parts by a partition, which separated the type foundry at the back from the stock room and sales area at the front.


The approximate position of Mr. Parkes' building.
The front part contained much of Mr. Parkes' stock, stored on wooden shelving. There were two wooden benches about 12ft. long, one on either side of the room, with Mr. Parkes' old desk in the centre. He would sit behind the desk on an old wooden box with a piece of carpet on the top. Heating was supplied by a coke stove, and when the temperature fell, Mr. Parkes could often be found warming himself by the fire. Mr. Parkes' wife Joan constantly supplied the shop with hot tea and food from their house across the road.
In the 1940s Mr. Parkes, his sons, and a couple of cousins played snooker in the West Midlands League as members of the Working Men's Club team based in Cleveland Road. They represented the club for a number of years, and were quite successful. When opposing teams played them, they would say they were playing the Parkes's. They won many prizes, and as a result the women of the family never bought an iron, because they were often given as prizes in the various competitions.
The Business
He had three sons, Archie, Bob, and Jack, all of whom worked in the business for a time. For many years the business sold type to Australia, which was very lucrative. Unfortunately the Australian Government increased their import duty to such an extent that orders fell, and the business could no longer support both sons. As a result one of them had to find work elsewhere. Archie, the son who stayed at the business, had many duties including casting type, casting rollers for printing machines, and looking after the post.
They had a large mail-order business with customers from all over the country.

Each day Archie would go the main post office in Lichfield Street to put the day's orders in the post. Every order would be neatly wrapped in brown paper and tied up with string.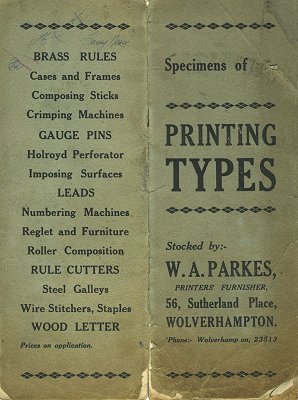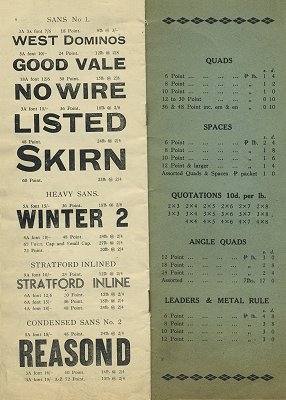 A Parkes type catalogue. Courtesy of Stephen Howard, Black Country Living Museum.
| | |
| --- | --- |
| Some of Mr. Parkes' type. | |
Mr. Parkes was an agent for type founders Stephenson, Blake & Company, and kept a very large stock of type from 6pt. to 72pt. in many different fonts.

More type from Mr. Parkes.

The type was wrapped in brown paper and stored on the shelves in the front room. Some of the older stock had been there since the 1920s.

His prices were very competitive and the type was extremely good value for money, a whole font only costing between 3 shillings and seven shillings and sixpence.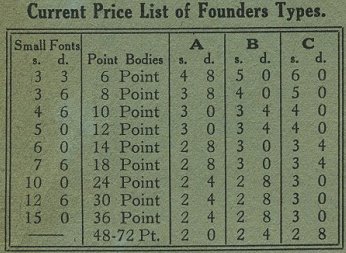 A Parkes' price list. The A and B refer to different fonts and C is for symbols.
Mr. Parkes was also an agent for Mander's inks and sold most of the consumables that were needed by the local trade, including brass rules, cases and frames, composing sticks, crimping machines, galleys, gauge pins, mallets, numbering machines, perforators, planers, roller composition, rule cutters, staples, tweezers, and wire stitchers. He was well-known, and his customers came from all over the Black Country.
Although Mr. Parkes always had a vast collection of type in stock, he also produced his own. His type, cast in the back room, became well known for its hard wearing properties. He used Davies casting machines, which were gas heated and hand operated. They cast type in a row of single letters, which were dressed to remove any rough edges, and planed on the back.
The casting machines produced up to 5 letters a minute, and so were very slow when compared with the high speed monotype casting machines, which were commonly used at the time. Mr. Parkes' alloy however, was far superior to that used in the monotype machines, due to its hard wearing properties. He also produced at least one font of his own, called Borghese, a very old style font, which was designed by a professor of calligraphy at Nottingham University.

The Borghese Font.
Mr. Parkes sold Mander's roller composition, which could be melted in a glue pot and cast into replacement rollers for printing machines.

He also produced replacement rollers made from Mander's composition, which were very cheap and could be purchased at almost the same price as the composition itself, so they were well worth buying.

Archie used to melt the composition in a glue pot that stood on a stand above a coke fire. His rollers were popular and Archie could often be seen casting rollers for some old platen machine.


An advert for Mander's roller composition.

The small type of printing machine that Mr. Parkes would sell.

In order to supplement his income, Mr. Parkes also sold second-hand printing machines, and a few new machines that were made by Taylors of Leicester.

The old machines were usually purchased very cheaply from printers that had gone out of business. He kept a lot of machines in stock, mainly old Cropper machines or Arab platens, some of which were treadle operated and had a flywheel.

The machines could be quite large, in sizes such as Foolscap Folio (13" x 8"), or Crown Folio (15" x 10"). Many of the machines dated from around 1900 and a lot were exported to Africa.

The End
William Parkes died in the late 1950s when he was well into his 80s. He never retired, and had worked hard for many years, for little money, in a demanding, laborious, and highly skilled job. After William's death Archie ran the business single-handed. His brother Bob is believed to have got a job at Chillington Works, where he died of a heart attack at the age of around 40. Jack moved to Ever Ready in Lower Walsall Street where he operated a lathe. He finished his working life at Lucas Aerospace at Fordhouses and lived into his seventies, dying due to complications from Emphacemia.
During most of his time in the business Archie lived in Whitmore Reans and used to cycle to and from work. Sadly his wife died young and he eventually moved back to Sutherland Place, living in a house opposite the premises. The business started to slow down during the war years, and was later affected by the emergence of offset litho printing which soon dominated the industry and took over from traditional letterpress.
Over the years the Royal Hospital had greatly expanded, and in the early 1960s it was decided that a new Accident and Emergency Department would be built. Land for the new department, including that occupied by Mr. Parkes, was acquired in about 1964, two years before the completion of the project. Archie sold the printing business to Raymond Jones of Tipton and the building soon disappeared.
When the business closed, Archie went to see John Neave to ask if he could have a job. Sadly John had to refuse because he was still getting established himself. Luckily Archie managed to find a job with an engineering firm in Sharrock Street and worked there for around two years.
I would like to thank Ian Parkes for his help in producing this section. If anyone can add to the story, or has a photograph of Mr. Parkes, or his building, please contact the webmaster.
---