Manorial Records
Several early references to parts of modern Coseley can be found in a survey of the manor of Dudley, made in 1272, after the death of Roger de Somery, lord of the manor. One of the references is to Turls Hill, which was farmed by John de Terhull, a 'villein'. It lists the services that he was compelled to carry out for the lord of the manor, which consisted of ploughing the fields, growing and reaping corn for the lord, growing and supplying nuts to the lord, and supplying hay that he had to transport to Dudley Castle.
Another reference is about four pits of sea coal that were worth four pounds annually. It is thought that they were in Woodsetton, so coal mining was taking place in Coseley, in the 13th century.
The Terhull family name also appears in a writ to the Sheriff of Stafford in 1290. The writ to the Sheriff is to enquire whether John, son of Robert de la Ho, detained in Stafford jail for the death of Richard de Bradeleye, killed him in self-defence. The two of them met in a tavern kept by Roger de Terhull and quarrelled. Afterwards Richard fired a couple of arrows at John and then struck him with a Danish axe. This happened on the highway leading from Duddeleye to Bradeleye. It is probable that Roger de Terhull was the son of John de Terhull who was mentioned earlier. The highway from Dudley to Bradley must have passed through Coseley. So it is possible that that the tavern was in Coseley.
Geoffrey de Terhull, another member of the Terhull family, also from Turls Hill is mentioned in another writ to the Sheriff of Stafford. He had obviously been a criminal. It enquires whether 10 acres of land with a residential building had been in the King's hand for a year and a day since Geoffrey de Terhull was hanged for felony.
It is believed that the name Coseley appeared for the first time in print, in 1292 in an inquisition before William de Bereford of Dudley:
John Adam of Colseleye and Roger de Terhull sold in the time of William de Mere, sub-escheator, 36 oaks of small value in the woods of Baggerugge and Le Hay for 40 shillings, for the support of the foresters and other servants of the castle of Duddelegh, which said William received.
The said John Adam and Roger, sellers of wood, caused 44 oaks in the said woods, of the price of £4.8s.0d. to be made into charcoal by the said William.
Benedict de Ordesleye and Henry atte Merlis, appointed sellers of the wood of Penyak by the said William, sold 22 oaks for making charcoal, of the price of 20 shillings. The said William gave to Robert de Hexston an oak of the price 20 pence, to William Tandy an oak of the price of 2 shillings, to Philip Balle an oak of the price of 8 pence, to William Vicar of Seggesleye, an oak of the price 18 pence, to William Feyrchild an oak of the price of 6 pence, to Roger Terhull a branch of the price of 8 pence.
The said William de Mere, sub-escheator, found 11 oaks felled in the park of Duddelegh, after the death of Roger de Somery, before he came to seize his tenements into the King's hand, and sold them for 40 shillings.
The said John and Roger caused charcoal to be made of the underwood of Bagerugge to the value of half a mark. In the Old Park two ash trees were felled by the said William, of the price of 12 pence.
The inquisition includes a number of recognisable names including: Colseleye - Coseley and Baggerugge - Baggeridge.
The Black Death
The late 1340s were terrible times because of the onset of the Black Death, or plague as it was known. It began in the wet summer of 1348 and large numbers of people were rapidly dying. It continued throughout the winter and became even more virulent in the early months of 1349, continuing into 1350. It began to return regularly, first in 1361 and again in the 1370s and 1380s. Large numbers of people died, greatly affecting the working classes, possibly only ten percent of whom survived. This would change the relationship between the lord and his tenants and bring about an early end to feudalism, in which the peasants had to offer service with many obligations to their lord, in return for a grant of land.
Peasants were now in short supply and many farming communities disappeared. They now wanted to dictate their own wage levels and terms of employment. The rulers of the kingdom reacted strongly, and within a year of the onset of plague, an Ordinance of Labourers was issued, which became the Statute of Labourers in 1351. This law attempted to prevent peasants from obtaining higher wages, by ordering them to accept wages at pre-plague levels. In reality the high death rate meant that rents dwindled and much land was uncultivated. Many villages were deserted and land incomes fell. The rulers' attempt to maintain the feudal system failed, and before the end of the century the working classes began to dictate their own terms and freely move from one area to another, changing society forever.
16th Century Records
The Court Rolls for the manor of Sedgley are a useful source of information about some of the local inhabitants in the Coseley area. Two courts were held in the manor; the Court baron for the freeholders, in which tenants themselves were often the judges; and the Court Customary for the copyholders. They were tenants who held land in the manor, which was recorded in the manorial court roll. The tenant's title deed was a copy of the relevant entry in the court roll, and so they were called copyholders.
The first entry in the manorial court roll, dated 13th April, 1537 is about some land at Hurst Hill, Coseley. Henry Hodgetts of Hurst Hill handed some pieces of land to the lord of the manor, which were used for pasture. The land was listed as "Hurst Hyll et le Lymepytts". Lymepytt field was almost certainly south of what is now Clifton Street. The Hodgetts family were frequently included in the court roll. It is likely that they lived at the Flaxhall, later High Arcal Farm, which was to the south west of Tipton Road by High Arcal Drive. Henry Hodgetts and Oliver Hodgetts, along with William Bradeley were also listed as transferring a piece of land known as "The Parkfield" from one owner to another.
The roll also contains a list of rents for 1588 to 1589:
Ettingshall
John Gibbons
11s.8d.
John Persehouse of Hurst Hill
35s.10d.
John Hykmons
25s.8d.
John Persehouse for Turlehouse garden
17s.
Thomas Gibbons
33s.3d.
John Persehouse for a hall
3s.
John Elwell
3s.3d. and a pair of gloves
John Persehouse for Beavers croft
12s.
John Persehouse junior
35s.10d.
John Persehouse for Hennes croft
15s.
Henry Holmer
22s.
Breereley (Brierley)
Nicholas Hardwicke
11s.11d.
William Stone
3s.
Thomas Whitehouse
4s.4d.
Hommfrey ?
9s.
Thomas Wainwright
3s.3d.
Arnold Okell
10d.
Richard Jevon
11s.
William Dudley
6d.
Edward Jevon
3s.
William FFoxall
9s.
Edward Jevon for the lord's land
20s.
William Hamond
10s.
Richard Jevon
6s.
Hommfrey Pyrrey
1s.11d.
? Gibbons
7s.7d.
Richard Kempson
5s.3d.
Thomas Parkes
22s.
Roger Pirrey
5d.
Thomas Pke. Vicar
11s.
Richard Hamond
12s.
John Holmer
11s.
Thomas Haies
17s.
Colsley (Coseley)
Henry Jevon
10s.7d.
Idem Thomas Grannger
25s.7d.
Richard Cresse
10s.
John Pkes
23s.
John Ffulwood
32s.5d.
Thomas Pkes
2d.
Richard Whitehouse
15s.5d.
John Hickmons
20s.
Henry Jevon
16s.9d.
William Holmer
15s.
Thomas Grainger
17s.6d.
Woodsetton
William Persehouse
30s.6d.
John Fellowe
20s.
William Hodgetts of London
27s.3d.
Thomas Whitehouse
1s.3d.
William Persehouse
12s.3d.
William Hodgetts
10s.11d.
William Persehouse
3s.3d.
Oliver Persehouse
12s.
John Astley
2s.
Oliver Persehouse
5s.7d.
Richard Fellowe
10s.
Oliver Persehouse, for a cottage
2d.
One branch of the Persehouse family was based at Turls Hill, while another part of the family lived at Persehouse Hall, which stood on the site of Parkes Hall Pool. The Grainger family owned most of Coseley Moor which extended from St. Chad's Church and the old windmill to Tipton Road, Woodsetton. Coseley Moor is included in the following report produced on 2nd August, 1539 for Sedgley Manor's Court of Survey, which recorded the manorial properties, the tenants and their rents:
Thomas Grainger in the right of his wife holdeth by coppy of Court Roll, dated upon Tuesday, next after the ffeast of St. Camillus, anno the eighth, on tout of land called Parcks tout; one plot called Heeson's leasow, conteyning eight aces of thereabouts; one pasture called Cowridinge, conteyning three acres, one pasture called Andresley conteyning three acres; one plot called Crosswaye, conteyning two acres; one pasture Calloway hay, conteyning half an acre; in the netherfields eight acres, in the over fields eight acres, in Bucknail field two acres; one meadow called Tile meadow conteyning one acre, and paying yearly 23 shillings, 2 strikes of oats, and three henns.
The said Thomas Grainger holdeth one pasture called Colsley moor, conteyning eight acres; one pasture called Asglands, conteyning five acres, half an acre called Croksbridges, and payeth for te same yearlye 17 shillings. July the last day.
This survey now remaineth in the hands of me, Thomas Bradley.
The Grainger family held land in this part of Coseley until at least 1659.
Coseley Moor is also recorded in the manor rolls in 1646, when there was a dispute about rights of way in the vicinity of the moor. Frances Smith, a widow, contested the claim of Mary Persehouse, to a piece of land that lay between two places called Andersley and Tunckes. Edward Persehouse of Parkes Hall rented the land from the lord of the manor, John Parkes. This is interesting because John Parkes used timber from the land to make charcoal, which must have been used for some kind of local metal working.
A list of rents from 1579 includes a mention of the following. The name Willingsworth appears, listed as Willingsworthe pasture. There was a newly built smithie, rented by John Turner, and a water mill called Penwood Mill, rented by John Bradley and previously rented by William Severne.
The rolls from 1613 to 1615 list the following people from Coseley: Joh'es Hickmans de Colesley, Oliver Ffellowes, Oliver Hickmans, William Hodgetts, John Gibbons, Edward Persehouse, William Persehouse and Ric'us Parkes de Willingsworth.
There are references to licences for coal mining: John Birche asks for permission to dig for sea coal in Woodcrosse in Ettingshall, and Roger Hickmans applied for a licence to dig for coal, again in Ettingshall. It appears that Cinder Hill and Woodcross were already mining areas.
Some of the larger field names in 1614 were: Broad Meadow, Bucknall, Heymore, Nether Fields, Totmore Hedge, Shorte Hill, and Ye Ryddinge pasture at Woodcrosse.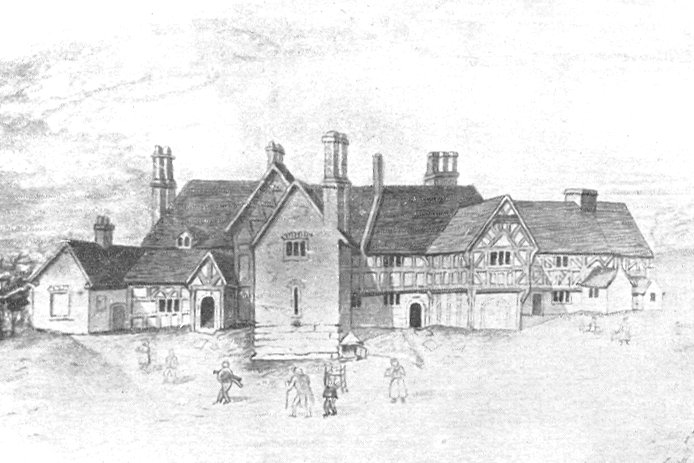 Parkes' Hall, Woodsetton.
The Civil War
The war had little impact on the lives of the people living in Coseley, other than the happenings at Willingsworth Hall and the collection of levies for the Commonwealth forces.
In 1642 at the outbreak of the Civil War, all males aged 18 and over were required to swear an oath of adherence to the Protestant religion. The names of the individuals were not recorded, or the numbers, if any, of the absentees.
Willingsworth Hall on the eastern side of Coseley, was a huge brick building that had been erected in about 1510. It was the home of Thomas Parkes, Lord of the Manor of Sedgley. Thomas Parkes supported the Parliamentarians and from the house he formed a troop of cavalry to fight their cause. The house was invaded by Royalist troops and Parkes' deeds and records were destroyed. He suffered considerably and left the hall soon after peace was declared. Parkes died in 1660 and the hall was demolished in the 19th century.
On 17th September,1655, an assessment was made by the county magistrates, John Brindley and Captain Stone for raising the levies for the army and navy of the commonwealth. The payments were collected by Nicholas Parkhouse, a constable. The list is interesting because it contains the names of the local inhabitants who had to pay the levy. They were as follows:
Brierley: Thomas Parkes, Lord of the Manor; Richard Wainwright, for his dairy and tenants; Jevon Tymms and Henry Smith; John Jones, for whomefields and Watnext; Hugh Whitehouse, for Batman's Hill; Richard Wiwicke; Thomas Whitehouse the younger; John Hoo, for the Hough; Richard Collins; Edward Hardwicke; Joseph Foster; Thomas Smith, for Hall Greens Leasowe; Thomas Dudley; John Whitehouse; John Smith; Edward Hardwicke, for land late Wilkes; John Turner; Edward Fellow; John Perry; John Greene; Edward Perry, for the Holt; William Perry; John Parkhouse; Mr. Hoo, for Barnes Meadow; Richard Edge; Edward Homer, for Tenne Tard Meadow; Edward Whitehouse.
Coseley: Samuel Whitehouse; Richard Whitehouse; Richard Sheldon; Widow Whitehouse and her son; Dudley Bagley; Thomas Whitehouse, for the Rounds; Richard Whitehouse; William Jones; Nicholas Persehouse, for his mother; John Fullwood; Oliver Fellows; Widow Woden, for her farm and tenement; Edward More; Thomas Timms and Joseph Hickmans; Thomas More and William Fullwood; Thomas Persehouse; Matthew Gibbons; Thomas Elwall; John Greene; Widow Heath; Richard Granger; William Granger; Thomas Hall and his tenants; John Evans and his tenants; Widow Connell.
The Old Park: Humble Ward Esquire; Mr. Ashenhurst; Henry Smith; Richard Ffellow; Thomas Naylor; John Darbyy, alias Jokey; Henry Addenbrooke; Dudley Bagley; John Whitehouse; John Downing; Nicholas Wilsford; John Bagley; William Parkshouse, for his limeworks.
Woodsetton: Thomas Parkshouse; Richard Ffellow and his mother; William Parkhouse, nailor; John Ffellow; John Palmer.
Ettingshall: William Gibbins and his mother; Mr. Cordall and his tenants; Edward Homer; William Gibbins, for land late Homer's; Samuel Whitehouse and his mother; Oliver Ffellow, for his land and Allen's; Francis Homer; Edward and Francis Homer, for Lower Moor; John Hickmans; John Crudley; John Wilkes; John Wilkes for Norwood; Edward Parkshouse; Thomas Gibbins; Edward Elwall, for Tot Mere; Samuel Holmer and ? Ffellow; Mr. Parkshouse; Samuel Hickmans; John Hickmans; Edward Parkshouse; Roger Hickmans; Rouse Seth; William Gibbons.