Phil Clayton, who is researching the BCN has kindly informed me that the engineer in charge of building James Bridge Aqueduct was Samuel Bull, who was responsible for much of the BCN's work at the time, along with James Bough, the Company's 'Superintendent' who died the year before the aqueduct was completed. Phil comments that it's often the consulting engineer who gets the credit for works rather than the company's men who actually carried out the work.
Jacob Twigg
The Walsall Canal from Broadwaters to Walsall was built by Jacob Twigg and Joseph Smith, in two parts. The first part from Broadwaters to Darlaston had been completed by May 1798. The company and their engineer, Mr. Hood, were happy with the standard of the work and so a second contract to build the canal to Walsall was issued to Twigg and Smith in April 1798. The work was to be completed by January 1799, but work on the wharf at Walsall did not begin until after 1800.
Jacob Twigg is described as a land surveyor in W. Parson and T. Bradshaw's Staffordshire General and Commercial Directory for 1818. He lived at Bar Croft in Darlaston and did much of the construction work on the Birmingham Canal. He was given the contract for the cutting of the Toll End Branch in March 1800 and also worked on the Bilston Canal and the Willenhall Branch.
In 1824 he successfully tendered for the canal branch at West Bromwich, known as the Ridgeacre Cutting, easily beating the competition by bidding over £1,000 less. He was later allowed to increase his tender by £150 to pay for the hire of boats to remove the spoil. By December 1824, little progress had been made and the canal company's surveyor and civil engineer, Thomas Telford, who had been engaged in March of that year, thought that spoil could be removed faster and more efficiently with a tramway.
Although a tramway was built, little work on the Ridgeacre Branch took place. Jacob Twigg complained about quicksand in some areas, but the canal company had had enough and decided that he had been negligent and had broken his contract. He was replaced by Hyde and Jackson, who had put-in the second cheapest tender for the work. In September 1825 Jacob Twigg was dismissed as an engineer to the BCN but was unable to find sufficient work elsewhere. He was declared to be an insolvent debtor and as such was imprisoned at Stafford. In those days an insolvent debtor could be kept indefinitely in a debtors' prison if the creditors so wished. Imprisonment for debt didn't end until 1869.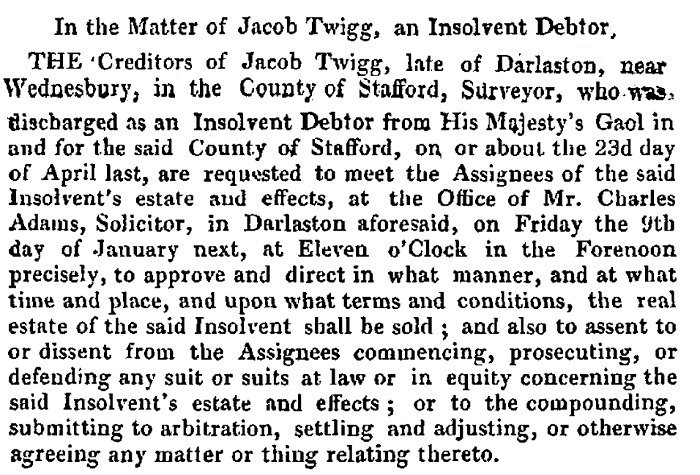 From The London Gazette, December 23rd, 1828.
In 1833, Jacob Twigg's property in Darlaston was auctioned off. This was a sad end to such an initially promising career.