After the initial success of the new college, thoughts turned to expansion. In 1930, several adjacent sites were acquired at a cost of £5,000, and work began on what was then described as the final portion of the college, to be built in Wulfruna Street at a cost of £120,000.
On the 7th October, 1931, Prince George laid the foundation stone for the new main building that was designed by Colonel G. C. Lowbridge, architect of the Staffordshire Education Committee. It was built by Wolverhampton builder, Fleeming & Sons and consisted of a steel framework encased in concrete with a floor area of 33,350 square feet.
The new building opened in 1932, and was later officially opened by the Marquess of Dufferin and Ava on 30th June, 1933.

The building during construction. Courtesy of David Parsons.
The college could now accommodate between 1,750 and 1,900 students and for the first time there was room for technical, commercial and domestic science classes under one roof. In 1932 / 1933 there were 1,507 enrolments, which increased to 2,013 in the following year.
The entrance, known as 'The Marble' is named after its Botticino marble facing, 7ft. 6 inches high. It has a fine staircase with a wrought iron balustrade, brass handrails, a stained glass window and a glass half dome at the top. Much of the panelling from the 'Oak Room' in the old Deanery was saved, and installed in the 'Board Room' off 'The Marble'.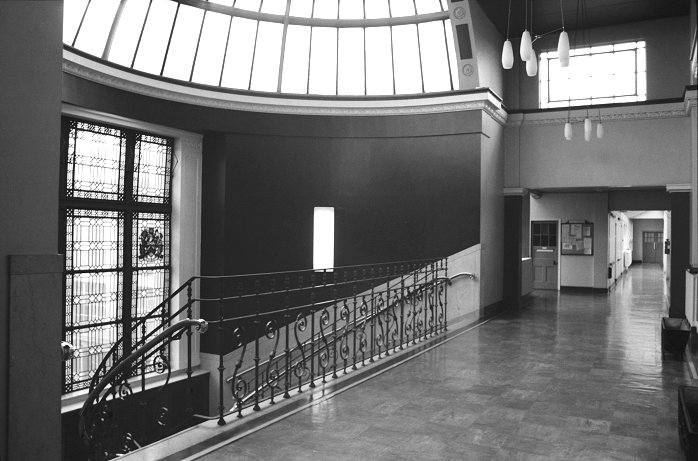 The top of the stairs from 'The Marble', as seen in the early 1970s. Off to the right was the library, which later became the 'Council Chamber'.
Cross ventilation was provided in all teaching rooms and the main staircases and upper floor corridors had glass roofs for adequate lighting. Vacuum points were included on all floors for cleaning purposes. The sweepings were drawn into a receptacle in the basement. The was also an electrically operated goods and services lift to all floors.
In 1933, the Wolverhampton Local Authority annual report stated that:
"The college makes ample provision for the general education of young men and women not privileged to obtain their higher education by residence at a University. Particularly it is the local home of higher scientific and industrial studies."
The buildings included a library, an assembly hall, a gymnasium, a students' common room, a refectory, a wide range of laboratories, teaching rooms, staff rooms and administrative offices.
There were departments of chemistry and metallurgy, mechanical and electrical engineering, engineering production, building, commerce and a women's department with courses including physical culture, elocution, and languages.
By 1939 there were 2,921 students, 58 full time, the others part time. One third of the students were women.