Vestiges of the Estate
There remain a few vestiges of this remarkable estate: foremost of course is the lodge described above but the home farm, minus its outbuildings, still sits at an angle to Grange Road having been built parallel to a rear entrance to the estate: it was saved when the council estate was built around it (not by Tarmac). There are many mature trees remaining, mainly oaks, on the housing estates, together with tree belts. The majestic curved avenue of mature lime trees that led up to the side of the house still survives in Corfton Drive but perhaps the most poignant survival is an old Mulberry tree at the end of one of the culs de sac that may have been a relic of the earlier house garden.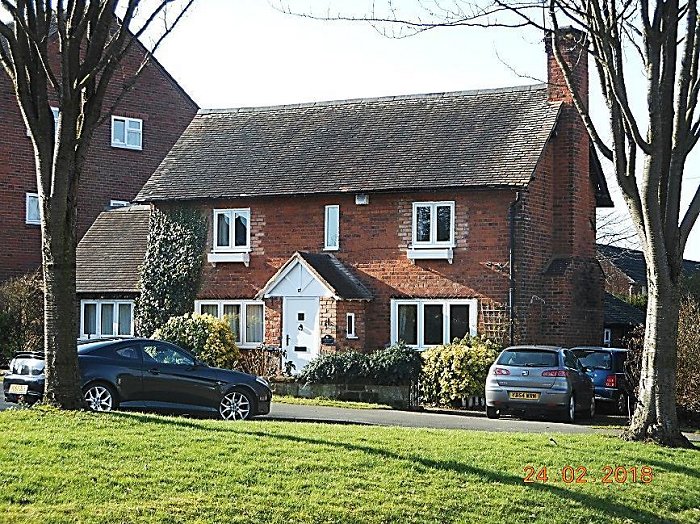 The Home Farm in Grange Road.
One of the more interesting relics is a huge landscaped crater approximately 3-4 meters deep and 20 meters wide that occupies most of the rear garden of a house at the end of Corfton Drive. This was popularly believed to have been a bomb crater but is most likely to have been a clay pit from which clay was dug for the manufacture of bricks – it is shown on pre-war maps surrounded by a circular fence. Nearby is a huge whitish glacial boulder, not quite in its original position, that was probably discovered when they were digging the clay and was used as a geological feature in the Woodhouse garden.

The Fountain.

Various pieces of the carved stonework from the house were purchased and removed but most of it remained unsold and was destroyed. The fine gothic fountain from the garden of the Wood House now stands in a field, opposite the Hall in Acton Round, Shropshire, which also has some of the windows built into garden features. The fine traceried seven light dining room bay window has been re-erected as a folly in a garden in Tettenhall.

There are still some estate stone boundary walls in existence: that along a section of the Wood road frontage was built in two stages. The three feet high lower stage consists of random rubble stone but the four feet high upper portion is built in coursed dressed stone of better quality. The obvious inference is that the lower portion of the wall was already in existence when Theodosia built her house and she then heightened it for privacy, so the lower portion may date to the enclosure of the common some twenty five years earlier when Wood Road was constructed.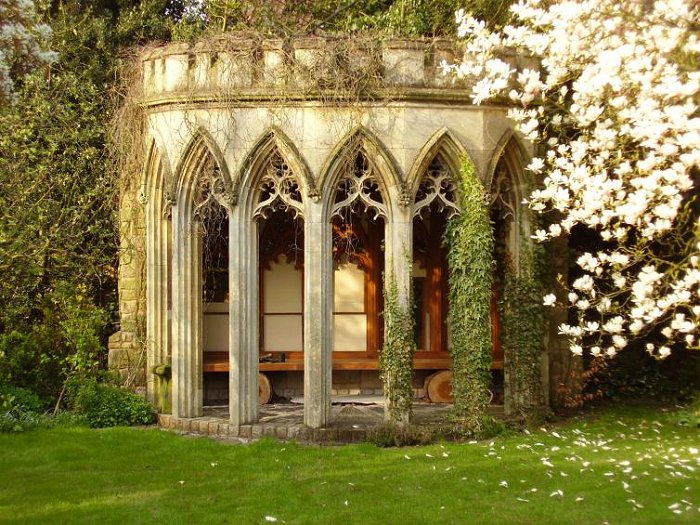 The dining room bay window.
There are also substantial remains underground. A few years ago a house in Woodcote Road was having an extension built when the builders inadvertently found they were over the old cellars of the Woodhouse, causing considerable additional work and expense.

Two phase boundary wall.