---
Biographical details
Theodosia Hinckes
Theodosia was born on the 5th November, 1792 at No.5 Princes Place, Kennington, Surrey, near to the common where later the oval cricket ground would be built. Her father, the Rev. Josiah Hinckes was described as 'of this parish' when he married Theodosia Hayes of Tettenhall at St. Margaret's Church, Westminster. Theodosia carried her mother's name and her brother Peter Titchbourne Hinckes, who was two years older, carried their grandmother's maiden name, Titchbourne, that had links to their distant cousins the Davenports. Peter was Barrister-at-Law at Lincoln's Inn and was resident there when he died at the age of 32 having just inherited his uncle's estate at Tettenhall, as mentioned above.

It is recorded that their father, the Rev. Josiah bought the Wightwick estate at Tettenhall in 1814 from William Francis Wightwick of Sandygates in Surrey.
William had been the youngest of five Wightwick brothers and not expecting to inherit anything from the estate had moved south. Sadly his other four brothers all died without issue and not wishing to move back to Tettenhall he decided to sell the estate, when he finally inherited it. It is said that the Rev.Josiah bought it on behalf of his brother Peter Titchbourne Hinckes, a bachelor, who was already living in the previous house on the site. It suggests that there was an agreement that Peter would eventually leave his estate to Josiah's son, as indeed he did but to Theodosia's benefit.
Theodosia must have inherited considerable capital to be able to carry out her building and landscape works and to be able to write off the value of the large house that she demolished in the process. The family had been established tallow chandlers in Wolverhampton since at least 1666 and owned considerable property at Aldersley and later Bushbury.
Whilst she spent a large amount on her new house she was also a very generous benefactor to the church, giving land and paying for a new church school at Bushbury in 1835 and then in 1842 paying for the new church; church school and vicarage at St. Mary's in Stafford Road (now demolished). She lent money to Penn parish church; gave land in 1874 for a new church school at Tettenhall Wood and donated two of her fields for gardens for the poor. She was obviously a devoted Anglican having had three members of the Anglican clergy within the family, but one can't help wondering, with interdenominational friction at the time, whether her influence played a part in the short-lived attempts of the Methodists in 1824 -67 and the Congregationalists in 1837, to survive in Tettenhall, a dominant Anglican area. The Congregationalists returned to Tettenhall Wood in 1867, thriving through the financial backing of Mr Samuel Small Mander, who had bought Wightwick Manor from Harry Tichborne Davenport, in 1887.
Theodosia travelled the continent buying church furniture and stained glass for St.Mary's Church but the glass, now reinstalled in the chancel of St.Peter's Church, consisted of small unrelated panels, quite different from the glass in her own house.
The 1851 census return records Theodosia as resident at Tettenhall Wood House with two guests, her sister Rebecca Moore and brother in law the Rev'd Henry Moore. She had six staff in the house including a butler and coachman but there would have been other staff living on the estate.
She died in May 1874 at her brother-in-law and sister's house in the cathedral close at Lichfield. The three of them had been a closely knit family group, apparently spending much time together, sadly, it appears, without the distraction of children.
Obituary in the Wolverhampton Chronicle, Wednesday 6th. May 1874.
We regret to record in our obituary the death of Miss Hinckes of Tettenhall Wood, a lady of great cultivation of mind and accomplishments: known to all for her kindness and benevolence. This town, amongst many acts of charity, is indebted to her for the building and endowing of St. Mary's Church, as well as its parsonage and schools. Her benevolence to the poor of her parish and her support of large numbers of benevolent institutions of the diocese and of the country are well known to friends and neighbours; and we can fairly and truthfully say that fewer can give a better account of the use of the fortune which God has entrusted to her care.
Thomas Rickman.

Portrait by Charles Barber.

His life is well documented elsewhere; he was born on the 8th July 1776 at Maidenhead, the eldest of nine children in a Quaker family. It has been said that he made two decisions in his early adult life that caused him serious problems. The first was to start a business in London as a corn-factor and the second was to marry his first cousin Lucy Rickman. His marriage in 1804 was not sanctioned by the Quaker community so he and his wife were excluded by them, possibly leading to his business failure in 1807 leaving him heavily in debt.

In desperation he found employment with an insurance broker in Liverpool but after only a month there, tragically, his young wife died leaving him in a state of near despair. To relieve his depression he began to take long country walks, in the course of which he gradually developed a latent interest in medieval buildings, sketching details of churches he visited. His keen analytical brain began to unravel the sequential development of medieval architecture, breaking it down into four basic periods to which he gave the names: Norman; Early English; English Decorated and Perpendicular: names now universally accepted. In 1811 he was asked to give a series of lectures about his research to a small local Philosophical society and was then asked to advise various architects in Liverpool.
Eventually he turned his notes into a book (see above) and in due course linked up with a teenage architectural draughtsman to open his own architect's practice in Liverpool. This quickly grew and he then removed to Birmingham where he practiced until his retirement.
It is interesting to speculate that without his early tragedies he would not have written his book and Gothic Revival architecture might not have developed as it did in the 19th century.
Phillipe de Croy.
The House of Croy is an international family of European mediatized nobility which held a seat in the Imperial Diet from 1486, and was elevated to the rank of Imperial Princes in1594. They were actively involved in the complex politics of France; Spain; Austria and the Low Countries. As recently as 1913 the family had branches in Belgium; France; Prussia and Hungary but these are now less prominent. Phillipe I de Croy was of the line Croy-Aerscot and was born in 1435.

In 1455 he married Jaqueline de Luxembourg in interesting circumstances. His childhood friend Charles the Bold, helped him to spirit Jaqueline away from Luxembourg to marry her in Belgium, but her father, the Duke, learnt of the plan and pursued them with the intention of preventing the marriage or at least having it annulled. When he arrived at the border of Luxembourg and Belgium he found that the Count of Porcien (Phillipe's father, who was obviously party to the plan) had arranged for his border guards to close the gates until they were able to tell her father that the marriage had been consummated!

He then realised that there was nothing he could do: his daughter was his heiress so he obviously had very definite ideas about whom she should marry and whom she should not. Eventually, as a result of his marriage to Jaqueline, Phillipe became governor of Luxembourg and, following his father's death, 2nd.Count of Porcien.
In 1471 Phillipe defected to the King of France with 600 knights but returned to Burgundy to fight for his friend Charles the Bold at the battle of Nancy, during the battle he was taken prisoner and ransomed. Later, following the death of Charles, he helped to arrange the marriage of Charles' heiress to Maximillian I. He died in 1511 and was buried in Chateau –Porcien. He was an accomplished survivor, both in life and in stained glass.
One of the two female heads that were in the window could well have been that of Jaqueline de Luxembourg, daughter of Louis of Luxembourg and his wife Jeanne de Bar. In support of this is the shield that was at the bottom of the window containing the heraldic lion of Luxembourg.

It is interesting to note that neither the glass effigies of Phillipe nor his son and daughter in law at the Victoria and Albert Museum have their original heads. Phillipe was provided with another head of the same date, presumably when he was placed in The Woodhouse, but the two in the V and A have 19th.century replacements. This damage suggests that the French soldiers who desecrated Aerschot Cathedral took 'pot shots' at the glazed images of the Belgian nobility.


Jaqueline de Luxembourg ?
The Previous House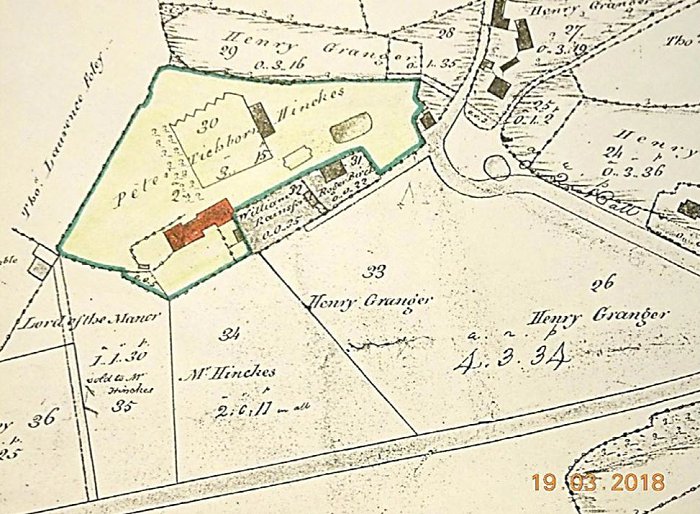 This extract from the 1809 Tettenhall Wood Common Enclosure Plan shows the house that was demolished to build Theodosia Hinckes' house on the same site. It appears to have a smaller square walled garden with a 'crinkle crankle' wall on the northern side, possibly to protect bee hives or soft fruit, and an avenue of trees, probably fruit, outside the west wall.
The proposed Wood Road is shown at the bottom of the plan with Grange Road coming in from the north and the proposed extension to Grange Road (now Heywood Drive) comes in from the east, looping round to avoid a pool in front of 'The Grange'.
Much of the land owned by Henry Granger of 'The Grange' (a farm house shown at the top of the plan) was eventually sold to the Hinckes and The Grange became a gentleman's residence.
Keith Cattell March 2018.
Postscript. Mr Hew Kennedy of Acton Round Hall, Shropshire confirms that some of the smaller two light windows from the Wood House, found their way to Whitley Moss Vale House in New South Wales, Australia and to Bentley Mole Creek House in Tasmania. Mr. Kennedy was instrumental in arranging their emigration.
Acknowledgements.
With grateful acknowledgement for help provided by others, including: - Dr.Megan Aldrich FSA, biographer of Thomas Rickman.; Bev Parker, the Webmaster; The Liverpool Athenaeum; The Victoria and Albert Museum and Rugby School.
If anyone believes they may be able to add to this story or have any other comments on its content please contact me on 01902 753723. The most rewarding discovery would be a photograph of the stained glass before the bomb damage.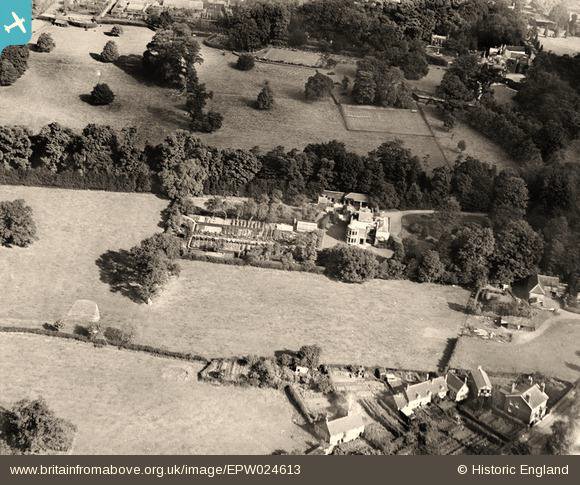 Aerial view taken 1928, with Beechcroft House in the foreground and Tettenhall Wood House in the background (top right). The Wood House walled gardens are top left and Wood Road is seen bottom right. The tree belt across the centre, belonging to the Wood House, separated the two estates.
---