---
The West Midlands Police Motor Cycle Display Team
In 1967 Joe founded, and led, the West Midlands Police Motorcycle Display Team, which was a big attraction at many events such as fêtes and carnivals throughout the region and further afield. He was the obvious candidate for the job, a first class motorcyclist with many years of experience, and also an ex-competition rider for the Wolverhampton Motor Cycle Club. Joe is also a life member of the T.T. Marshals Association. For many years he went to the Isle of Man to help control spectators and keep the roads clear for the famous T.T. races. Joe also rode for the British Police abroad.

The display team in action. Courtesy of Joe Davies.

The West Midlands Constabulary had just been formed, and this was seen as a way of bringing the lads from the amalgamated divisions together as a cohesive unit. Until this time the divisions tried to operate independently of each other, rather than as part of the new force.

"A Pc from Smethwick saw the Metropolitan Display Team somewhere, and put in a report saying we were a big force and ought to have one. My inspector at Smethwick rang me up and said "Gaffer, there's a report here from this PC on the traffic. It might miss you and end up going through the division. They want to form a motorcycle display team." I said "That could well end up on my lap" and he replied "That's why I warned you."
Nothing came of it for a few weeks, until Mr. Goodchild phoned me in April 1966 and asked me to go and see him.

He said "Right up your street Mr. Davies, you've got the experience, do the force good. I want to think of something that will weld this force together. They're pulling in all directions, they're all trying to go in their own direction. This might be one of the things I can do to bring everyone together. Don't think of picking a group of men from here, you must spread it around."

I had to go to each town, they were all traffic division lads, all bike men. I hadn't got to know some of them very well.


Another breathtaking stunt. Courtesy of Joe Davies.

The pyramid. Courtesy of Joe Davies.

I had started to get them doing football matches, but the divisions didn't like them leaving the boroughs, they were possessive. It took a long time to move them.

One way I was able to do it was football matches. I got the backing of the chief, and beat them at the end. If I could get the chief behind me they were snookered.

On a big football match day we were stripping a town completely of morning and afternoon shifts. Come tea time there were no motorcyclists out, nor on the morning before the match.
I wanted to have two men from each division to cover a match so that the lads will get to know each other, and the town will still have a morning and afternoon shift that isn't touched.

We were having a lot of bad accidents on Birmingham New Road, which we covered from Bearwood through to Wolverhampton. It ran through Smethwick, Dudley, and Wolverhampton. There was no coordination, so I got the chief again and asked if I could have one man from each division at my disposal. If I could put five on the New Road it would be perfect, you needn't have cameras, they could deal with all the offences. I wanted to get them together under one command. The chief went along with it.

We did alright with the display team. We did it for quite a few years, after which I handed over to a chief inspector, but I did ride once or twice as a superintendent when he wasn't available. It was like sitting on the edge of a volcano with that team, we were riding standard bikes as well as competition machines.

Standard bikes on grass, fully equipped, were heavy if you dropped one, they weighed about 5 cwt. We had a marvellous time. The chief used to come. They allowed us to practice at the race course every Sunday morning. Mr. and Mrs. Goodchild used to go to St. Philip's Church in Penn Fields. He used to come straight to Dunstall Park to see the lads who got to know him. They had never seen a chief constable like him. The lads from other places couldn't believe that we had such good sergeants who were dedicated bike men. They loved it and loved working with Sergeant Perks and Sergeant Gibbs.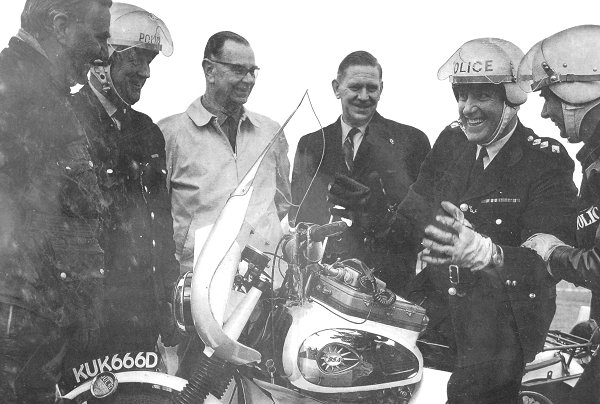 Left to Right: Bob Currie, Midland editor of the MotorCycle magazine, Sergeant Dave Gibbs, West Midlands Chief Constable Norman Goodchild, Chief Superintendent Douglas Peterson, Chief Inspector Joe Davies, and Sergeant Ken Perks. Courtesy of Joe Davies.
I had an agreement with everybody when they joined the team. I told them that there are two men for every spot, I wouldn't move them around. If you don't come, your opposite number has to come, which wasn't popular with the ladies. Sergeant Dave Gibbs' opposite number was Sergeant Ken Perks, and mine was Sergeant Tom Pritchard. We used to do a pyramid. I was in the middle. If you are in the middle three, they were pulling on your tunic, britches, the lot, anything they could hang on to. At the end of the ride we used to come round, form up, and being the senior officer I would salute the mayor or somebody. They would ride off and I would park my bike, and be invited into the V.I.P. tent for a glass of wine.
Eventually we formed a proper traffic division and they all left their divisions and came completely under our command, operating from garages in Wolverhampton, Walsall, and Brierley Hill. Unfortunately it didn't last because the new Chief Constable Sir Edward Crew sent them back to their own divisions."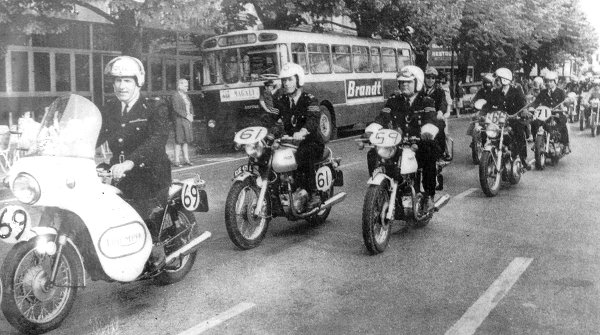 Superintendent Joe Davies leading the British police riders and the other competitors in the 1973 Circuit des Pyrenees, through the centre of Pau. Courtesy of Joe Davies.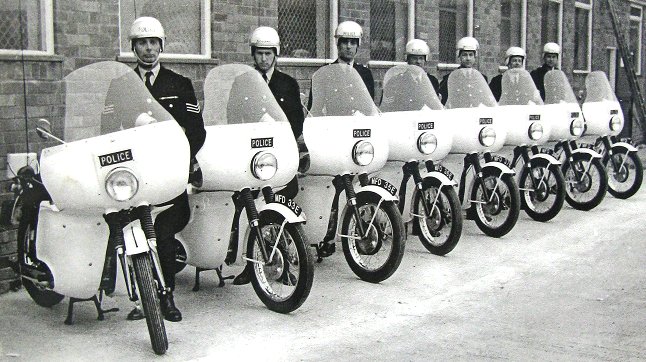 The eight BSA A65T machines that were delivered to the Western Traffic Division at Brierley Hill in 1967. The riders are Left to Right: Sgt Perks (Wolverhampton), Pc Marshall (Walsall), Pc Bennett (Smethwick), Sgt Gibbs (Bilston), Pc Cutler (Dudley), Pc Abbiss (Dudley), and Pc Rolfe (West Bromwich). Courtesy of Joe Davies.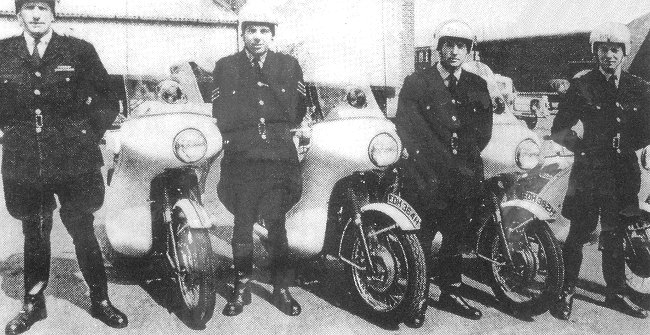 The West Midlands police team in the 1970 Auto-Cycle Union national rally. Left to Right: Superintendent Joe Davies, Sgt T. Pritchard, Pc J. Rabone, and Pc D. Harper. They won the International Club trophy for the best team performance. They were also awarded a special plaque for obtaining maximum marks in the 600 mile road route, and for visiting 34 check points throughout the country. Sgt Pritchard also gained third place in the overall classification for machines exceeding 500cc.
---