| | | |
| --- | --- | --- |
| | | |
---
Evans Pumps Today
There seems to be quite a number of Evans pumps preserved in this country and there may well be others around the world, as well as many still giving service. We would be glad to have more photos of restored pumps or pumps still in use. We understand that Weir Pumps Ltd of Glasgow still supply spares for some Evans pumps.
What must be by far the largest and best collection of Evans pumps is a part of the even bigger pump collection shown on the excellent web site to be found at www.steampumps.net The site contains many excellent photos of Evans and other pumps, together with information about where many of them can be seen. With permission we reproduce here just two of these splendidly restored pumps. The collection is owned by Stephen Smith who has also done all the restoration work - a great contribution to the preservation of Wolverhampton's industrial heritage.
A fine example of a Joseph Evans steam pump that is still in use.

It is at the Museum of Transport and Technology (MOTAT) in Auckland, New Zealand.

The pump forms part of the feed water system for the boiler that powers their collection of stationary steam engines.


Courtesy of Alan Murray-Rust.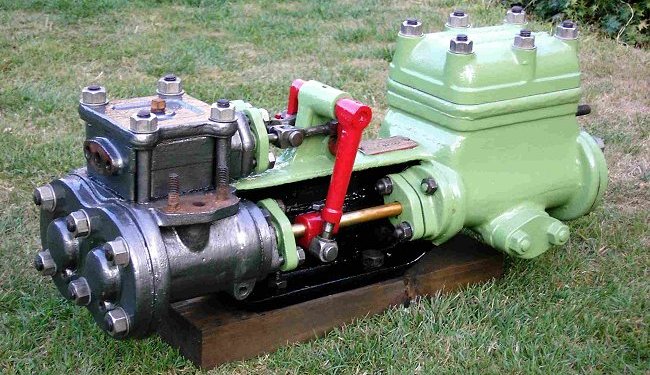 A magnificently restored Joseph Evans Duplex pump. For full details of the pump and its history, go to the Steam pumps website, linked above.

Another wonderful restoration, this time of a Joseph Evans Reliable Horizontal Pump. For full details of the pump and its history, go to the Steam pumps website, linked above.
Others have restored other pumps of all shapes and sizes; or found them in situ:-
Tom Byrne's wonderfully restored 'Lion' pump.

Courtesy of Tom Byrne.
A close-up view of the logo and text on Tom Byrne's pump.

Courtesy of Tom Byrne.
The Joseph Evans pump that is in a brick shed next to Lugton Water, at the site of Barony Colliery near Auchinleck, Ayrshire.

The pump was probably used to pump water into the coal face to keep down dust.

Courtesy of Chris Hawksworth.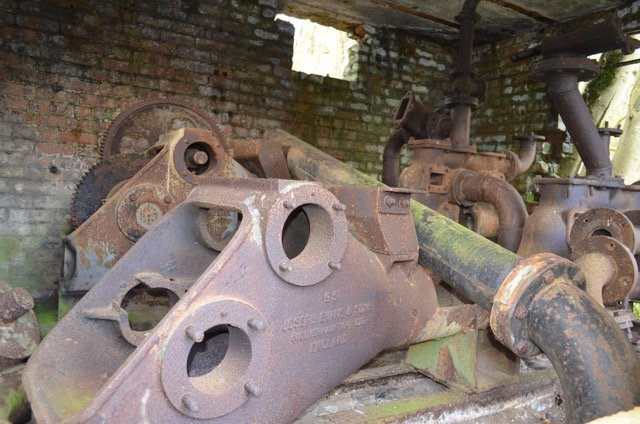 Another view of the pump at Barony Colliery. Courtesy of Chris Hawksworth.
| | |
| --- | --- |
| | John Davies' rotary pump, originally bought and installed by his grandfather and now restored by John. |
| | |
| --- | --- |
| This is Ray Durnall's pump, which he is about to restore. The topmost part is wrong. The original top was stolen and it was replaced by a previous owner. Ray hopes to be able to produce a more accurate copy. | |
| | |
| --- | --- |
| | There is an Evans 6 x 4 pump at the Big Pit Coal Mining Museum, Blaenavon, South Wales. This is it before they started work on it. |
Now it looks like this. It is positioned in the lobby of the new Conservations Stores.

Thanks to Paul Meredith, at the Museum, for the photos. He would appreciate any information about this pump that anyone can supply him with.
| | |
| --- | --- |
| | An Evans Reliable pump awaiting restoration at Beamish Museum. Thanks to Tony Gratton for this and the two photos below. |
| | |
| --- | --- |
| The pump has not only the lion logo but also these two further plates. | |
| | |
| --- | --- |
| | Beamish also holds this large pump, probably used in the local coal mining industry. |
| | |
| --- | --- |
| And this one which was donated by the National Coal Board. It also has two maker's plates, of which this is one: | |
This pump, which seems to be a triple ram jet pump, was found when the pumphouse for a water feature at Boughton House, Northamptonshire, was being restored.

John Burgoyne, of the Boughton Estate, kindly supplied the photo and says the pump was last used in the 1960s and it will now be restored and re-housed.

The pump will then be on public view on the days when Boughton House - one of the great stately homes, the home of His Grace the Duke of Buccleuch and Queensbury - is open to the public.
| | |
| --- | --- |
| This was the state in which Fairbrass Knowles, of Woking, Surrey, found this Evans ram pump. | |
And now, after sandblasting and painting, it looks like this. Fairbrass thinks that with a washer and a couple of gaskets it would still work.

It is, he says, extremely well made. It joins his collection of Lister and Petter diesel engines and the like; and now has pride of place in his living room - "it's real, good solid engineering, something you rarely see these days".
| | |
| --- | --- |
| Dick Williams found these two "Lion" pumps at the Popple Well on Lindisfarne ... | |
| | |
| --- | --- |
| | .. and this one in the land of his fathers at the village of Esgairgeiliog Ceinwas, which is about four miles north of Machynlleth. (You can find out much more about the area in which this pump is situated on Dick's site about Machynlleth and the Dyfi Valley). |
| | |
| --- | --- |
| Dick has also noticed this pump at Eglwysfach, about 4 miles south of Machynlleth. It is very similar to an Evans pump but Dick thinks it might in fact be a Lee, Howl & Co. copy. | |
| | |
| --- | --- |
| | Just as Dick had sent in his discoveries, Frank Sharman noticed this specimen at Wilderhope Manor, a National Trust owned Youth Hostel in Shropshire. (The moss growing on it enables Boy Scouts to tell which way is north). |
| | |
| --- | --- |
| And Frank also saw one at Boscobel House, near Wolverhampton, where King Charles hid in the oak tree. But they would not have had an Evans pump when he was there. | |
| | |
| --- | --- |
| | Then Dick - who insists he is not an obsessed pump spotter - found this nice one at Pembridge, one of the Black and White villages of Herefordshire. |
Andy Rattle found this pump at a car boot sale in Norfolk. He says it seems to be a deep well pump.

The plate gives the numbers Y1370 and 3X30.B.H.
| | |
| --- | --- |
| | This is the interior of Andy's pump. If anyone has any further information on this pump, would they please contact andyrattle@ntlworld.com He would be grateful for any information about it. |
And Dick Williams has now found yet another pump. He says: "It's a bit strange but village pumps are now starting to find me. This one crept up on me when I wasn't expecting it, whilst we were on holiday in Suffolk.

It is in the aptly named Pump Street, Orford".
| | |
| --- | --- |
| | Frank thinks that perhaps one develops a kind of sixth sense. Whatever it is, he saw this pump at the Blists Hill Museum at Ironbridge. |
And the, only a few steps away, came across this village pump. It is not marked but it looks to Frank like an Evans pump.

If anyone who knows anything about the subject thinks otherwise, would then please enlighten him.
Dick Williams has now sent us two interesting pieces of news. One is that he has found this pump at Over Norton, Oxfordshire. On the roundel you can make out "Joseph Evans and Sons Wolverhampton" around the outside, the name "Culwell" inside this and an "E" right in the centre.

It is dated 1864 and is pre-Lion trademark. The pump has a remarkable bronze serpent's head spout and the whole is housed in a very grand structure.
Dick's second piece of news is that village pumps have finally got to him and he has set up a web site about them. It contains information about all aspects of all makes of village pumps and the locations of remaining examples Dick has so far found. It includes more pictures of the Over Norton pump as well as many other Joseph Evans pumps. This very nice site is at: http://www.villagepumps.org.uk/
Alan Mann tells us that he has recently (April 2007) bought a house in Yarnfield, near Stone.

This photograph, from about 1895, shows the original cottages with the Evans pump (complete with lion trademark). This must have been a typical use of such pumps.
| | |
| --- | --- |
| | The pump is still there and is shown in Alan's splendidly atmospheric photo. Alan has primed the pump and found that it still works. |
This pump is in Mel Gale's barn conversion in Seal Chart, Kent. It is still where it always has been since, probably, the early 1900s. It stood in the tack room and was piped into the well in the farm house next door. It was used to water the horses. The tack room has now become the bathroom.

The pump carries the lion emblem and the words "Lion Evans Wolverhampton" on the side and a number F*N*46671 (the * being unreadable). Presumably this was Evans' model number.
You never know where an Evans village pump might turn up. Frank has now spotted this one, on the road opposite the cottages in the hamlet of Stychehampton, not ten miles west of Wolverhampton.

There is a crack in the casing, passing through the lion trade mark, and it is probably not working; but it is obviously looked after.
The photograph on the right is of Rod Thompson's Evans steam pump that came from Midland and Yorkshire Tar distillers in Oldbury.

The steam cylinder has a 2 inch bore, and the pump end is 1 inch bore. It has a 2 inch stroke.
| | |
| --- | --- |
| | Another view of Rod Thompson's pump. |
The plate on the side of
Rod Thompson's pump.
Jon Ivens, from Cheddar, Somerset, has two Evans pumps.

One is a Reliable Horizontal Pump, which is in storage at present. The one shown here is a Reliable Horizontal Pump, which has a fast and loose pulley, number 26241
This Evans twin cylinder, vertical water pump was spotted by Bev Parker in the Museums Collection Centre in Birmingham.

It was used to pump water to Guy's Cliff House in Warwick.
This Evans boiler feed pump from around 1920 is also in the Museums Collection Centre in Birmingham. It was photographed by Bev Parker.

This type of pump was known as a 'Bango steam feed pump'. It came from the Round Oak Steel Works, where it was used to pump water into the boilers.
.




A Joseph Evans vertical inverted banjo pump, seen in the Brecon Mountain Railway and Steam Museum in 2015.

Courtesy of Derek Bentley and Brian Shaw.
This Evans pump belongs to John Glennon, who is planning to restore it to its original glory.

If anyone can identify the model, or has any information on it, please email John at: glennon6@gmail.com

He will be delighted to hear from you.
---