---
The Park Lane works consisted of a machine shop with modern machinery, an assembly shop, stores and offices. In 1951 a light engineering shop was built to manufacture mechanical handling equipment and agricultural machinery that were mainly built from steel.
The mechanical handling equipment included a range of pallet trucks and stacker trucks that were designed to operate in confined spaces. There were battery powered, mains electric, petrol driven and hand models. Large numbers of metal pallets were also produced.
The agricultural machinery was a potato harvester manufactured under licence from R. Crawford of Boston, Lincolnshire. The Wota-Crawford Potato Harvester was a disaster for the company. The machine was unable to cope with heavier soils after being developed on the light Lincolnshire soils.
Also on the Park Lane site was an extension that had "lately been erected for the use of one of the subsidiary companies which operates a machine tool business in Sheffield as agents for some of the leading makers of machine tools and deals in high-class reconditioned machine tools". This is not as clear as it might be but it seems that someone (a subsidiary company of ABC Coupler or of a Sheffield company) was reconditioning machine tools somewhere on the site.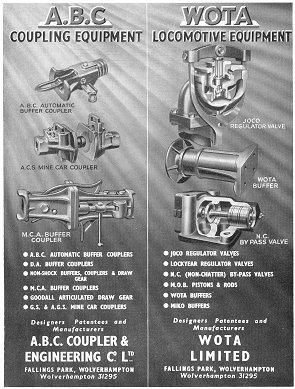 From the 1953 Wolverhampton Handbook.
View a WOTA N.C.
bypass valve catalogue
By the late 1950s the company had developed some new products including a railway wagon side-buffer and industrial lubricants sold under the name Jet Lube (Jet Lubricants).

Other products included regulator valves and by-pass valves for locomotives, and thread compounds for oil well drilling equipment.

Michael Painter records that when he worked there, from 1958 to 1961, the company was described as the ABC Group of Companies, which consisted of ABC Couplers, Matling, Jet Lube and Star Metal Stampings.

Matling made fork lift trucks, stillage trucks, sit-on floor sweepers and floor cleaners.

All the vehicles made were drive tested for about two hours, normally by the apprentices.


An advert from 1957.
The following is a list of the some of the management team as compiled by Rowland King:
Managing Director of both ABC and Wota: Mr. Curry
Finance Director: possibly Mr. Strudwick
General Manager – Wota-Crawford Potato Harvesters: J. A. C. Scales
Wota Sales Manager: Bill Pawley
Production Manager of both ABC and Wota: Fred Hawley
Potato Harvester Production: Malcolm Curry (younger brother of the M.D.)
Assembling a coupler. From the 1953 edition of the Wolverhampton Official Handbook.

The disappearance of the company from Park Lane seems to have been a sudden one.

Michael Painter recalls that everyone turned up to work one Friday morning in 1961 to find the gates locked. They were then allowed in for about 15 minutes to collect their personal belongings. They waited many years for their severance pay.

It seems from this that the company had ceased trading, presumably because it was in financial difficulties.
Paul Collins mentions in his book "Rail Centres: Wolverhampton" that the company was undermined by behind the scenes share dealing that weakened the company's financial position. Ex-employee Maureen Hunt remembers that ABC sold some of its patents to overseas customers who then arranged to have railway components manufactured in their own country, so overseas sales fell. It appears that several causes contributed to the company's demise.
ABC was formally wound-up on 7th June, 1962. The buildings were sold to next door neighbour Guy Motors and were used as an extension to their works. Later that year the assets and patents were acquired by F.H. Lloyd & Company of Wednesbury.

F.H. Lloyds exported couplings to South Africa, East Africa, Malaya, and Burma, etc., and in 1976 alone sold over £1 million worth of couplings.

In 1969 Ken Foster joined the ABC Coupler Division of F. H. Lloyds at their Park Lane, Wednesbury site. F.H. Lloyds closed in 1982 and were acquired by Triplex.

The site was eventually sold to Ikea for their new store and production moved to Wednesbury Trading Estate, Darlaston Road, Wednesbury. This was followed by a final move to the Triplex site in Upper Church Lane, Tipton.

Eighteen months later, in January 1997, the company closed when Triplex sold it to a firm of French railway carriage makers, Les Appareils Ferroviaires, 87 Avenue de L'Aerodrome, Orly.


Pallets being loaded by means of a pallet stacker and a hand truck. From the 1953 Wolverhampton Official Handbook.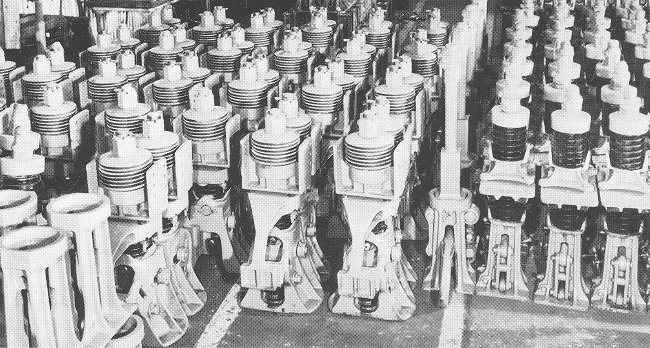 ABC couplings ready for despatch at F.H. Lloyds. From 'The Steel Casting' magazine.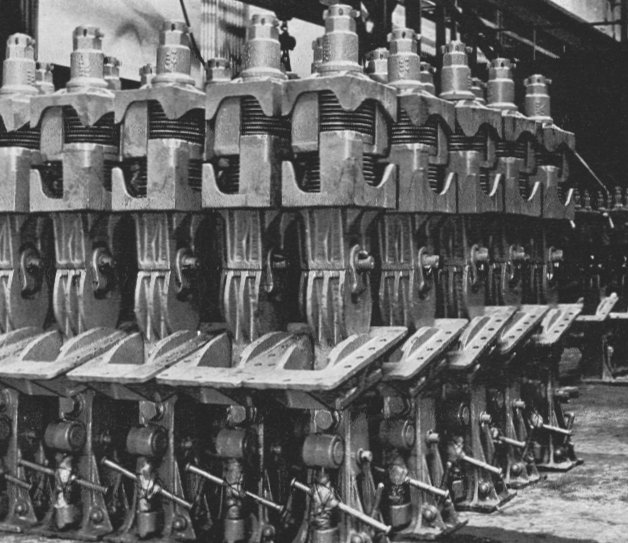 A batch of ABC couplers destined for Malaya. Courtesy of Wendy Marston.
| | |
| --- | --- |
| A batch of ABC rolling stock couplings, seen at F. H. Lloyds in the 1960s. Courtesy of Ken Foster. | Ken Foster then retired but not before he had moved all the firm's property to LAF in France. LAF is still in active existence, making railway equipment, mainly couplers, including those used on the Channel Tunnel trains. |
---
Acknowledgements:
I would like to thank David Westwood who worked for Guy Motors in Park Lane. He is interested in ABC Couplers because they occupied the premises which Guy had taken over. He wrote about it in The Black Country Bugle and asked if anyone had any further information. This produced informative replies from Kenneth Foster, Graham Hughes and Michael John Painter. I would also like to thank Rowland King who joined ABC as a demonstrator/salesman for the ill-fated potato harvester and Maureen Hunt who worked in the Shipping Department in 1958/59. If anyone has any further information on the company please contact the webmaster.
References:
The Railway Engineer – November 1906, July 1911, March 1912, May 1919.
The 1953 Wolverhampton Official Handbook.
Rail Centres: Wolverhampton by Paul Collins. Pub. Ian Allan.
---