---
Nail Making
In 1710 Darlaston had 23 nail makers. By this time nail making had become extremely simple due to the invention of the slitting mill in 1565. This prepared iron rods for the nailers, so that all they had to do was to cut the rod to the correct length, point one end, and make the head. This was one of the first examples of mass production, as large quantities of nails could be made simply by unskilled people. The nailers couldn't afford to buy the rods themselves, they were advanced to them by the mills, to where they returned the completed nails and were paid for them. They were also given standard allowances for waste. Nailing was a seasonal occupation and dealers spoke of the difficulty of obtaining nails at harvest time. About the end of the 18th century this began to change as factories appeared employing large numbers of wage-earning people. A bundle of rods weighed 60 pounds and was 4ft 6" long. The nails were characterised according to the number produced from a given weight of iron. Long thousand (1,200) nails weighing 4 pounds, were known as four penny bundles. Larger nails were called 100 work, and were priced by the hundred. They were more profitable than the smaller ones, as less work was required to produce them, and less waste produced. There were many types of nails including:
brads, tacks, spriggs, dog-eared frost nails, sheath nails, and sparrables
Most of these types go back to the early 16th century. The introduction of machine nailing in 1810 led to a further increase in the numbers of people employed in the industry, but in Darlaston the last nail manufacturer had closed by 1888 due to the preference for light engineering. Even by 1818 such diverse iron products as fire irons, bullet moulds, thumb latches, and handcuffs were produced here.
Clock Making
In the 18th century there were several highly skilled Darlaston clockmakers producing long case clocks to a very high standard. The photographs below show some of the wonderful clocks that they produced.
| | |
| --- | --- |
| | This example was made by D. Hawthorn in about 1705. It has a 12" brass dial with silvered chapter ring, minute and quarter hour gradations, and is housed in a fine walnut case. |
This fine hoop and spike clock was made by Thomas Brewer in about 1750. It has a 10inch dial with cherub spandrels, and strikes on the hour.

Photo: Laurence Cook.
Thomas Brewer's name as inscribed on the clock's chapter ring.

Photo: Laurence Cook.
Another fine Darlaston made clock that is inscribed "Jam Brewer, Darlistone". It was made by James Brewer who may have been a relative of Thomas Brewer.

Photo: Stuart Cooper.
A close-up view of the face of the James Brewer clock.

Photo: Stuart Cooper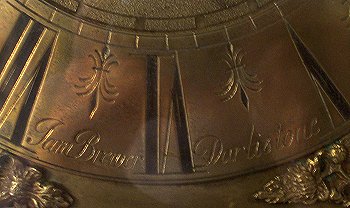 The inscription on James Brewer's clock. Courtesy of Stuart Cooper.
This is another fine example of a Darlaston-made clock. The lucky owner is
This clock carries the name Banks, Darlaston. It was produced by George Banks who is listed in the 1818 edition of the Staffordshire General & Commercial Directory, and the 1828 and 1842 editions of Pigot & Company's Commercial Directory as a watch and clock maker, in Church Street.

He is listed identically in White's 'History, Gazetteer and Directory of Staffordshire', both in 1831 and 1851.

He was also the town's postmaster, and ran the town's first post office from his premises in Church Street. He is listed as such in White's 1851 edition of his History, Gazetteer and Directory of Staffordshire.

He does not appear in any of the later directories. In 1861 the postmaster was Henry Wright, so he had possibly retired by that date.
A view of the clock mechanism. It appears to be a standard mechanism that was widely used, so maybe George Banks purchased the mechanism, the dial, and possibly the case.

Equally he could have purchased the whole clock and had his name painted on the dial.
| | |
| --- | --- |
| | A final view of the clock. |
This photo of a fine example of a George Banks' clock was kindly sent by Sean Quinn of Decorative Arts, Waddington's Auctioneers, 275 King Street East, Toronto, Ontario, Canada.

It has been described in their catalogue as an English oak and mahogany tall case clock, by George Banks, Darlaston, from the first half of the 19th century.

It has an enamelled dial in a traditional case with Tunbridge and shell inlay, the trunk is flanked by ring turned columns. The clock is 94 inches high.

It is not known if this is the original case for the clock. It was included in a sale, and surprisingly didn't sell when offered for $500 CAD (about £290).

The finely painted clock face.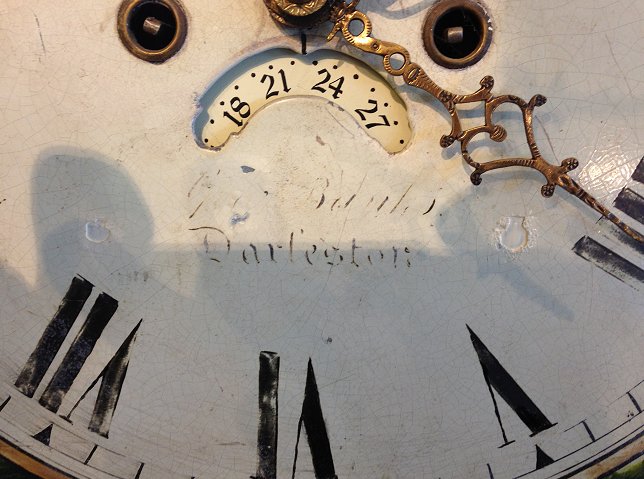 A close-up view showing the maker's name.

The back of the dial on the clock above carries the customer's name and date, and the false plate, the fixing plate for the dial, carries the dial maker's name, which is Walker & Hughes of Birmingham. Courtesy of Sean Quinn.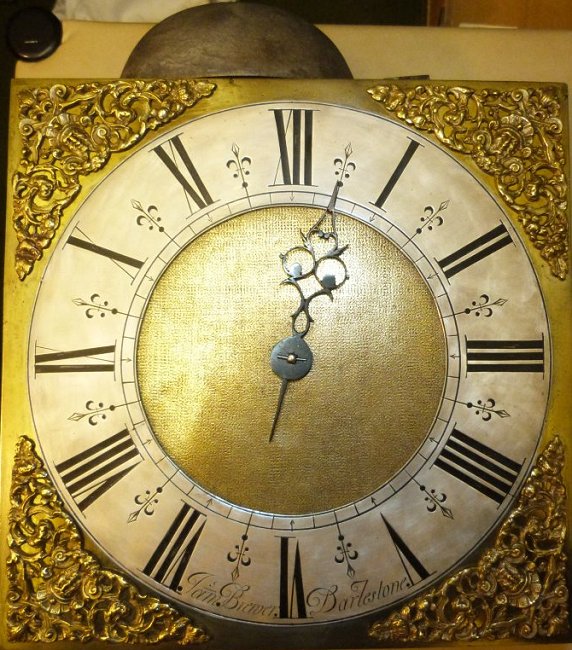 John Kelk's fine clock made by James Brewer. John mentioned that James Brewer is

listed in Britten's "Old Clocks And Watches And Their Makers" as being a clockmaker of Darlaston who died in 1756. The clock has a 30 hour movement with strike and single hour hand with a 10 inch dial. John has dated his clock between 1730 and 1740.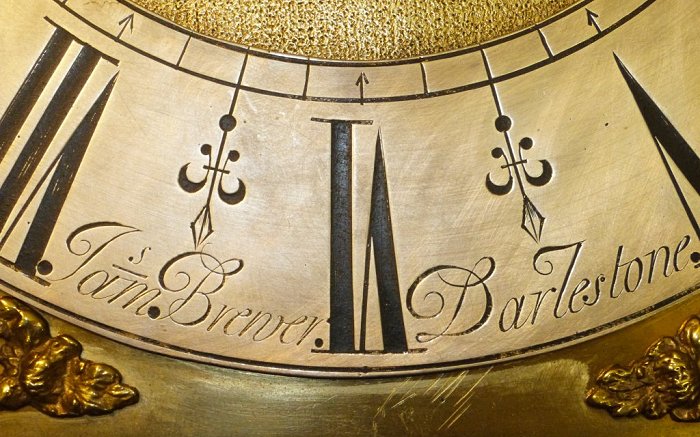 A close-up view of the maker's name on John Kelk's clock. I must thank John for his help with this section.
Another example of a fine clock made in Darlaston.

The maker was J. Blunt. The dial was produced by
Walker and Hughes.

The photographs were kindly sent by the owner of the
clock, Jane Hartnell, who mentioned that Walker and
Hughes were in business between 1812 and 1835,
which is an indication of the age of the clock.

If you have any information about J. Blunt, please do
send me an email.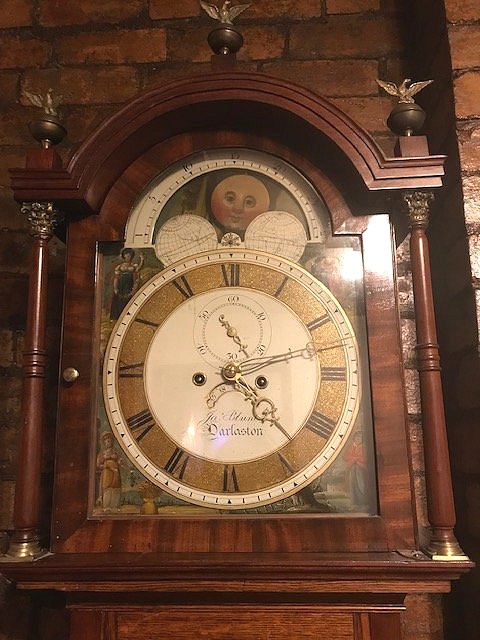 Another view of Jane Hartnell's lovely clock.
If anyone has any information on these or other Darlaston clocks, or clockmakers, please contact me and I will be delighted to hear from you.
---