Muchall Grove

William Thacker who died in 1854, owned Muchall Hall and the surrounding land. After his death the estate was sold. Most of the land on the northern side of the hall was purchased by Charles Clark, one of the co-founders of T. and C. Clark & Company Limited, founded in 1795 and based at Shakespeare Foundry. It grew to be one of the largest iron foundries in Wolverhampton.

Charles Clark became mayor of Wolverhampton in 1860 after being a member of the Corporation since its formation as a municipal body. He became a Councillor, Alderman, and later Chief Magistrate.

In about 1860 he built Muchall Grove which became his home. Sadly he only lived there for a few years. On the 29th January, 1863 he died. A diary found in a deed box in St. Bart's Church has the following entry: 'This morning Mr. Charles Clark of Muchall Grove, J.P. and alderman of Wolverhampton put a period to his existence in a fit of temporary insanity; to the great grief of his family and sincere regret of his friends. As a sincere well wisher to the working classes, his loss will be greatly felt in the district'.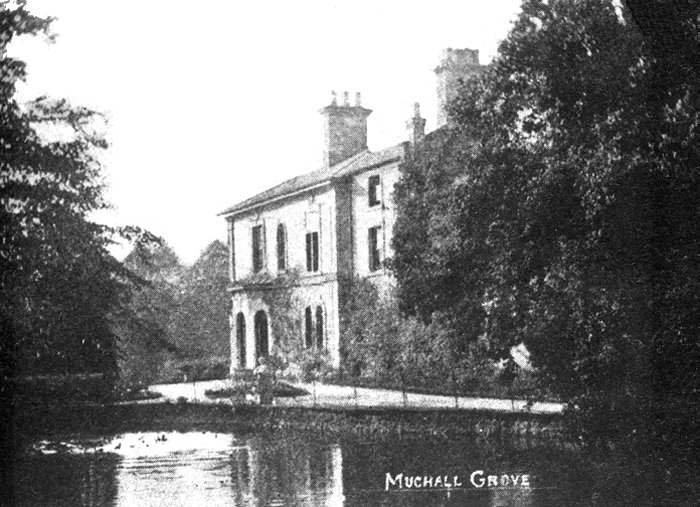 After Charles Clark's death the house was purchased by ironfounder Edward Thomas Wright. By 1881 the house had been purchased by Stephen John Thompson, who lived there with his wife Louisa, daughter Ethel and son Stephen. By 1904 Mrs. Thompson was living alone, so presumably her husband had died. In 1908 the house was put-up for sale.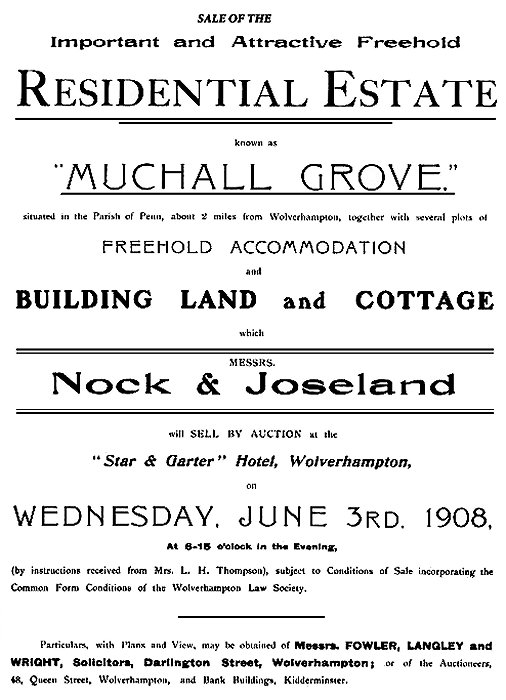 | | |
| --- | --- |
| | A plan of the ground floor of Muchall Grove, based on a plan in the 1908 sales brochure. |
In Kelly's 1912 Staffordshire directory, Mrs. Thompson is still listed as living there, as she is in the 1915, 1925 and 1927 Wolverhampton Red Books. In the 1930 Wolverhampton Red Book, the house is listed as being occupied by Mrs. MacIntyre. Muchall Grove was purchased by Wolverhampton Council in 1945 for use as a civil defence establishment. In 1962 the house was demolished to make way for an old people's home.
Muchall Hall
Muchall Hall was a grand house on the corner of Mount Road (previously Cockoo Lane) and Manor Road. It is marked on Yates' map of 1775, but is not named.
In 1815 the house was bought by William Thacker, who was a solicitor. It is listed in William Pitt's Topographical History of Staffordshire, published in 1817 as belonging to William Thacker and Mr. Burne. It is listed in William White's 1851 History, Gazetteer and Directory of Staffordshire as belonging to Robert Thacker. After Mr. Thacker's death in 1854 the house and the estate were sold. The house was purchased by Richard Warner who lived there with his wife Sarah and their son, Richard Weston Warner. In 1878, Richard Warner died. By 1896 the house was occupied by Edward Hickman, J.P. who is listed in Kelly's 1896 and 1904 Staffordshire directories. In Kelly's 1912 directory the house is listed as being occupied by Albert Edward Thompson.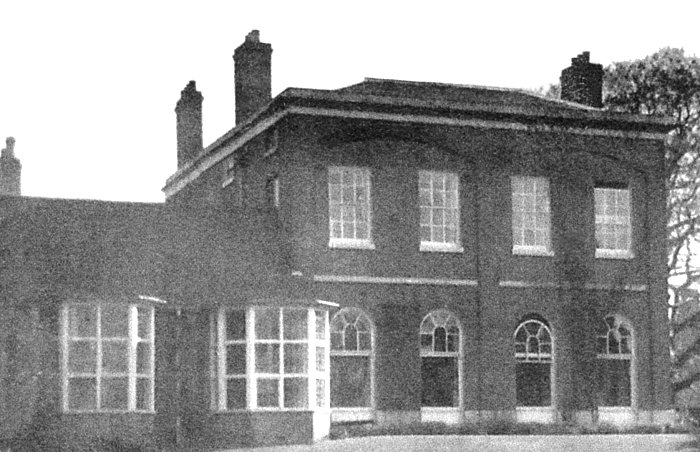 The rear of Huchall Hall.
By 1925 Alan H. Twentyman was living there. Members of his family occupied the house until it was eventually demolished. In 1954 the occupants were Elizabeth B. Twentyman and Dennis C. Williams, and in 1961 the house was occupied by Mrs. A. Twentyman and Dennis C. Williams.
In 1961 the house and 6 acres of land, were sold for £16,500. The house was then demolished.

Members of the Twentyman family outside what is believed to be the front of Muchall Hall. Courtesy of Lawson Cartwright.