---
| | | |
| --- | --- | --- |
| A rare photograph of Alice Kipling. | | Rudyard Kipling (standing) with his father, John Lockwood Kipling c.1880. |
In June 1868 Alice Kipling was back in Britain. She had a difficult time giving birth to her daughter whilst staying with her sister Georgiana at the Grange, Fulham. The house was full of furnishings and decorations from Morris and Company. Burne-Jones designed stained glass and tapestries for the business. Rudyard had been left with his grandparents in Bewdley. In November, the Kiplings travelled back to India just six days before Alice's father died in Bewdley.

John Lockwood Kipling was made a Companion of the Indian Empire in 1887. Alice Kipling died in 1910, the year before her husband.

Their son Joseph Rudyard Kipling (1865-1936) was one of the most celebrated writers of the late 19th and early 20th centuries; the Jungle Book was published in 1894. He was awarded the Nobel Prize for Literature in 1907. He later declined a Knighthood and the role of Poet Laureate.

The Poynters
| | | |
| --- | --- | --- |
| A portrait of Agnes Macdonald by Edward Poynter. Completed shortly before their marriage in Wolverhampton in 1866. | | Sir Edward Poynter by Sir Philip Burne-Jones, 1909. |
Edward Poynter's successful career led to his appointment as Director of the National Gallery (1894-1905) and President of the Royal Academy (1896-1918), the first person to hold both posts at the same time. He was awarded a Knighthood in 1896 (upgraded to a Baronetcy in 1902) and was appointed Slade Professor of Art at University College London. Lady Agnes Poynter died in 1906, Sir Edward in 1919. Poynter painted three of the four sisters. According to Jan Marsh, by showing Agnes holding flowers and Louisa holding a fan, he shows them as 'artistic women'; Louisa being painted in a particularly 'Rossetti-like pose ', whereas Georgiana is shown as a 'society lady, sipping her tea'.

Their eldest son, Sir Ambrose Poynter (1867-1923), 2nd Baronet, became a successful architect, while their younger son, Hugh (1882-1968), joined his cousin's company, E. P. and W. Baldwin.

The Burne-Jones's

Georgiana Burne-Jones, around 1870, by Poynter.

Edward Burne- Jones photographed by
Frederick Hollyer in 1890.
There was a wealthy group of Greek merchants and bankers in London in the 1860s. Maria Cassavetti, a beautiful, rich, first cousin of Alecco Ionides was one of this group. She married a Greek doctor (Zambaco) in 1863, had three children, but by 1866 she had separated from her husband, leaving him with their children in Paris while she moved back to London. After Maria began sitting for Burne-Jones they began an affair that rocked the marriage of Edward and Georgiana. In January 1869 the affair became public knowledge due to a failed attempt by the couple to run away to the continent. Burne-Jones got cold feet but continued a liaison with her for many years; unsurprisingly this created difficulties in the Burne-Jones marriage .

Burne-Jones was a very successful artist, gaining an international reputation, culminating in his acceptance of a Baronetcy in 1894. Georgiana and William Morris were unhappy about his elevation; they were both confirmed Socialists. Georgiana was elected a Parish Councillor for Rottingdean, Sussex, where they had a holiday home. This had become possible after the 1894 Act which allowed women to stand for, and vote in, Parish Councils for the first time. (The full franchise would only be achieved after another 25 years). Sir Edward Burne-Jones died in 1898. After his death, Lady Georgiana moved permanently to their holiday home in Rottingdean, surviving him until 1920.

A portrait of Georgiana Burne-Jones by Edward Burne-Jones, 1883.
Also depicted are her artist son Philip (1861-1926), 2nd and last Baronet, and her daughter Margaret, who married William Morris's biographer Jack Mackail.

Their daughter was the writer Angela Thirkell, whose Barsetshire novels were popular in the mid-20th century.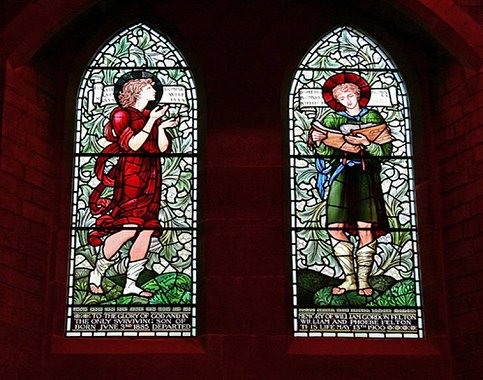 Glass at Wilden church designed by Burne-Jones.
| | | |
| --- | --- | --- |
| Portrait of Louisa Baldwin in 1868, by Edward Poynter. | | Alfred Baldwin. |
From November 1870 the Baldwins moved to Wilden House to be nearer the iron works business. In 1877 Alfred Baldwin changed his allegiance from the Liberals to the Conservatives, becoming MP for West Worcestershire from 1892 until his death in 1908. In 1882 Alfred paid for a church to be built in Wilden. Morris and Company made all of the stained glass windows to the designs of Burne-Jones as well as furnishing other decoration, including an altar front designed by Morris and embroidered by Edith Macdonald. Fittingly, it is the only church to contain memorials to all of the Macdonald sisters.

After Alfred's death in 1908 his son Stanley was elected to represent his constituency in Parliament and he also became a Director of the GWR. Stanley Baldwin climbed the political ladder to become Prime Minister three times from 1923-4, 1924-9 and 1935-7. His mother Louisa lived until 1925, just long enough to see her son achieve the pinnacle of his career.

There is an interesting parallel with our new government (May 2010). Stanley Baldwin was instrumental in the downfall of Liberal Prime Minster David Lloyd-George, who led the last Liberal-Conservative Government which Baldwin joined as a member of the Cabinet in 1921, as President of the Board of Trade. At the Carlton Club, in October 1922, Baldwin met other Conservative MPs unhappy with the Coalition government, condemning Lloyd-George as a 'dynamic force' who was corrupt (selling honours), who had split the Liberals and would split the Conservatives. Baldwin and the other MPs withdrew their support of the Coalition. The General Election that followed returned the Conservatives with their own majority, under Prime Minister Andrew Bonar Law (the only P. M. born outside the British Isles). Baldwin served as Chancellor, before succeeding the terminally ill Bonar Law as Prime Minister in 1923. After retiring as an MP he was created 1st Earl Baldwin of Bewdley.
---