---
The next generation and Wightwick Manor

Another Midlands industrialist in Parliament at the same time as Stanley Baldwin was Geoffrey Mander of Wightwick Manor, (Liberal MP for East Wolverhampton from 1929-45). Wightwick (built in 1887, extended 1893) had been decorated with many Morris and Company wallpapers and fabrics by Geoffrey's parents, Theodore and Flora Mander. Geoffrey had business connections with the Baldwins; Mander's paints and varnishes supplied the cream and chocolate brown colours for the carriages of the Great Western Railway, whose Chairman from 1905 was Alfred Baldwin.

Stanley Baldwin described Geoffrey Mander as a 'personal friend' in a speech he made when launching the General election campaign of 1935 in Wolverhampton. Referring to Geoffrey's reputation as a tenacious questioner in the Commons, Baldwin remarked, to laughter, that he was: "one in whom all the inquisitiveness of the Manders for the last 20 generations is centred......my first duty every morning is to look at the Order paper and run through the questions and if there be something over which I have tried to draw a curtain of reserve and decency, Geoffrey Mander will tear it on one side and he will tread, honestly and conscientiously, on every corn from China to Peru."

Geoffrey Mander often visited Baldwin in Bewdley after his retirement, furnishing him with the latest Westminster news and gossip. On one visit, when discussing Baldwin's Macdonald mother and aunts, the former Prime Minister revealed his parents double wedding at St. Peter's, Wolverhampton, would have been a triple wedding, but for Fred's illness. (This doesn't explain Fred's attendance in Wolverhampton and his wedding immediately after in Burslem though). Possibly a more reliable memory of the wedding he passed on was that the Macdonalds travelled to church in a coach with postillions, which he (Baldwin) found astonishing considering their 'humble home'.

Another interesting story recorded by Geoffrey Mander after a visit to Bewdley was that 'William Morris was standing, laying down the law in his vigorous way to some of his friends when Val Princep came up to him from behind and....struck him a heavy blow....Morris paused in his flow of rhetoric for a moment and without looking round said, "don't do it, Janey". This afterwards became a standing joke in the Baldwin family and the sentence was used whenever it could be appropriately....applied'.

Geoffrey Mander continued his friendship with the Baldwins after Stanley's death in 1948. A letter to him from Arthur, the 3rd Earl (Stanley's second son), begins: 'I am so glad you like reading about the Macdonald sisters.......it was easy for me to see when I visited your house where some, at least, of your interests lay. It is not a book for the many, nor I suppose for the present generation; only a handful of the likes of us.' Baldwin goes on to illustrate the low regard given at the time (1960) to the Pre-Raphaelites and the Victorian period in general, by quoting phrases made by an art critic in 1957: 'If such a person as the Pre-Raphaelite enthusiast still exists' and 'this muddle-headed, rapt, but often vulgar movement'.

(The details included in the preceding four paragraphs were kindly supplied by Pat Pegg, whose biography of Geoffrey Mander is yet to be published).

A Cedar tree, in memory of Stanley Baldwin, was planted by the third Earl in 1959 on the South Terrace at Wightwick Manor.

Stanley Baldwin, 1st Earl Baldwin of
Bewdley.

Geoffrey Mander by Clarence White,
1930.
After Geoffrey Mander had given Wightwick Manor to the National Trust in 1937, he and his second wife Rosalie Mander began assembling the Pre-Raphaelite picture collection, acquiring pieces in the 1930s and '40s from the artists descendents, such as Rossetti's niece, Millais's grandson and Morris's daughter May, who visited Wightwick and embroidered some bed hangings for the Manders. Angela Thirkell, Burne-Jones's granddaughter visited in the 1940s; her son Lance Thirkell, worked in Wightwick's garden during World War II. The Manders enhanced the collection at Wightwick by the purchase of more Morris and Co. pieces, Kelmscott Press books, De Morgan ware, embroidery and watercolours by May Morris and many other items associated with Morris and the Pre-Raphaelite circle. Sir Geoffrey Mander died in 1962 (he received a knighthood in 1945 after turning down a peerage). Rosalie, Lady Mander continued to develop the Pre-Raphaelite collection until her death in 1988, it has subsequently been enhanced by bequests and the National Trust.

The Wightwick picture collection contains a watercolour of Haight Barn, near Rottingdean, by Philip Burne-Jones as well as sketches by Poynter and many Rossetti drawings, including one of Maria Zambaco from 1871. There are sketches and drawings by Edward Burne-Jones, several of his chalk drawings of women, including what is probably a late 1860s study of Zambaco. The centre piece of the collection is Edward Burne-Jones's oil painting 'Love Among The Ruins' featuring Maria Zambaco as the female model.

Wightwick Manor, Wightwick, Wolverhampton.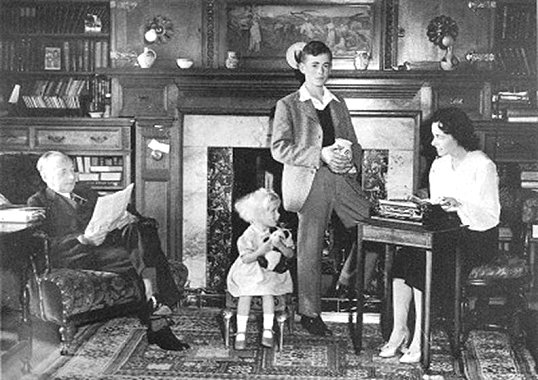 Sir Geoffrey Mander, daughter Anthea, son John and Rosalie, Lady Mander in the Library at Wightwick about 1948.
Bibliography

A Circle of Sisters, Judith Flanders, 2001.
Victorian Sisters, Ina Taylor, 1987.
A Persistent Thorn, Geoffrey Mander MP, 1929-45, Patricia Pegg, unpublished.
The Pre-Raphaelite Sisterhood, Jan Marsh, 1985.
Ellen's Forgotten Mercia, Anthony Perry, 1999.

Sources of photographs

Wolverhampton As It Was, John Roper, 1975.
Wolverhampton Past and Present, Wolverhampton Heritage, 1985.
The Book of Wolverhampton, Frank Mason, 1979.
Mapping the Past - Wolverhampton 1577-1986, Mary Mills, 1993.
www.wolverhamptonarchives.dial.pipex.com
www.localhistory.scit.wlv.ac.uk
www.wikipedia.org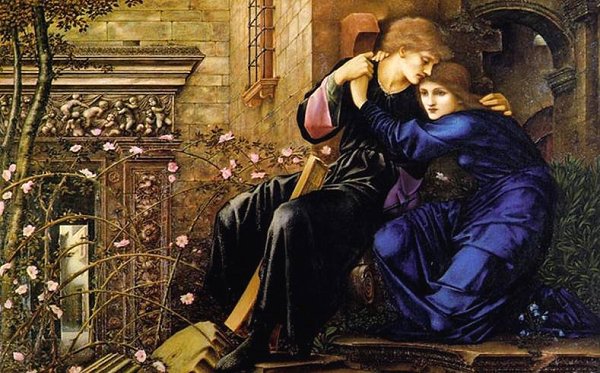 Love Among the Ruins by Edward Burne-Jones, 1894. (Wightwick Manor).
| | | | |
| --- | --- | --- | --- |
| Alice Kipling aged 53 in 1890. | Lady Burne-Jones at sixty in 1900. | Louisa Baldwin in the early 20th Cent. | Lady Poynter in her 50's in the 1890s. |
---
---