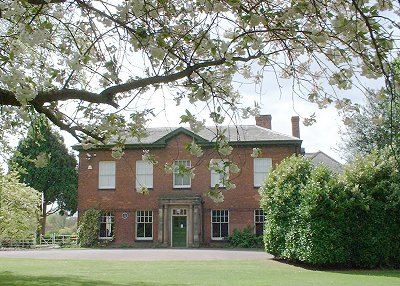 Front elevation.
Listing: 1730s with front range of 1820s and alterations of 1890s.
Local listing: gardens and associated parkland surrounding Bantock House
Plaque: Alderman A. B. Bantock, J.P., 1862-1938. Mayor 1905-6-7 and 1914-15, bequeathed Bantock (Merridale) House to the Citizens of Wolverhampton. Opened 22nd April 1948. "He lived here and loved this place". [Note that, technically, Wolverhampton, not then being a city, had no citizens but had burgesses or townspeople. In 2001 Wolverhampton was designated as a city and thus caught up with the plaque].
Literature: Bantock House - Building Analysis and Archaeological Recording. Report by Northamptonshire Archaeology to Wolverhampton MBC, March 1999.
Comment: This page contains short notes on the history of the house. More detailed information can be found in two linked articles by Peter Hickman, Marion Dance and Gillian Webb:
and the more recent history of the development of the site, and an account of its present use, are at:
Bantock House and Park: Now and Then
A short history of the house and park
The house was apparently built as a farmhouse, then known as New Merridale Farm, sometime between 1734 and 1788. The earliest parts appear to be what is now the rear of the house, the barn and the stables. The architect is not known. The frontage in the picture above may be between 1834 and 1843, remodelled in 1889 and 1902.