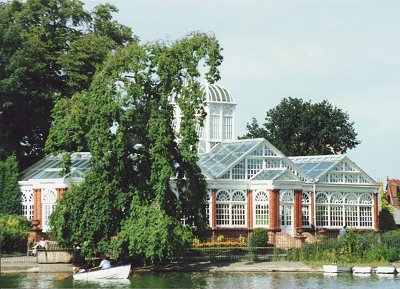 Parks (and gardens) cannot themselves be statutorily listed because listing only covers buildings and structures. It is possible to list features within a park or garden if they are buildings or structures. Technically this could result in those features being kept and the garden or park around them being completely changed. But there are other ways of helping to preserve parks such as this. In the case of West Park:
Statutory listing: the following features are listed:
Villiers Statue: 1878. By W. Theed the Younger.
Clock Tower: 1883. Cast iron on ashlar plinth.
Bandstand: 1882, outer part of later C19. By McDowell Stevens & Co, Glasgow
Bridge over Lake: 1880. Cast iron with ashlar abutments and piers.
Conservatory: 1896. By Dan Gibson.
Pavilion north of lake: c. 1881
Walls, railings, gates and piers: 1880. By Bayliss Jones and Bayliss.
Local listing: the following features are listed:
The Chalet, South Lodge, North Lodge, South Shelter, the Erratic Boulder.
Conservation Area: the park is included in the West Park Conservation Area
Parks and Gardens of Special Historic Interest: English Heritage maintains a list of Parks and Gardens of Special Historic Interest. This is not a statutory list and has no direct legal effect in preserving historic parks and gardens. But, as English Heritage says, the function of the register is "to draw attention to important historic gardens and parks as an essential part of the nation's heritage. If their existence is not widely enough known, they could all too easily be overlooked, for example in plans for new development". In the case of West Park - whose actual existence is pretty widely known - the register acts to draw attention to the fact that West Park is valuable not just as a recreational area but also as part of the heritage.
English Heritage's list describes the park as follows:
"Designed by R H Vertegans and laid out 1879-81, opened to the public 1881. 8 entrance gates and railings c.1880, statue of Sir Charles Pelham Villiers 1878 by William Theed the younger, and Clock Tower 1883, both near the centre of Park. Bandstand c.1883 to west. Conservatory by Gibbs 1897 to north of lake.

"West Park is roughly oval in form, and is bounded by Park Road East and Park Road West. Paths from 4 of the 8 entrance gates converge on a central area, with a circular parterre. The northern half of the park contains a lake, nipped at the centre, and crossed at this point by a bridge. The east and west sections of the lake each contain [sic] an island. Wildfowl collection. Perimeter path and serpentine walks link main features of interest. Numerous mature trees. Extensive rose garden. Tennis courts to east. Southern area of Park more open. Parked noted since inception for remarkable displays of seasonal and tapestry bedding".
Literature:
Pevsner notes the park and its features, describing the park as "an effective and largely informal layout with a lake".
There are accounts of the creation of the park in Upton's history and pictures of it in many of the modern picture histories. Since the Park was a well loved and much used place, as well as being decorative, there are hundreds of different postcards showing it and they can be found in any collection. The City Archives contain many pictures of the park.
Note: the park is about 50 acres in extent, of which the lake occupies about 8 acres. The land was originally a boggy area, practically marsh, and was known as Hungry Leas - "hungry" being a not uncommon name applied to land which was of little or no use for agriculture. The name probably changed to Broad Meadows when it was leased from Lord Darlington (later the Duke of Cleveland) for use as a race course and drainage was installed. It was first used as a racecourse in 1825 and so continued until the lease came to an end in 1878. The town council, who had been looking for a site for a park, stepped in and got a lease for a period of 63 years at an annual rent of £300 for the first 42 years and then £350 for the remainder of the time. But the lease contained an option to purchase and this option was duly exercised. Despite some drainage the racecourse had remained rather boggy and the park's lake was an essential feature in sorting out the drainage. (There was then, for some years, no race course in Wolverhampton, though some races did take place on Alexander Staveley Hill's property at Dunstall. When the railway came through that estate, Hill moved out to Oxley Manor and sold the remaining land to a racecourse company set up by the local racing fraternity. After many delays racing started at Dunstall Park in August 1888).
During the last ten years or so there was much debate about the future of the park - what, after all, was the function of a park in a modern city? The question now seems to have answered itself, as people continue to use the park for its traditional purposes, and as it has been recognised as having historical and heritage value as well as being a beautiful garden. The Heritage Lottery Fund provided £2.2 million for a complete refurbishment scheme, which includes renewing many of the beds as well as many of the buildings. By 2005 most of this work was complete and the park is now looking fine - only a few shrub borders need a bit more time to grow.
Here follow notes and pictures of some of the park's features.
The Conservatory:
The exterior appears in the photo at the top of this page.
The conservatory was built from the proceeds of the Wolverhampton Floral Fetes.

The architect was T. H. Mawson of Windermere; and it was built jointly by Richardson & Sons of Darlington and Henry Gough, a very large, Wolverhampton-based, builder.

The conservatory was once famous for its display of chrysanthemums.
Now, splendidly restored, it contains both tropical and desert plants, despite the area not being large and the automatic temperature control system not working too well.

The hope is that the plants reflect the varied cultural heritage of present day Wulfrunians and that they will be useful for teaching purposes too.