---
During the 20th century the population growth continued:
| | |
| --- | --- |
| Year | Population |
| 1901 | 15,395 |
| 1911 | 17,100 |
| 1921 | 18,200 |
| 1931 | 19,700 |
| 1939 | 20,200 |
| 1951 | 22,000 |
| 1961 | 22,300 |
The town's first market was established in 1896. It occupied both sides of Church Street between Bilston Street and New Street. After 35 years it moved to New Street, and later to King Street, but eventually died out from lack of support. A new market began in 1977 in King Street, but slowly seems to be suffering the fate of its predecessor.

In the late 1890s electricity came to the town, and was supplied by two companies; The Midland Electric Corporation for Power Distribution Limited in Church Street, and The Blast Furnace Power Syndicate, which quickly disappeared.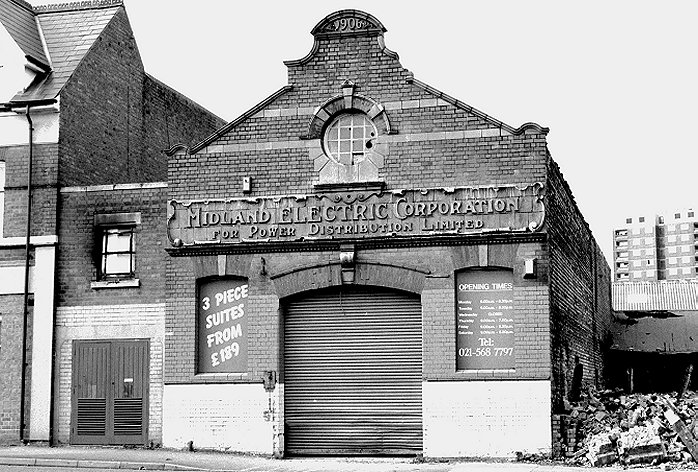 The old electricity sub station in Church Street.
Darlaston Fire Brigade was formed after a fire damaged the Cottage of Content pub in Bull Street on 12th April, 1895, which was Good Friday.

Crescent Road Fire Station was built in 1896 at a cost of £90. The first fire brigade consisted of volunteers and the engine was drawn by two horses named Nobby and Hellfire Jack. They were often borrowed by Mr. Turner, who as well as being one of the volunteers was also a coal merchant. In the late 1920s, Councillor Simmonds presented the town with its first motor fire engine, nicknamed Rose after his daughter.

For many years the Fire Brigade was run by Darlaston's Town Surveyor, John Cash Joynson. The members in 1916 were:
Hon. Captain
J. C. Joynson
Engineer
Arthur Gilbert
Second Engineer
J. West
Sergeant
S. Bailey
Driver
G. Taylor
Corporal
A. Latham
Firemen
W. Wilmore, S. Gilbert, J. W. Parbott, J. Mason,
J. Chambers, and T. W. Simpson
The fire engine, the escape and all the appliances were kept at the fire station in Crescent Road. Drills were held monthly. Each fireman's house was connected to the fire station by a telephone bell. Alarms were given at the fire station, or police station next door. Telephone number 23.
In the early 1920s the members of the brigade were as follows:
Hon. Captain

J. C. Joynson
Hon. Lieutenant
Councillor W. T. Willmore
Engineer
Arthur Gilbert
Second Engineer
J. West
Sergeant
A. Bayley
Corporal
A. Latham
Firemen
S. Gilbert, J. Mason, J. W. Parbott,
T. W. Simpson, J. Chambers, B. Orton
The Engineer, Arthur Gilbert, was a member of the Darlaston Volunteers and a member of a local troupe of hand bell ringers. He gave lessons in hand bell ringing and became involved with the Havelock Band, which later became Darlaston Town Band. His other hobby was carving figures from blocks of salt. He left the Fire Brigade in 1932 and was elected as a life governor of the National Fire Brigades Association.
Other members of his family also joined Darlaston Fire Brigade. They were his second son and his grandson. His eldest son George was the brigade's first mascot when he was seven years old.
The Fire Brigade was managed by the council's Fire Brigade Committee. In 1921 the members were Councillors:
T. Lowe, Chairman; J. Garrington; A. H. Partridge; G. Smith; and W. T. Willmore.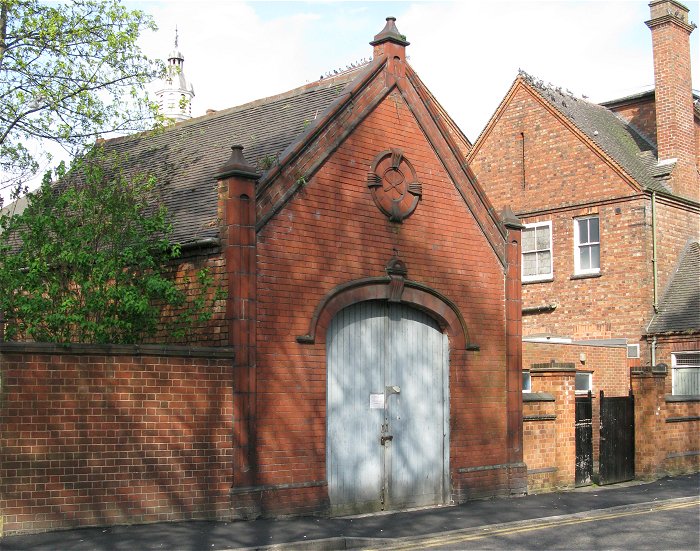 The old fire station.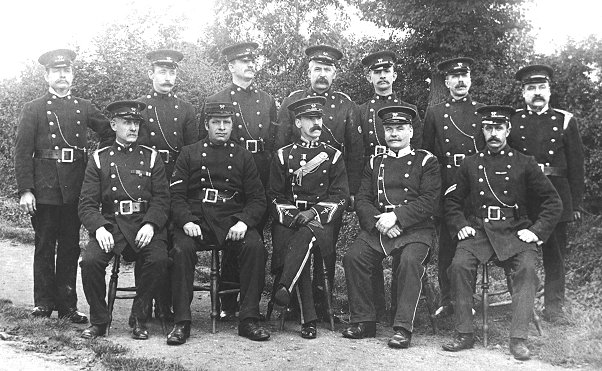 Darlaston fire brigade in about 1900.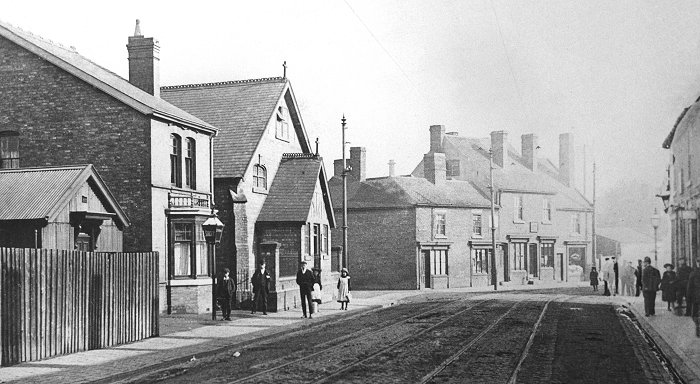 A fine view of old Blockall.
In 1899 Darlaston Police Station was built in Crescent Road on land purchased from the council for the princely sum of £7, due to the three mine shafts on the site that had to be filled. The Police Station, administered from Stafford was the second such building in Darlaston. The first police station was set up in a house at 25 Church Street, with 6 constables, and a sergeant.

In 1909 the staff consisted of Inspector Williams, Sergeant Findlay, and six constables, together with another two constables who were stationed at Moxley. They formed a Sub-Division of the Wednesbury Division. A Petty Sessions was held at Darlaston Town Hall on alternate Wednesdays. Special Sessions and Licensing Sessions were also held.

In 1916 the staff at Crescent Road consisted of Inspector Cooper, Sergeants Felthouse and Hull, and seven constables. By the early 1920s the number of constables had increased to twelve.

Darlaston Police Station.
Sadly at the beginning of 2018 it was decided to close Darlaston Police Station and put the building up for sale. The building sold for £660,000 at auction on the 10th September, 2019 and is being converted into apartments.

The isolation hospital in Dangerfield Lane also opened in 1899 following outbreaks of smallpox in the area.

A post office opened near the top of King Street with Miss Elizabeth Wright as Sub-Postmistress. By 1909 the Sub-Postmistress was B. L. Canningsy. Letters arrived daily from Wednesbury at 8.00a.m., 2.00p.m. and 5.30p.m. They were dispatched at 9.15a.m., 11.50a.m., 1.50p.m., 4.20p.m., 8.20p.m., and 9.15p.m. Wall letter boxes were situated in Bell Street, The Green, King Street, Pinfold Street, Catherine's Cross, and the Bull Stake. They were emptied several times each day and once on a Sunday. The postal service seems to have been much better in those days than it is today.

In 1912 the existing Sub-Post Office in Victoria Road opened. Post was dispatched at: 9.0 a.m., 10.15 a.m., 1.15 p.m., 3.15 p.m., 4.45 p.m., 6.0 p.m., 7.15 p.m., 8.15 p.m., and 9.15 p.m. On Sundays it was dispatched at 8.15 p.m.

Deliveries were made at: 7.10 a.m., 11.10 a.m., and 6.10 p.m. and on Sundays at 7.20 a.m. Money Order and Savings Bank business, Telegraph Office, Postal Orders, Telephone Express Delivery and the Public Telephone Call Office were all available from 8 a.m. to 8 p.m. on weekdays. The Sub-Postmaster in 1916 was Mr. W. R. Woodhead, and in the early 1920s the Sub-Postmaster was Mr. E. John.

The Salvation Army's church in High Street, just before it was demolished to make way for the original Asda Supermarket in the early 1970s.
Darlaston Town Football Club was founded in 1874. By the early 1890s the team regularly played on the old Wakes Field off Waverley Road, which became Darlaston Football Ground. The club purchased the ground in July 1899, after which it became known as City Ground. The team played in the Walsall and District League before moving to the Birmingham Junior League. 1911 was a landmark year for the club which won the Birmingham Combination League Shield in the 1910/11 season.
A medallion commemorating Darlaston's win in the Walsall & District Football Association in the 1907/8 season. Courtesy of Graham William Lloyd. It was presented to his grandfather W. Lloyd who played in the winning team.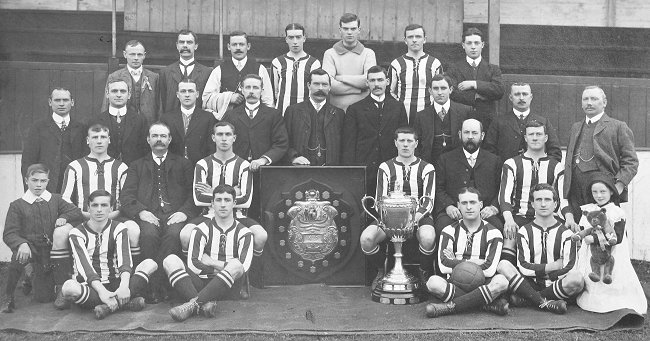 Darlaston's winning team in 1910/11. Courtesy of Graham William Lloyd.
Back Row left to right: J. Griffiths, F. Arnold, R. Bourne (trainer), B. Lowe, H. Waite, I. Turner, and H. Green.
Next row left to right: Wm. Hampton, R. Hampton, W. Lee, Councillor H. Hemmings, C. H. Hollinshead (vice-chairman), D. Walters, H. Guy (assistant trainer), and T. Garbett (vice-chairman).
Next row left to right: E. Shinton, A. Martin, G. Bould, J. Dennis, J. Constable, W. Lloyd, and H. Blakemore (hon. sec.).
Front row left to right: ?, S. Reade, T. Watton, G. Wilkes, E. Wilkes, and ? In the centre is the Birmingham Combination League Shield, and the Walsall Senior Cup.
At the turn of the century Darlaston's future looked exceptionally bright. New factories were still opening, employment was high, and King Street looked very prosperous.

Living conditions however for most people were extremely poor, the old houses had not yet been improved or replaced, and the population continued to increase as more people came to look for work.

This caused a serious overcrowding problem, with several families often living in a single house.


The Bull Stake and King Street. From an old postcard.
The opening of Victoria Park

Martha and Jane Mills were the last two members of the family who founded Bills & Mills, which became the Darlaston Iron & Steel Company. They lived at Darlaston House in Victoria Road, and had a country home at Whitton near Ludlow. At the beginning of the century they decided to leave Darlaston, and move to Whitton. They gave the land on which the house was built to the town for use as a public park. Darlaston House was demolished, and Victoria park opened in 1902 as a belated commemoration of Queen Victoria's Diamond Jubilee.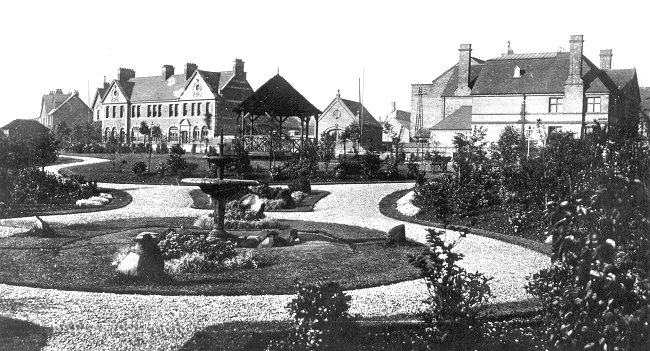 Victoria Park in the early 1900's. From an old postcard.

Another view of Victoria Park, also from an old postcard.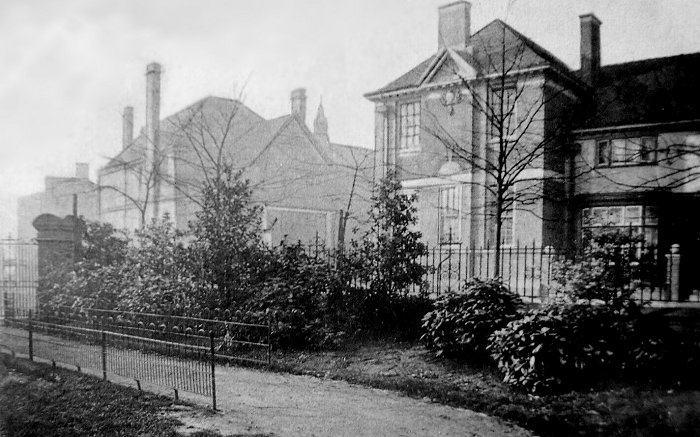 A view looking towards the park entrance on the northern side of Victoria Road, where the war memorial now stands. Across the road is the new post office that opened in 1912. From an old postcard.

| | | |
| --- | --- | --- |
| An advert from 1909. | | An advert from 1909. |
Bob Smith
Bob Smith founded one of the great institutions in Darlaston and was known and liked by everyone. In 1904 he had Favourite House built on the corner of Church Street and Bilston Street, and it lived up to its name as one of Darlaston's favourite shops. It was a shop, showroom, workshop, warehouse, dwelling house, hairdressing salon, photographic studio, and a garage for his charabancs. Bob was born at Great Bridge on 13th June, 1869. He had a paper round and did hairdressing while still at school.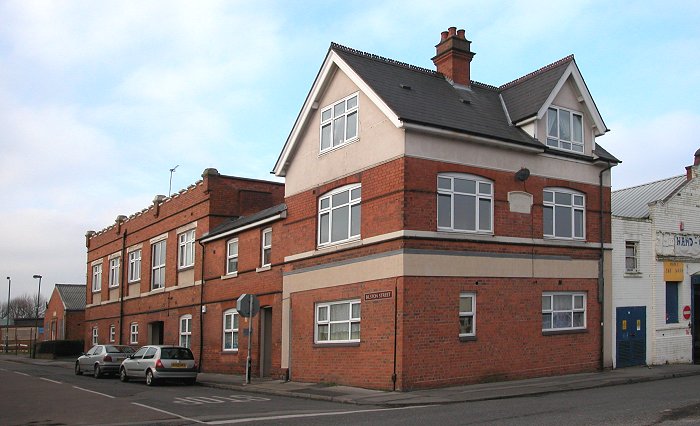 Favourite House in 2009.

Another view of Favourite House.
He taught himself glass cutting, watch and clock repairing, and picture framing in his spare time, and also learned gents hairdressing. When he left school he worked in a bakehouse before getting a job at the Patent Shaft works in Wednesbury.

At the age of 21 he married Sarah Jane, and moved to a terraced house at James Bridge. He opened a barbers shop at the house in the 1890s, and also did picture framing.

He decided to expand his business, and had Favourite House built for the purpose. He had a roof garden where he grew fruit including strawberries and apples, and sold many things in the shop, including toys, fancy goods, jewellery, hardware, and furniture.

Bob also carried out clock and watch repairs, and ran a dolls hospital where he repaired children's dolls.

There was an all-year round club with over 2,000 members, who each paid a subscription of one or two pence a week. This would soon mount-up and could be spent on anything in the shop. It was an early form of interest free credit.


An advert from 1921.

Bob standing in front of Favourite House. From an old postcard.

Bob's first vehicles were two horse-drawn delivery vans, soon augmented by two motor coaches, used for his 'Favourite Motor Trip Club' which ran trips to such places as Bridgnorth and Bewdley.

Club members had cards on which they could pay one or two pence a week towards the cost of their outings.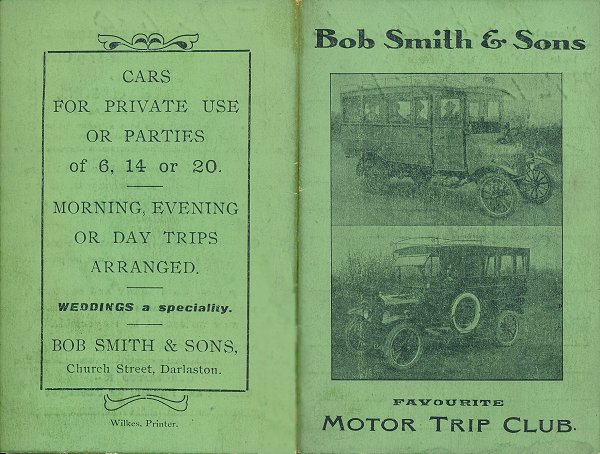 A payment card for the Favourite Motor Trip Club.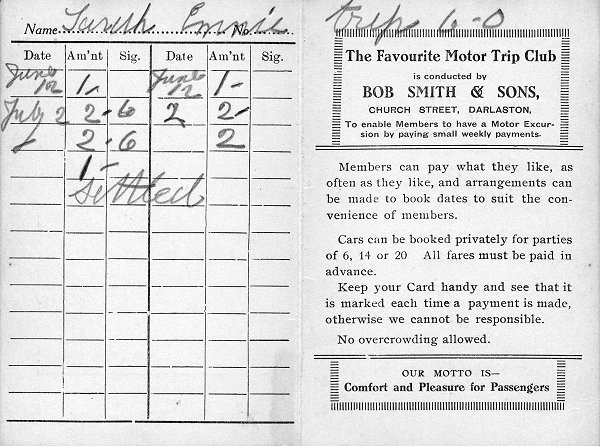 The inside of the payment card.
Bob also formed the 'Pictureman's Scout Troupe', and ran the 'Meccano and Hornby Train Club'.

At Christmas he stood outside the shop dressed as Father Christmas selling penny dips.

In the general strike of 1926 with the help of a group of ladies, and his scouts, he provided hundreds of meals for the needy at his own expense.

Three of his sons and two of his daughters helped in the business. Sadly his wife Sarah died on 15th February, 1936 at the age of 65.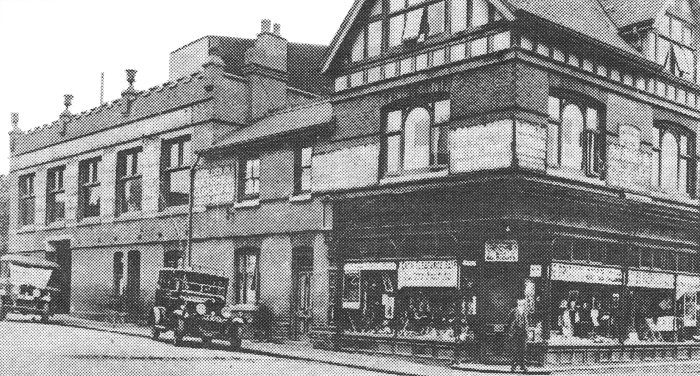 Another view of Bob Smith and his shop, possibly from the 1930s.

Bob Smith in his scoutmaster's uniform.
Courtesy of Dr. B. Williams

During both World Wars he gave generous help to people and organised the Darlaston branch of the Express & Star War Comforts Fund, placing collecting boxes in pubs and shops in the area.

He was a councillor for many years representing the Green Ward. Relaxation consisted of a game of cards or billiards at the nearby Conservative Club.

In later years he was helped in the shop by his daughter May, and housekeeper Eliza Fellows. When Eliza died in 1955 he decided to retire. He was 85 at the time.

He moved to his son George's house in Foley Street, Wednesbury, where he died on 29th December, 1956 at the age of 87. He is buried at James Bridge Cemetery.

Bob Smith's grave at James Bridge Cemetery.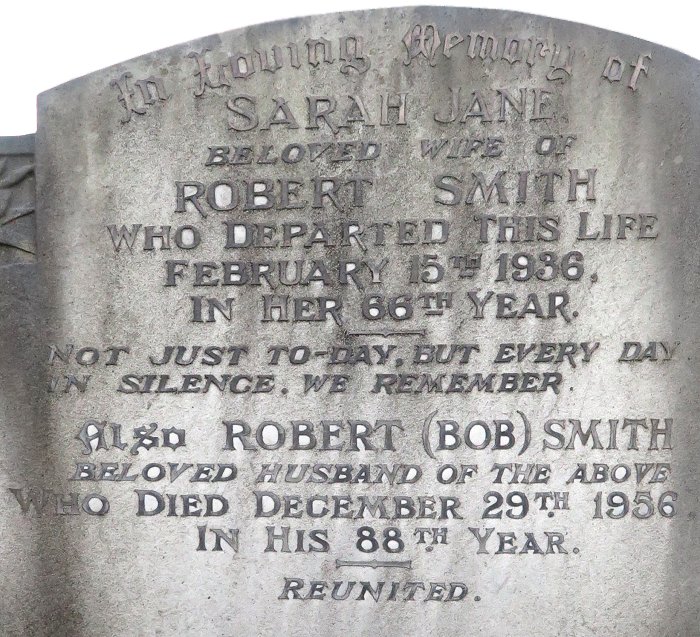 A close-up view of the headstone on Bob Smith's grave.
When Bob Smith retired, Favourite House was taken over by Page's Electric Limited. The business was there for many years and became well known throughout the town.


An advert from the early 1970s.


An advert from 1954. Courtesy of Christine and John Ashmore.
William Stanbury

Anyone in their mid 50s or above will remember Stanbury's gents outfitters shop near the top of King Street.

The shop was well known and is still fondly remembered today.

In the early 1900s William Walker Stanbury purchased Poplar House, one of the last remaining town houses in King Street, and added a single story extension on the front.

Around 1840 the late-Georgian Poplar House was occupied for a time by Samuel and Phoebe Mills, and their family. Samuel owned the Darlaston Steel & Iron Company Limited at Darlaston Green.


William Walker Stanbury.

Poplar House.

Some years later t

he famous Victorian novelist Mrs Henry Wood stayed in the house and whilst there wrote part of her best selling novel "East Lynne", published in 1861.

The house later became a school for girls.

Mr. Stanbury's business was very successful and he became a local councillor. The shop remained in use until the late 1960s, after which it became derelict.

After being empty for several years, the shop and house were demolished in 1973. The modern ASDA supermarket occupies the site today.

William Stanbury became a prominent member of Darlaston Urban District Council and served on a number of council committees including the Finance Committee, the Highways Committee, the Housing Committee, the Child Welfare Committee, and the General Purpose Committee.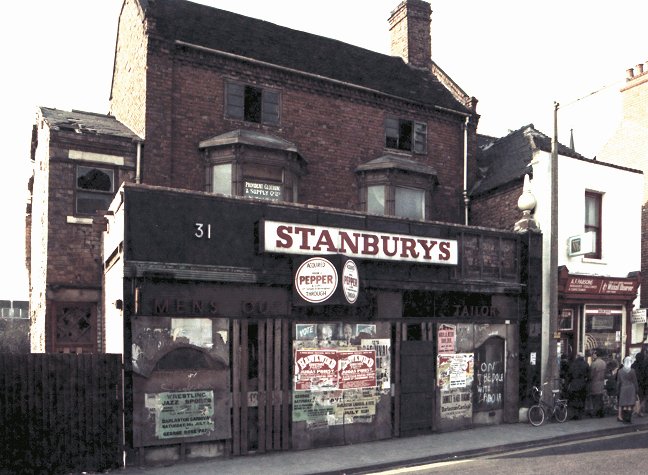 Stanbury's gents outfitters, 31 King Street.

An advert from 1922.

He was also Chairman of the Darlaston Tradesmen's Association that helped to cultivate a friendly feeling between fellow tradesmen and looked after their interests.

The Association also exposed trading abuses, helped in settling grievances, and attempted to remove any restrictions on trading activities.


William Walker Stanbury in later life.
This lovely photograph was kindly sent by Irene Bishop.

It shows John and Ann Maria Stevens, and their dog Monty at the back of their home in Cock Street where they had a shop.

They previously lived and worked on canal boats around the Black Country. All of their children were born at this time, and all survived.
One of the best known and longest surviving shops in Darlaston was Jowett's, which sold fruit, vegetables, flowers, and wet fish. The following description from 1914 is about the family's shop in Wednesbury, but it equally applies to their shops in Darlaston:

Sidney Jowett, Florist, Fruiterer, Fish and Poultry Dealer, Market Place, Wednesbury.

This popular business was founded about eleven years back, and it will be generally admitted that its proprietor is today regarded as one of the most reliable and enterprising representatives of the trade to be found anywhere, possessing the most important and necessary qualifications for successful trading in this branch of business. The premises occupied by Mr. Jowett are known as Market Stores, and have a capital corner position, being also fitted up and arranged to meet all requirements of each branch. Every description of fruit, etc., in season; fish, poultry, and rabbits are to be obtained here, also flowers, in which branch a speciality is made of wreaths, crosses, bouquets, gent's button holes and ladies sprays. In each line Mr. Jowett is known to be most scrupulous in offering only the most reliable and best quality goods at the lowest possible prices, ensured by his exceptional purchasing facilities in the best markets and large turnover. There is no question in fact, that he offers every inducement to the residents of Wednesbury to favour him with patronage, and spares no effort to retain it when secured.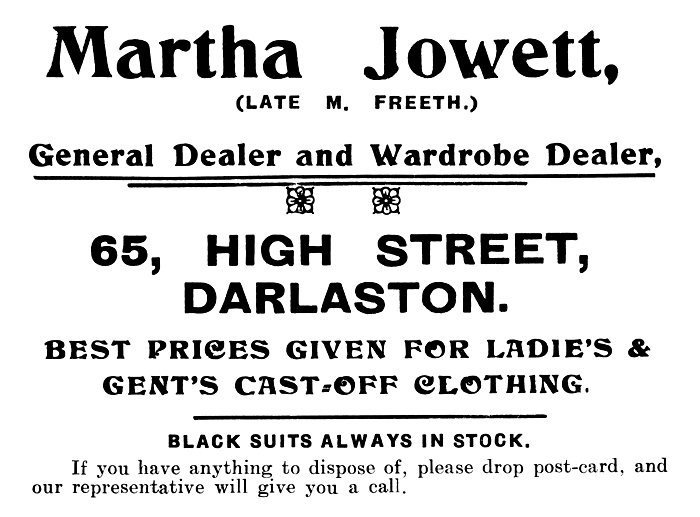 This advert from 1921, is for what is believed to have been the Jowett family's first shop in Darlaston.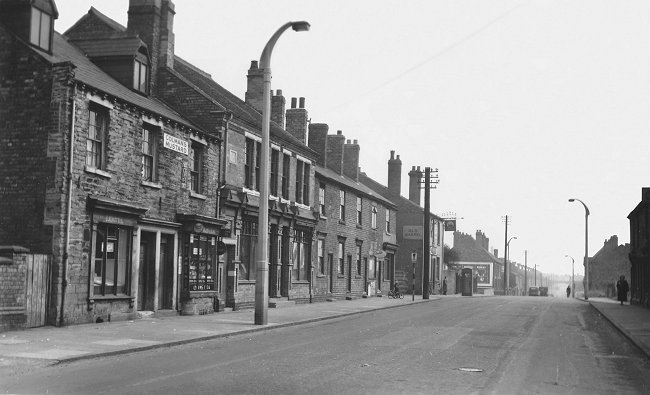 King's Hill. Courtesy of David Adams.
In 1905 work began on the restoration of St. Lawrence's church. The church tower was built very roughly of bricks, and faced with cement that had been scored to give the impression of stone.

After a thorough examination by an expert the building proved to be unsafe and so a complete rebuild in stone was undertaken.

The work, including a new clock amounted to £3,000, much of which was raised by public subscription. The new building opened in 1907.


St. Lawrence's Church. From an old postcard.
Another photo of St. Lawrence's Church, also from a postcard.

The old entrance gates into the churchyard are clearly visible. They were replaced by the lich gate in 1943.
The town's Labour Exchange used to be at 34 King Street and was called the Labour Exchange and Local Office for Unemployment Insurance. In 1916 the manager was Mr. A. S. Morgan, who in 1922 was succeeded by Mr. J. Salmon. The office hours were 9 a.m. to 5 p.m. on Mondays, Tuesdays, Wednesdays and Thursdays and 9 a.m. to 7 p.m. on Fridays. The exchange also opened on Saturdays from 9 a.m. to 1 p.m. There were separate departments for women and girls. Anyone claiming unemployment benefit had to sign the unemployment register between 9 a.m. to 12 noon, or 2 p.m. to 4 p.m. on Mondays to Fridays, or 9 a.m. to 12 noon on Saturdays.
Darlaston Urban District Council's celebrations of the coronation of King George V and Queen Mary on 22nd June, 1911 included the large bonfire shown opposite.

The group standing in front of the fire includes Councillor John George Rose, Chairman of the council (in the centre), and other council members.

From an old postcard.
Just before the outbreak of World War One, the Darlaston branch of the Church of England Men's Society held an open-air service at Darlaston football ground.

The society was founded in 1899 by Archbishop Frederick Temple, to bring men together who worshipped in C. of E. churches, in order to socialise in a Christian environment, and to promote their interests.

I must thank Christine and John Ashmore for the copy of the hymn sheet.
Darlaston's Territorials
In 1880 a company of volunteers attached to the Wolverhampton battalion was formed under the command of Captain C. Walsh Graham and Lieutenant W. Guy. Their headquarters were at the White Lion Inn in King Street.
This was followed by the Darlaston Territorial Force which was part of the South Staffordshire Regiment. In 1909 it consisted of one company of the 6th Battalion. The Commanding Officer was Captain A. H. McBean who lived at Tyninghame, Tettenhall. The other officers were Lieutenant P. Douglas Barlow and 2nd Lieutenant L. C. B. Joynson. The headquarters were at St. Joseph's School, Church Street. All information as to recruiting, etc. could be obtained from Sergeant Frank Firman, Gale House, Franchise Street, King's Hill.
In 1916 the Territorial Force formed 'F' Company, part of the 6th Battalion. In the early 1920s it formed two Platoons of 'D' Company, 6th Battalion South Staffordshire Regiment. There were 140 members. The Commanding Officer was Lieutenant J. C. Green in 1921, followed by Captain P. J. Slater in 1922. In 1921 the Command Sergeant Major was J. Bryan, who was followed by H. G. Groves in 1922.
E. Turner was Company Quartermaster Sergeant and the Instructor in 1921 was Command Sergeant Major G. R. Scandrett who was followed in 1922 by Sergeant S. Brindley. By this time meetings were held in the Drill Hall, in Church Street.
World War One
In the 1914 - 1918 world war many people joined the local regiments and went to fight in France. Local factories also played their part by producing munitions for the war effort. Two hundred and sixty eight Darlaston people were killed in the war. The war memorial in Victoria Road, built as a tribute to them, was completed in the mid 1920s.
Visit Darlaston's
War Memorial
Read about some
who lost their lives
Read about some
who returned
From the late Howard Madeley's collection.
One of the main topics of conversation in early January 1916 was the untimely death of the local industrialist Francis Henry Lloyd who died at James Bridge, and was sadly missed. On that fateful day, he worked as usual at James Bridge Steel Works, then headed for James Bridge Railway Station to catch his train home. He always took a short cut across the London & North Western Railway lines, whilst on his way to the station.

He was spotted leaving the factory and walking to the railway line by the L.N.W.R. signalman, William Reynolds. As he approached the railway, he noticed a locomotive moving towards him at walking pace, and hesitated. The driver blew his whistle and Mr. Lloyd got clear of the line. Within three or four yards of the oncoming engine, he hesitated, then decided to cross the track in front of the engine. The driver, Henry Carnell, immediately applied the brake, but by that time Mr. Lloyd had been knocked to the ground as the locomotive passed over him. The estimated speed was four miles per hour.

Francis Henry Lloyd was badly injured, and taken to the Queen Victoria Nursing Institute at Wolverhampton. It was found that he had a fractured skull, and so an operation was immediately performed. Although this gave him some relief, and he regained consciousness, he died during the evening.

At the inquest the verdict was accidental death. His funeral was attended by a large number of mourners, including over two hundred members of his staff. He was buried beside his wife in the north east corner of St. Chad's Churchyard, Lichfield.
---