---
Tipton had one of the most concentrated areas of heavy industry in the Black Country. In the nineteenth and twentieth centuries, the sights and sounds of industry were everywhere, along with brightly lit orange and red skies at night.
Some of Tipton's Many Industries
H. P. Parkes, Chains and Anchors
In about 1820 Henry Pershouse Parkes, from Dudley, established the Tipton Green Chain and Anchor Works. The firm's products included cables, chains, anchors and all kinds of forgings. In 1851 some tests were carried out on the company's chains to demonstrate the tensile strength and fibrous toughness of the iron used in their production. The iron used on this occasion was supplied by Summer Hill Iron Works. Some of the chains were exhibited at the Great Exhibition in 1851 and also at the 1855 French Exhibition in Paris, where they won a prize medal.
Henry Pershouse Parkes died in 1867 and appears to have been succeeded by his son, who had the same name. In 1867 the firm produced the largest anchor in the world, at that time. It was built for Brunel's S. S. Great Eastern to the patented design of Joseph Beterley, of Liverpool. The anchor, which weighed eight tons was twenty six and a half feet long and cast from iron supplied by Bloomfield Iron Works. It was tested at Tipton Proving House and found to be able to stand a strain of 100 tons.
Henry Pershouse Parkes junior went into partnership with Alexander Stewart Ross to form Henry P. Parkes and Ross. The partnership came to an end in 1885 and the company became Henry P. Parkes & Company.
In 1904 the business was sold and became H. P. Parkes and Company, under the control of N. Hingley & Sons Limited, of Netherton. In 1944 the company's name was changed to Richard Sykes and Son Limited, then in 1947 it became H. P. Parkes & Company Limited. The business went into liquidation in 1966.
Tipton Proving House
The Proving House was owned by Lloyd's Public Proving House Company, Limited, with machines that were licensed by the Board of Trade. It stood to the west of Bloomfield Road, alongside the railway, between the canal and the railway, where Bloomfield Park industrial estate is today. It was set up following an Act of Parliament in 1864 which instigated various regulations.
All the work carried out there was under the direct control of Lloyd's Committee, London, and certificates issued were signed by E. R. Isitt, Lloyd's Superintendent, and were recognised by every insurance company throughout the world. The Staffordshire Public Chain and Anchor Testing Company also had another test house at Netherton. The Superintendent was Mr. S. Tregenner.
Chains, cables and anchors for seagoing vessels had to be tested to ensure that they complied with the various tests and specifications laid down under the terms of various Acts of Parliament. The Proving House also tested chains for use in cranes and industrial applications.
Grates and Tiles
Charles Lathe & Company Limited was founded in 1872 by Charles Lathe, J .P. to produce a wide range of products including glazed tiles for fireplaces etc. and a range of tiled fire places and grates.

The business was later run by Alfred Lathe, J.P. and Charles E. Lathe, grandsons of the founder.

The company's products included solid fuel burning appliances, continuous burning grates, convector grates, ranges, rustless furnace pans, castings for the building and engineering trades and for the railways.

A subsidiary company, Charles Lathe & Company (Tile) Limited was founded in 1927. The trade mark of both companies was "Claco."

The company closed in 1969.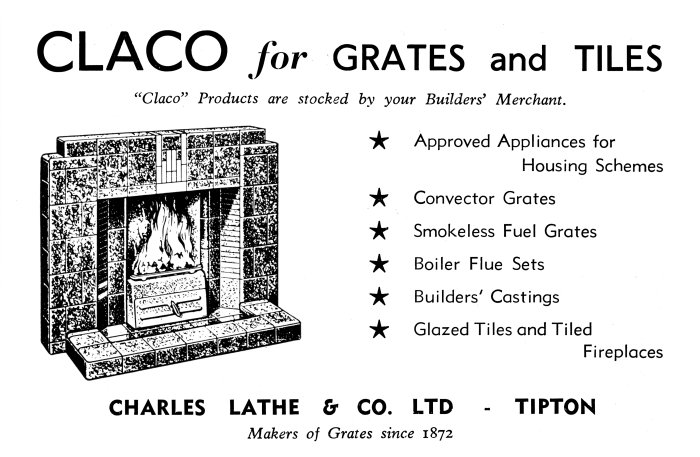 Two adverts from 1947.
The Tipton Tub and Tube Company Limited
The Tipton Tub and Tube Company Limited was founded in 1911 by Albert Parker and incorporated in 1915.
Production consisted of colliery tubs, air pipes and general engineering forgings at a site in Brook Street, before moving to Bloomfield Road, in 1938. A wide variety of welded and riveted plate work was fabricated, including "Centriflovane" grit catchers, invented by Albert Parker, and widely used in gas works in the United Kingdom and abroad, to remove the grit from the waste gases from carburetted water gas plants which would otherwise escape into the atmosphere. They have been installed on Lancashire and other boiler chimneys, and exhaust stacks.
The firm employed a large number of erectors to erect both the grit catchers and steel chimney stacks, which were another of the company's products. They were sold throughout the country.

The company also specialised in the manufacture of elevator and conveyor buckets, ranging in weight from over 1 cwt, to less than 1 lb. Facilities were also available to produce plate work up to ⅜ inch thick and forgings up to 40 lb. in weight. The range of goods in regular production included heavy duty and special purpose wheelbarrows, coal and coke chutes, tipping, drop bottom, radial door and other special skips, hoppers and pipe work.

Most of the employees were with the company for many years, the majority having started straight from school. Company Directors included Albert Parker's brother, Joseph Parker and his nephew, John Parker.


A "Centriflovane" grit catcher.
W. J. Tranter Limited

W. J. Tranter Limited, of Tibbington Works, Princes End, founded in 1890, produced thermal insulation for many years. The business was very successful and the large number of staff carried out contracts all over the country. Materials used included asbestos, cork, glass silk, etc.

The firm also supplied lubricating oils and greases, motor oils and greases, soluble oils, drawing mixtures, screwing oils, curriers' oils, and sulphonated oils, etc. which were regularly analysed and tested in the company's well-equipped laboratory to ensure a high standard of quality.

Other products included paint and bitumen solutions, made in all colours and grades, from the highest quality glossy varnish paint to the cheapest grades for rough coating. Also gold and aluminium paints. All materials were sold under the name of 'Titan' Specialities and were very well known.
Triplex Foundry

Triplex Foundry was founded in 1918 at Toll End by Charles Robert Horrell to make Triplex grates. Production began in 1919 and Triplex Foundry Limited was formed.

A new factory was built for the production of the triple function grate, which heated the room, heated water and cooked food.

Around 1930 the company opened a new factory in Upper Church Lane and introduced fire resistant products, finished in porcelain enamel. During the Second World War II the firm produced munitions for the war effort.

After the war the company modernised and started to concentrate on castings for the automotive industry. In the 1990s the business expanded and became one of the main producers of turbo housings for cars.

The Triplex Foundry Group was formed with several other foundries. In the 1980s it became Triplex Lloyd and was later taken over by Doncaster Engineering, to become Triplex Components. In 2003 it became Sigmacast Iron Limited after a management buyout and in 2005 was taken over by Amtek. The Tipton factory closed in 2009 when production had been transferred to India.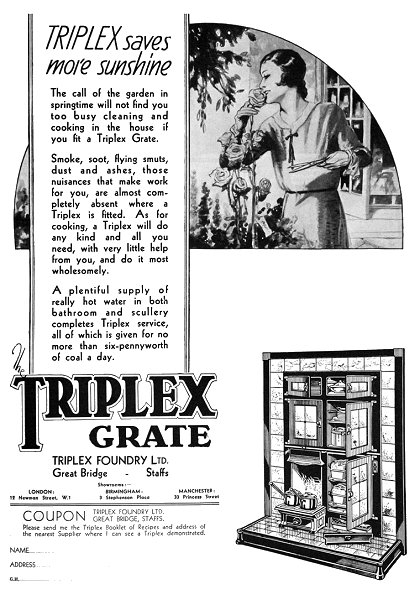 The Vono Company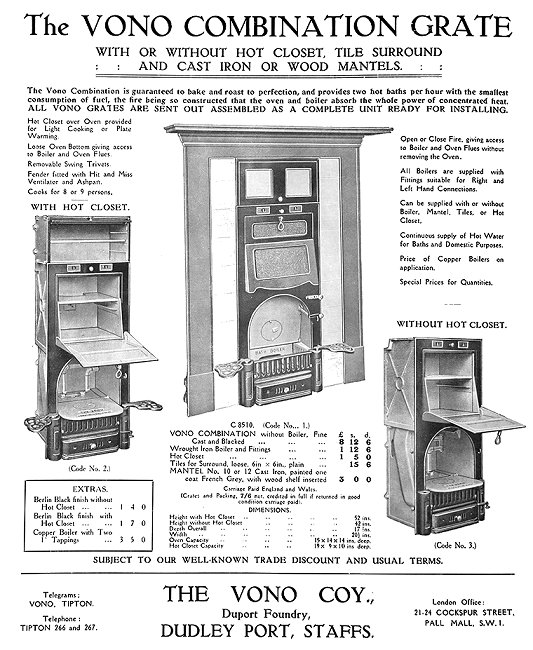 The Vono Company, an acronym of Vaughan Only, No Others, was founded by Ernest Vaughan in 1896. At one time it was Tipton's largest employer. His son Septimus, went into partnership with Frederick Reeves, who founded Revo in 1907.

The Vono factory, called Hope Works, was in Sedgley Road East, Dudley Port, where the Vaughan Trading Estate is today.

Vono specialised in the manufacture of mattresses and bedstead fittings. In 1933, products included mattresses, wooden bedstead fittings and combination and spiral spring mattresses.

Ernest Vaughan married Cecilia and they moved into a small house on a site that is now occupied by Burnt Tree Island. They later moved to 'Greenroyd', a big detached house with a large garden in Pedmore, Stourbridge and after the First World war, to 'Field House', Clent, which has a Japanese style water garden that was designed by Gertrude Jekyll in 1914.

In 1939 the firm was incorporated as a private company.

During the Second World War, products for the war effort included Bailey Bridges, pontoons and ammunition.
In 1946 the firm became a public company, concentrating on the production of perfect sleep equipment; domestic equipment; wood and metal components required for the housing programme; engineering accessories for the motor; aircraft; electrical; gas and refrigeration trades; speciality castings; plastic mouldings; fibre upholstery and components for the railways, and the motor, aircraft and furnishing trades.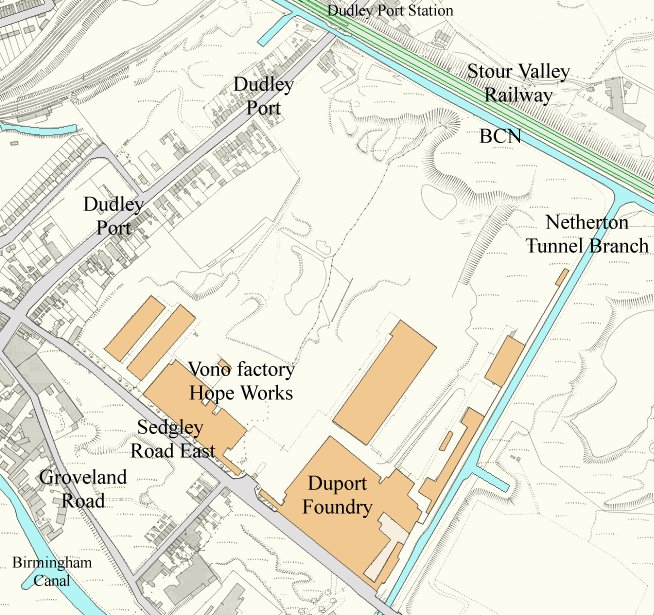 The site of Hope Works and Duport Foundry.
The perfect sleep equipment consisted of adjustable bedstead castors, bedstead fittings, divans, metal camp folders, overlays, spring interior mattresses and wire mattresses.

In 1950, W. L. Barrows took over as Chairman and the company name was changed to Vono Industrial Products, which became Duport in 1956. The Duport name was derived from Dudley Port. It was initially used as the name for the iron foundry on the Vono site, Duport Foundry.

Duport was an industrial holding company that purchased a large number of manufacturing companies, including Revo (by an exchange of shares) in 1956. In 1967 Duport sold the goodwill, patents, and trademarks of Revo to English Electric. The street lighting division was sold to Tubes Limited, who sold and developed the range under the 'Relite' name. In 1970 Duport acquired Slumberland Limited, which with Vono gave it 30% of the British bed manufacturing market.

By 1980 the steelmaking part of Duport was in trouble and in 1981 it was purchased by British Steel. In 1982 the bed making part of the business was sold to Airsprung of Trowbridge and in 1986 Duport was acquired by Williams Holdings, an industrial conglomerate based at Monmouth.

I would like to thank Jason Vaughan for his help with this section.
In the 1980s, part of the Vono factory was demolished by W Hayden & Son Limited, based in Webb Street, Coseley. The following three photos were taken during the demolition. They are courtesy of Andy Hayden.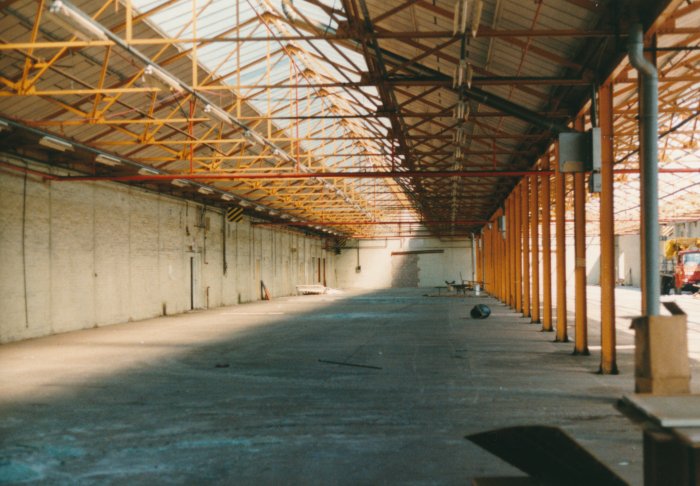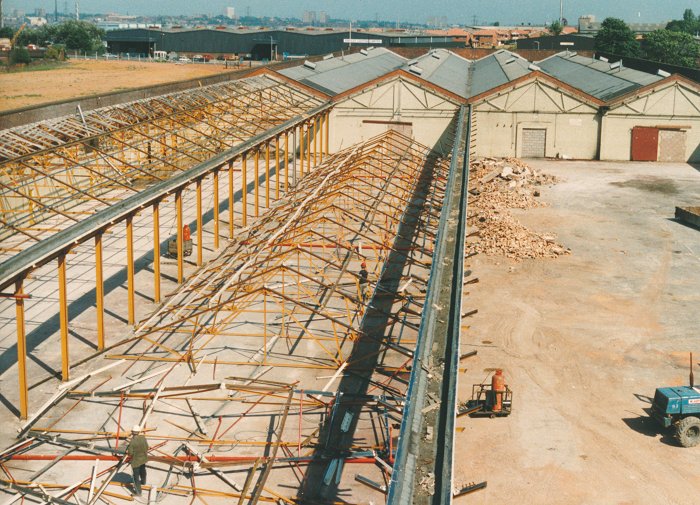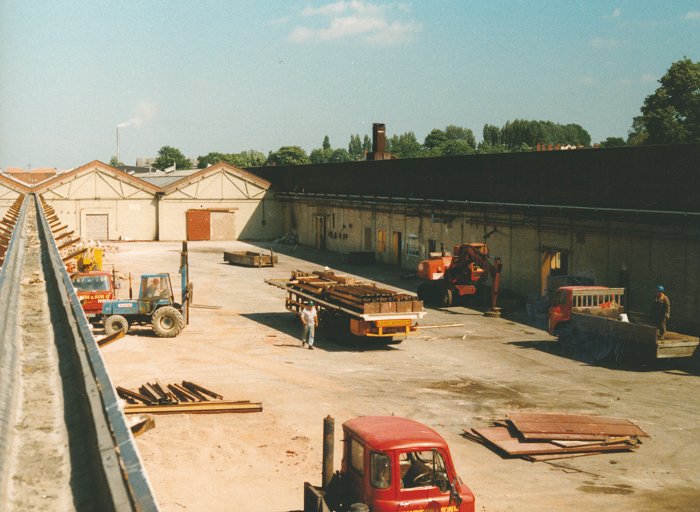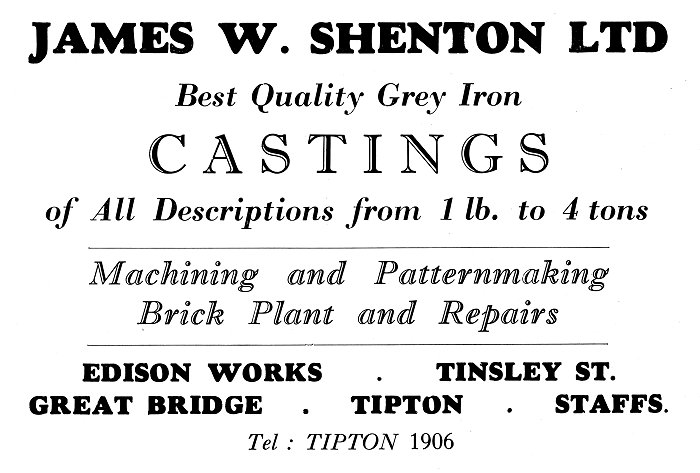 Wellington Tube Works Limited

Static air-cooled heat exchangers were first used widely where water supplies were inadequate, polluted or non-existent.

The Heat Exchange Division of Wellington Tube Works Limited, Great Bridge, developed a range of air-cooled equipment which in two basic types, could deal with any heat exchange problem of any size.

The Wellington heat exchangers were designed to be used worldwide, in several different forms ranging from a single fan to multiple fans. They were easy to install and extremely reliable.


A small Wellington heat exchanger.
| | |
| --- | --- |
| | A large multiple fan Wellington heat exchanger. |
The Denbigh Engineering Company Limited was founded in 1902 to produce the 'Denbigh' range of machine tools, vertical drilling machines, horizontal milling machines, power hacksaws, and fly presses.

The products were sold through machine tool merchants and agents throughout the world.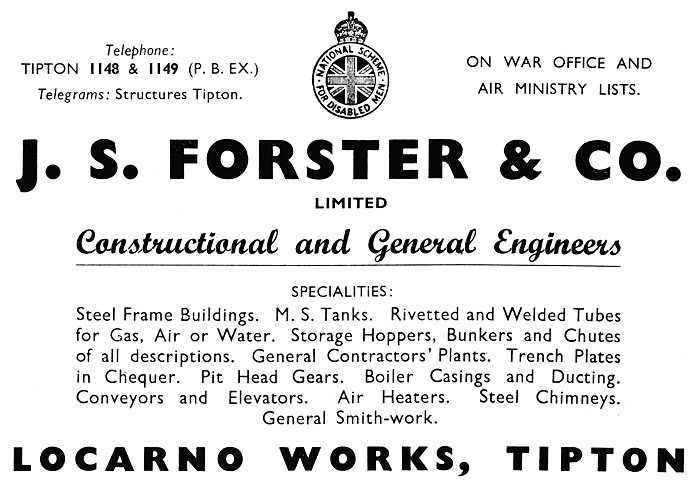 An advert from 1947.

An advert from 1947.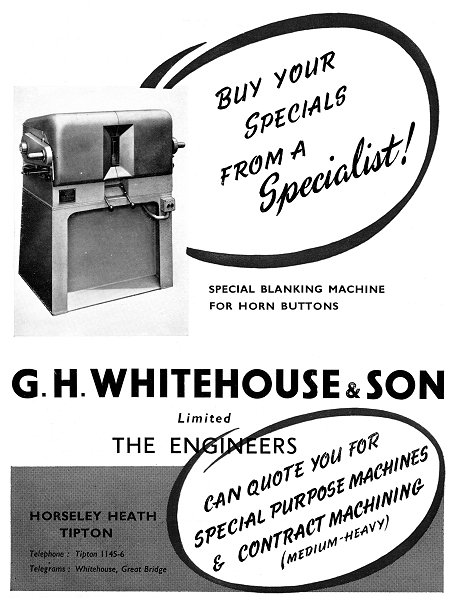 An advert from 1958.

An advert from 1958.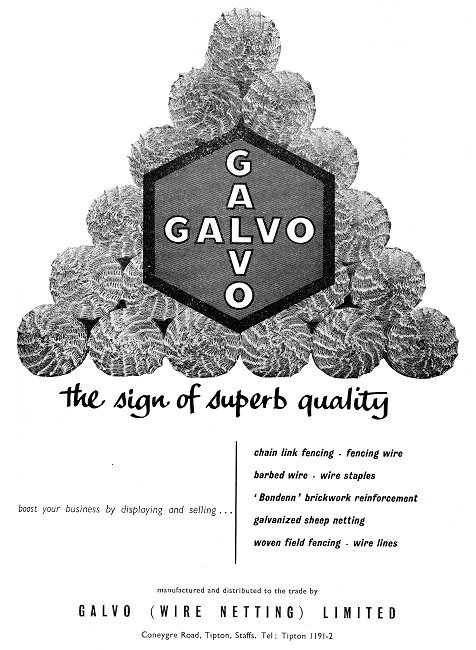 An advert from 1958.

An advert from 1958.

An advert from 1958.
---